There's another new set of Gran Turismo Sport Daily Races available now to occupy players across this week, keeping the European theme we saw last week.
That's fully realized in Race A's Anglo-French combination, which will see players head to Brands Hatch to drive the Alpine A110.
Rally's first ever World Rally champion, back in 1973, the rear-engined A110 is something of a legend. It locked out the podium in the first WRC event – Rally Monte Carlo – and won six of the 13 rounds that year to take the title.
You won't be racing off-road however, with the small Indy Circuit at Britain's Brands Hatch waiting for you to hammer out six laps. The handling traits of the Alpine, particularly over the curbs, can be interesting to say the least, so you'll need to keep your wits about you.
That also applies to Race B, which is more about the unfamiliarity of the circuit. The race takes place at the fictional Circuit de Sainte-Croix, which is rarely seen in Sport Mode at all; in fact we make this the sixth time it's appeared in Daily Races ever, with three of those coming in October 2018, October 2019, and October 2020.
It's a first for this layout though, as you'll be driving the reverse layout of the B circuit. You only need to pick your preferred Gr.3 car for the three lap race.
This week's Race C is a less complicated event than usual, with a 2x fuel multiplier and a 3x tire wear multiplier combining with no mandatory tire or pit stop requirements to effectively make it a sprint race.
The nine-lap event sends you to the Nurburgring, and the GP circuit which hosts Formula One. You'll be racing in your choice of Gr.4 cars, and the relatively low tire wear hands the advantage to the quick but rubber-munching FWD and AWD cars; in fact at time of writing it's a classic Mitsubishi/Subaru battle in qualifying terms, and that's likely to persist into the race too.
These three races will run through to Monday October 25, when another set will replace them.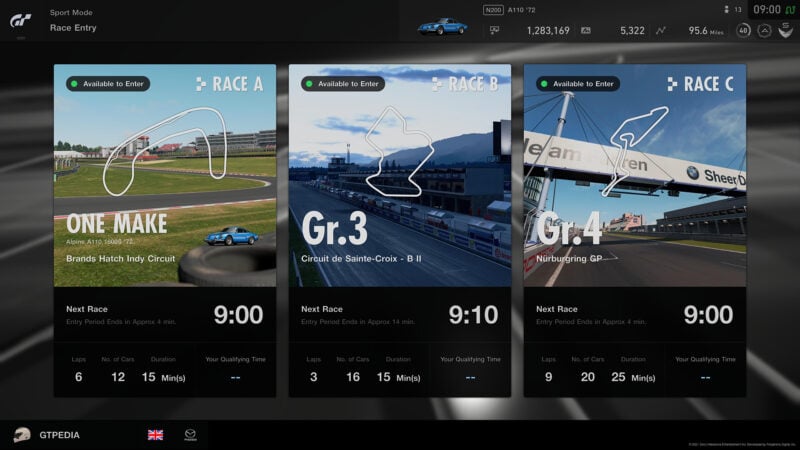 Race A
Track: Brands Hatch – Indy Circuit, 6 laps
Car: Alpine A110 1600S '72 – Provided Car
Tires: Sports Medium
Start Type: Grid Start
Fuel use: Off
Tire use: Off
Race B
Track: Circuit de Sainte-Croix – B II, 3 laps
Car: Gr.3 – Garage Car
Tires: Racing Medium
Start Type: Rolling Start
Fuel use: Off
Tire use: Off
Race C
Track: Nurburgring – GP Circuit, 9 laps
Car: Gr.4 – Garage Car
Tires: Racing Hard
Start Type: Rolling Start
Fuel use: 2x
Tire use: 3x
See more articles on Daily Races.