The last GT Sport Time Trials of 2019 are underway, and provide something of a varied challenge which serves to highlight just how much the game has evolved in the last two years. Both tracks and both car options are in fact part of the game's post-launch update content.
For the first trial you'll head to Belgium and the famous Circuit de Spa-Francorchamps. A new addition to GT Sport this year, the Spa circuit is a challenging lap at the best of times, but also attracts some of the worst weather in motorsport. That's exactly what you'll have to contend with over your hot lap, in the Gr.2 race car of your choice — essentially 2008 and 2016 season Super GT GT500 cars — on Intermediate or Heavy Wet tires.
There's beaming sunshine in the other lap. That's because you're heading to the heart of Catalunya, and the Circuit de Barcelona-Catalunya. For this lap you'll be going a little slower, in the new Toyota Crown Athlete sports saloon. Tuning is enabled for this lap, so you'll need to tweak the saloon's settings to get the most out of it.
As Time Trial mode is a global competition, it will rank your best time against all players worldwide, rather than just those in your region as with other Sport Mode events.
These two time trials will run through to January 2, when two further events will replace them.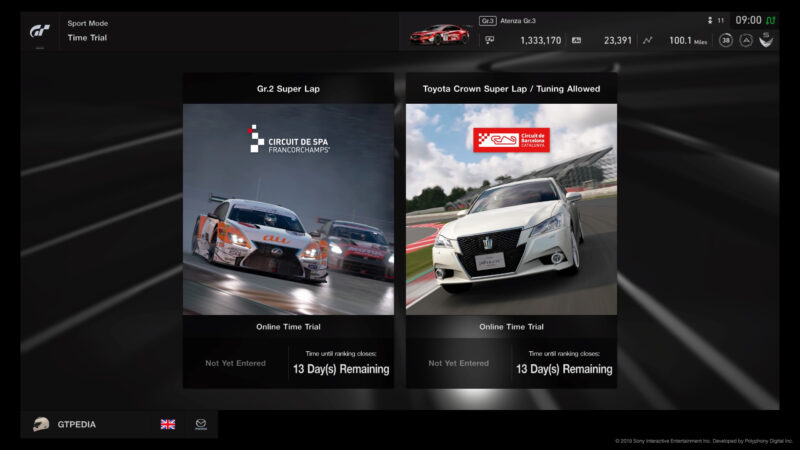 Gr.2 Super Lap
Track: Circuit de Spa-Francorchamps (Wet)
Car: Gr.2 – Garage Car
Tires: Racing Intermediate, Racing Heavy Wet
BOP: On
Power/Weight Limit: N/A
Settings: Fixed
Toyota Crown Super Lap/Tuning Allowed
Track: Circuit de Barcelona-Catalunya
Car: Toyota Crown Athlete G '13 – Garage Car
Tires: Sports Hard
BOP: Off
Power/Weight Limit: N/A
Settings: Adjustable
Featured image courtesy of 05XR8.
More Posts On...