The second online race in the 2022 GT World Series Manufacturers Cup will broadcast this weekend, on Sunday September 25.
It's the third official stage of the 2022 championship, following the online "Round 1" and the live World Series Showdown held in Austria in August, and the 12 qualifying manufacturers are the top nine marques plus series sponsors Toyota, Mazda, and Genesis.
Each of the four events leading up to November's World Final gives the brands World Series points, with up to three available in each of the three online rounds and up to six for the Showdown. With two rounds already completed, there's a clear favorite emerging already.
That's Team Subaru, which took victory in both events. 2021 finalist Takuma Miyazono beat all-comers at Watkins Glen with a typically creative pit strategy, but was absent through illness for the Showdown. That left his team-mates Daniel Solis and Kylian Drumont putting in extra shifts and securing a stylish win at Trial Mountain.
Drumont, who also won the Nations Cup event at the Showdown, returns for Subaru and will be among the favorites. However closest rival AMG is sending his countryman and Olympic bronze medallist Baptiste Beauvois and defending champion Toyota, which currently sits third, will have world champion Igor Fraga on duty.
The event may not suit either Subaru or Toyota, consisting of a ten-lap race of Circuit de Spa-Francorchamps. Drivers will be required to use both Medium and Soft tires, and with a 6x tire wear rate and a 4x fuel consumption rate it's going to be tricky for all three front-running brands.
Players can enter their guesses for who will take victory on a special in-game portal called "Bonus Campaign". Pick the winner and you'll earn 500,000cr for your GT7 bank balance.
The race will broadcast at 1300 UTC on Sunday September 25, with the corresponding Nations Cup show coming two weeks later on Sunday October 9.
Competitors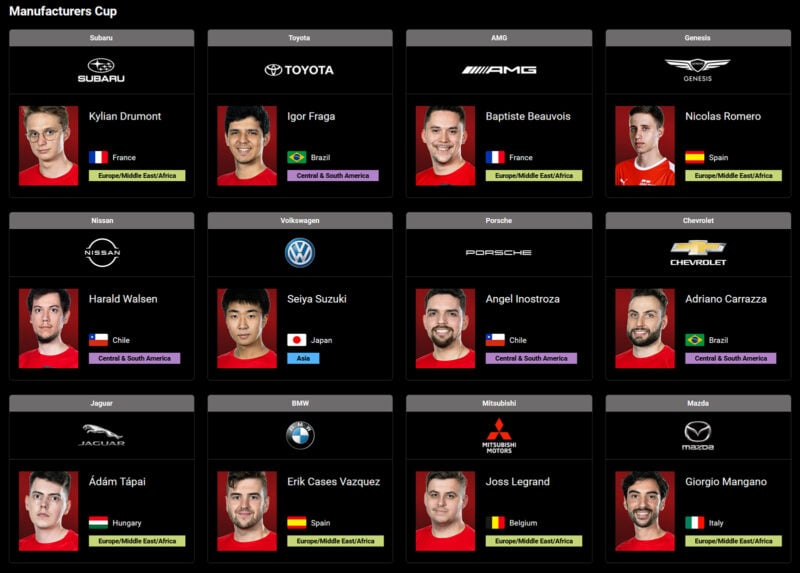 See more articles on Gran Turismo World Series.