Sony hosted a small group of media at their Benelux headquarters in Amsterdam, yesterday, and our own Blitz187 was on hand to catch any and all new tidbits of information that might emerge (this event took place before the delay was officially confirmed). As usual, Sony was extremely tight-lipped about the game's details and did not use the event to reveal any major new features.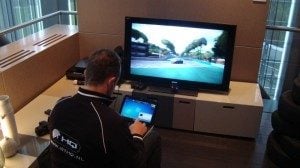 That said, Blitz asked a lot of good questions during his one-on-one time with the Sony reps, and I recommend jumping over to his complete report here in our forums. Most noteworthy:
Partial confirmation that you'll be able to save your progress during endurance races (a much-wanted feature in Gran Turismo 4).
Damage severity is linked to the game's difficulty settings: "easy, medium, hard or standard and professional".
You will be able to manage B-Spec races from both your PC's web browser and mobile device.
Re-confirmation that "all" of your cars in Gran Turismo PSP can be transferred to GT5 and will be playable in Arcade Mode.
New and improved Gran Turismo TV will return from GT5: Prologue.
Blitz also got to see the "head tracking" or "face tracking" setup and calibration screens. He managed to capture this brief video before he being asked to stop, but he described an adjustable level of sensitivity. He also mentions that face tracking only works when playing the game from "cockpit view".
Once again, head on over to his complete write-up for lots more pictures and videos. Thanks once again, Blitz, for sharing all of this information!
See more articles on Damage, Endurance Races, Gran Turismo TV, GT5 B-Spec, and Head Tracking.