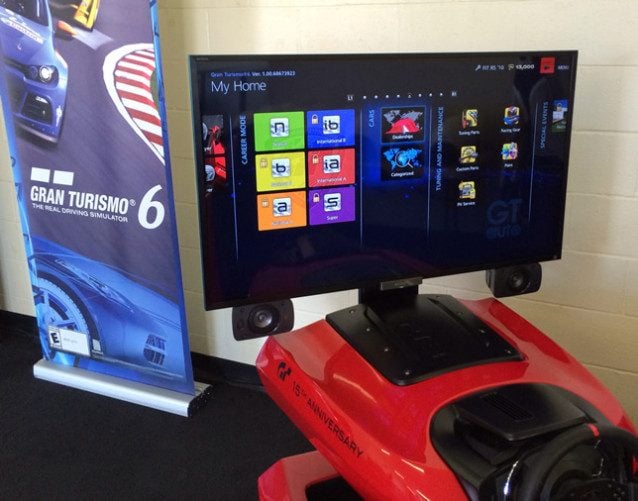 Last week, GTPlanet was invited to Willow Springs Raceway to try out Gran Turismo 6's new GPS Data Logger functionality. We also got another surprise – the "full" version of the game was on display, and those of us at the event would be the first people outside of Polyphony Digital to get our hands on it.
Kazunori Yamauchi, who usually attends most high-profile media events, was notably absent. It was for good reason, though – he's decided to stay home with his team at Polyphony Digital to help put the finishing touches on GT6, now less than a month away from release.
I asked one of the SCEA representatives on hand if the game had gone "gold" yet – in other words, if the final build of the game was ready to be printed onto the retail BluRay discs for distribution. It hadn't, but is reportedly on schedule and is expected to be ready for production sometime within the next two weeks.
Although it was described as the full version of GT6, there were still many menu options locked out. It did feature, however, the entirely new menu system, all the cars, and all the tracks in the game.
As is always the case with events such as this, my time behind the wheel was limited, but I did get to experience several new tracks and what is most likely the final version of the driving physics and updated artificial intelligence.
The menu screens – in my opinion, one of the most important aspects of the game's design – are fast and responsive to use. There's no hesitation from one screen to the next, and everything just pops in and out as you would expect it to.
Although I wasn't able to spend any time in the game's new Career Mode, U.S. producer Taku Imasaki was able to share how the overall gameplay will be structured. In the earliest stages of the game, it will be more linear than what we've seen in the past – start here, do this race, etc. After you've proven your competence behind the wheel, the game will open up into the more traditional open-ended, choose-your-own-adventure format that we've seen in previous Gran Turismo games.
I knew this event would feature the Scion FR-S, so I put in a good amount of time with the car in GT5 before I left home, anticipating a prime opportunity to compare both games with each other and their real-life counterpart on track.
If you've driven a stock FR-S in GT5, you've probably noticed it's a very "good" car, but not fast and not especially exciting – just neutral and predictable, with a lot of understeer at the limit. That's not really what happens in real life, and it's not what happens in GT6, either.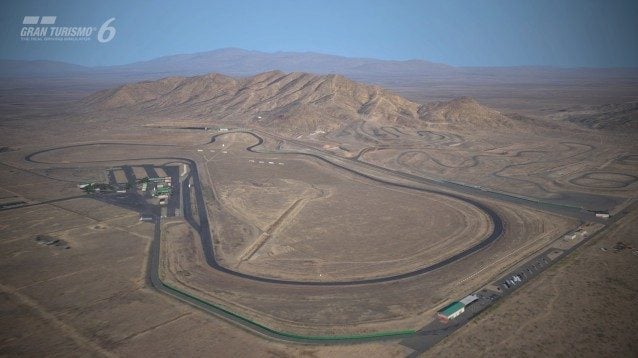 When it was my turn to drive the real FR-S on the tight and technical Streets of Willow Springs course, it was stable and predictable at the limit – providing what felt like a slight four-wheel drift with a hint of easy-to-manage oversteer. It was light, alive, and fun!
Back inside, I had the unique opportunity to immediately drive the exact same car on the exact same track in GT6 – and it was definitely not the same understeering bore I had driven in GT5.
On Sports/Hard tires, it may have had a bit more grip than the street tires on the cars we had just driven, but the FR-S's driving characteristics at the limit of adhesion was nearly the same as what I had just experienced in real life: a smooth four-wheel slide, with the back wheels stepping out gently behind the front.
I also noticed a slightly more gritty engine sound than what I have heard in previous builds. A Sony representative confirmed that several of the cars were equipped with updated audio. Although I'm not sure if I played with one of these cars, I could sense something had changed. For those optimistic audiophiles out there, don't get too carried away by my comments – the game still sounds much the same – but you should take comfort in knowing that it was better.
On the subject of tracks, this build of the game featured all of the new circuits to be featured in the game at release, and it was a treat to be the first person outside of Polyphony Digital to drive their renditions of Brands Hatch, the Ascari Race Resort, Silverstone's Stowe Circuit, and, of course, the Streets of Willow Springs.
I've never had the opportunity to drive Brands Hatch in real life, but I have turned quite a few laps on the famous British circuit in the PC simulator iRacing, and found Gran Turismo's version to be nearly identical. The difference, of course, was that I was driving one of my favorite cars – the BMW M3 GT, which was also newly revealed in this build of the game.
The Ascari Race Resort circuit looked lush and detailed – it's a very challenging and fun layout, which keeps you busy throughout the lap. I predict it will be a popular destination for many players looking to benchmark and test their cars and tuning skills.
My only issues with these new courses were some unsteady frame rates when a batch of cars got close together on the screen. Although it wasn't severe, it was more significant than dropped frames I have seen while playing GT5. In the replays, there were also some chunky-looking shadows, which are almost certainly a side-effect of the dynamic lighting engine required to render changing time and weather. Loading times for these races with full grids were also quite long. At one point, I actually thought the game had crashed before the race finally began.
It may be unfair to critique these issues before the game officially goes gold – no doubt, at this stage of development, most of the remaining work will involve fixing bugs and smoothing out these types of hiccups.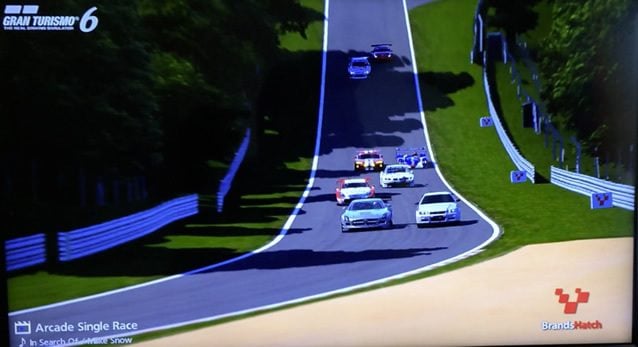 Once the races started, though, it was immediately clear that there have been significant changes to the artificial intelligence of the other drivers, as confirmed by U.S. Gran Turismo producer Taku Imasaki.
They no longer drive as "ducks-in-a-row", as we saw in almost every race in GT5. They were actually racing with each other, going two – and once nearly three – wide into corners. When challenged with a pass, they didn't put up too much of a fight, but some of them (not all drivers exhibited this behavior) actually fought back to pass me again, despite no major mistakes of my own.
This gave the racing a different and more challenging feel. I felt like I would need to push and drive defensively if I wanted to get ahead and win.
There's also a very useful new feature in the game's heads-up display called a "Blindside Indicator". When enabled, a small red arrow blinks if there's another car beside you – important information if you can't see the mirrors in your preferred driving view.
Of course, the artificial intelligence is still not perfect (and likely never will be), and many will continue to criticize the other drivers when they bump into you while holding their line through a corner. However, it's a significant step forward for the series in an area which has rightly bothered many fans for years.
Visual car damage could also be seen for the first time in the game. This is what the front-end of my SLS AMG GT3 car looked like after an impact with a wall at Bathurst.
As the Willow Springs event came to an end, it was difficult to pull myself away from the game. A lot has changed since I last played the demo build at the Jalopnik Film Festival in September, and all of it for the better. When I played GT5 before leaving home, doing some hot laps by myself, I got bored. Playing GT6, I couldn't get enough. The "fun factor" is definitely back.
Needless to say, despite some dropped frames and slow loading times, I'm more excited about the game than any other point in its development – and I've personally played every public demo build since GT6 was first revealed in May.
Stay tuned for more videos and gameplay footage of my time at Willow Springs, including an in-depth review and video of the GPS Data Logger in action.
More Posts On...