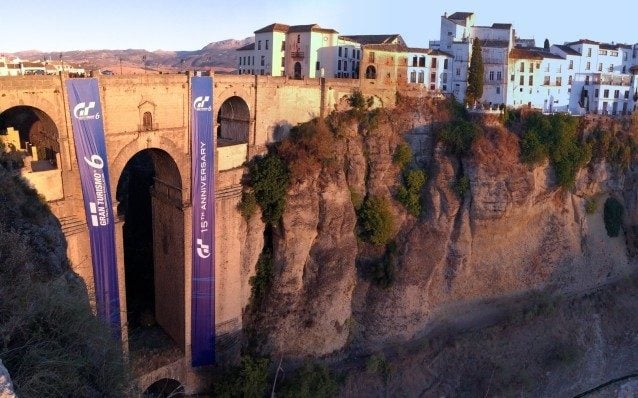 Gran Turismo 6 is set to be fully unveiled at a massive, two-day media event to be held in Ronda, Spain – a city which will feature as both a Photo Travel and Course Maker location in the game.

GTPlanet is on location in Ronda to provide full coverage of all the upcoming announcements, finally revealing Polyphony Digital's plans for the future of GT6 and the Gran Turismo series.
The festivities begin on Monday, December 2, at approximately 15:00 GMT/UTC (click here to convert this to your local time), with an opening reception and press conference at the Convento de Santo Domingo. Later that night, a fireworks show will light up the city skyline.
I'll be posting live updates from the event on Twitter via @GTPlanetNews; keep an eye on the feed below and our GT6 forums for all the news as-it-happens.
On Tuesday, December 3, festivities move out to the Ascari Race Resort, where we'll have a chance to compare the game's virtual circuit with the real thing, side-by-side. That night, the event will conclude with a gala dinner back in Ronda.
I'm here a few days early, witness to the city's transformation into the temporary capital of the "world of Gran Turismo". Giant banners celebrating the game's 15th Anniversary have been draped over the side of the famous Puente Nuevo bridge, which glows Gran Turismo blue at night as giant projectors bring it to life. Exotic cars are also being placed on display around famous landmarks in town, as the game's Photomode crosses over into the real world.
Hosting such a large media event is a big deal for the relatively small city of only 36,000 people, and it's ready for the international spotlight. I walked throughout many of the cobblestone streets today with a strange sense of familiarity, having only studied Polyphony Digital's GT6 screenshots before visiting. It's easy to see how such a timelessly beautiful place captured Kazunori's imagination, prompting him to feature it so prominently in the game.
Stay tuned for more news, interviews, and announcements; we're just getting started!
GT6 Ronda Screenshots
Real-World Ronda Photos
See more articles on Ascari Race Resort, GT6 Launch Party, GT6 Marketing, and Ronda.