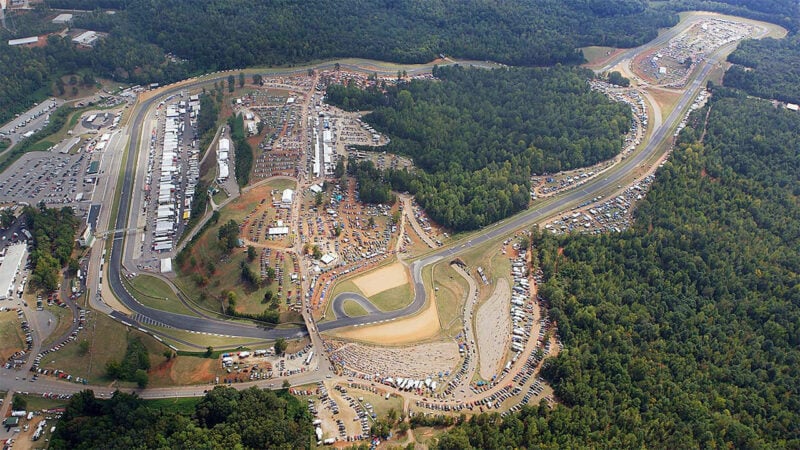 Michelin Raceway Road Atlanta has been revealed as the next new circuit coming to Gran Turismo 7, and it'll be coming in this month's update on November 24.
The track's identity appears to have sneaked out through a slip-up from one of the localized versions of the PlayStation Blog. Currently the various different versions of the site all show an announcement about the upcoming Gran Turismo World Final and some more details about the 25th Anniversary celebrations in the game that are coming soon.
However one version of the site — the German language version for Germany, Austria, and Switzerland — is displaying some slightly different copy. It not only confirms the identities of the three cars coming in this update, but reveals Road Atlanta is on its way too.
The page currently reads "Ein Update für Gran Turismo 7 wird am 24. November veröffentlicht und die Michelin Raceway Road Atlanta, einige neue Features und drei neue Autos umfassen". That doesn't need much clarification, but it translates to "An update for Gran Turismo 7 will be released on November 24th and will include the Michelin Raceway Road Atlanta, some new features and three new cars".
Road Atlanta is one of the most-requested courses among Gran Turismo fans. It currently sits tenth among real-world circuits that haven't yet been added on GTPlanet's own Suggestions list — replacing Watkins Glen which was added in June.
Created in the late 1960s, Road Atlanta hosted its first races in 1970. The circuit held races for IMSA, Can-Am, Trans-Am, and Formula 5000 in its opening years, before being purchased by Don Panoz who enacted a raft of improvements and changes — and founded the Petit Le Mans race at the track.
The more recent naming sponsorship from Gran Turismo series partner Michelin has allowed the construction of the centerpiece Michelin Tower at the 2.54-mile circuit.
It's not currently clear how many of Road Atlanta's circuit layouts will be coming, though we'd expect confirmation via the usual pre-update video on Wednesday November 23.
Thanks, or danke, to alex511 for the tip!
See more articles on Gran Turismo 7 Game Update.