Updated (24/05): PlayStation & Gran Turismo have posted new information on the update, which we've added below.
A slight jump-start from a region PlayStation channel has given us an early first look at the upcoming Gran Turismo 7 1.34 update, confirming its contents before it arrives on Thursday May 25.
In a post on its official Facebook page, PlayStation Poland states that the update will bring "three new cars, an extra Cafe Menu, and more", alongside a 30-second video detailing those three vehicles.
While that still leaves some information up in the air, it does give us a solid idea of what to expect — and importantly what not to expect.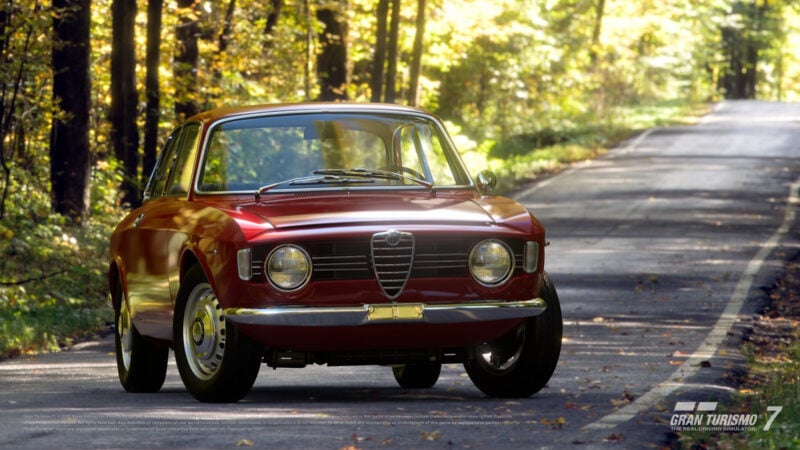 Gran Turismo 7 1.34 Update New Cars
First and foremost we have confirmation on the three cars teased in the "silhouette" post by studio founder Kazunori Yamauchi over the weekend, and they consist of a new car, a returning car, and one that's sort-of both.
That latter vehicle is the 1967 Alfa Romeo Giulia Sprint GT Veloce. The GT Veloce was the first update to the little Type 105 Giulia Sprint after its 1965 introduction, sporting an upgraded engine shared with the Spider Duetto 1600. It's closely related to the Giulia Sprint GTA found in previous GT games but retains the steel bodywork rather than the "Alleggerita" aluminum pieces.
Rejoining the Gran Turismo series after a very long absence is the 1990 Nissan Skyline GT-R Nismo. Indeed the car's last appearance was in Gran Turismo 2, so it's the first time we've seen it this century…
Produced in a very limited run, the GT-R Nismo was designed to homologate the R32 platform for Group A racing and to that end featured several upgrades over the standard car. That included new aerodynamic pieces — such as the boot lip spoiler and new ducting at the front — as well as standard weight reduction strategies like aluminum panels and deletion of ABS and radio.
Finally there's the newcomer, the Greening Auto Company Ford Maverick. It's the first appearance in the series for the Ford Maverick — the compact sports coupe from the 1970s rather than a rebadged Nissan offroader or a pickup — and it won't be under the Ford brand.
That's because this Maverick won the Gran Turismo Award at the 2018 SEMA show, bringing with it the reward of being added to a Gran Turismo game. It's built by Greening Auto Company, and pairs a custom Roadster Shop chassis (making it a cousin of the Rampage Camaro added to the game last May) with a twin-turbo Windsor V8 good for 1200hp.
We don't yet know the pricings or availability of the three cars, but it seems likely the Maverick will be around 300,000cr from a new Brand Central dealer, the Alfa Romeo will appear in Legends Cars, and the Skyline could be either in Used Cars or Legends Cars.
Gran Turismo 7 1.34 Update Other Features
With nothing else directly appearing in the trailer, we can likely rule out the presence of any new circuits or circuit variations in this update. That may come as a disappointment, as this is already the smallest vehicle content update since 1.26 in November 2022 and that added Road Atlanta.
However, despite the original PlayStation Poland Facebook making no mention of anything else other than a new Extra Menu Book, there's set to be a brand new set of tuning options available with 1.34 as PD brings purchasable engine swaps and special parts to the game for the first time — which we've detailed in a separate article.
There's actually two new Extra Menu Book, each of which will require players to collect three cars of a specific type for a reward that's usually a Roulette Ticket. The themes are SEMA Award winners, consisting of the Maverick and existing FuguZ and MachForty cars, and a Group A collection involving the new Skyline Nismo, BMW M3 Evo, and Ford Sierra RS500. We don't yet know what the rewards will be.
Two new sets of Scapes locations are also included follow, with northern England getting more love in the form of 19 locations in the Lake District, and 12 spots at Tokyo's National Stadium.
Of course the full patch notes for the game won't be made available until the update lands at around 0600 UTC on Thursday May 25, so watch this space for more.
See more articles on Gran Turismo 7 Game Update.