A long summer break for the Photomode Competition news entries – but we're back! For those that don't know, our forums have a very healthy Photomode sub-section, and within it, a Competitions area, where users enter their best work for the chance to pick themes… and win in-game prizes! Each week, a previous winner provides a theme, giving users 7 days to submit their single entry. Once that's ended, said theme provider picks their top images, and a poll is then made for the entire registered community to vote on. The winner then picks a new theme, and so on and so on. So, let's take a look at what's up this week in the 4 official competitions, shall we?

Last Week's Winner: 725
This Week's Theme:
 In our unedited competition, 725 has requested
Glowing Discs
. Since GT3, heavy braking has turned rotors red, so he'd like to see people focus on that in GT5's high-res glory. Think you've got a good one?
Jump to the thread now!
This Week's Poll: Week 37's theme was GT1 Memorial, brought to you by… me, actually. It all started somewhere, and last week, I asked members to shoot cars that were available in Gran Turismo 1 on that game's tracks. Cast your vote to help decide which image is best, and who gets this week's prize: an '08 Challenger SRT8 done up like the real-life Drag Pak version! Jump to the thread now!

Last Week's Winner: Moglet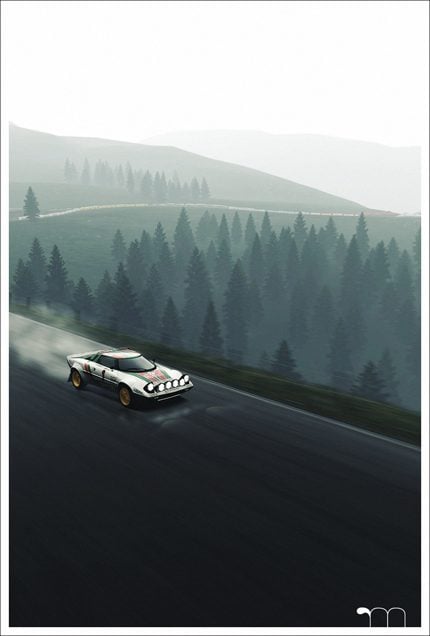 This Week's Theme: An H2H (Head2Head) competition this week, where entrants must pick their "team"; Be The Mog. Moglet is one of our winningest members, and this year, he's traded from a Fiat 500 1.2 (yes, just like the one in the game), to a Peugeot 106 for a short while, and now, a Toyota Yaris (Vitz). For this week, he asks that members use any of the Standard models of either of these cars, and snap away! Jump to the thread now!
This Week's Poll: Shining a light on the night courses, last week's theme was Let There Be Light, courtesy of ceiling_fan, only requiring that headlights must be on at an evening course. The Top 15 were varied… now's your turn to help pick the winner, who also receives an in-game recreation of the Jaguar XKR-S! Jump to the thread now!
Last Week's Winner: TVR&Ferrari_Fan
This Week's Theme: In Certain Car, Certain Location this week, TVR has suggested Raw Power Exported, focusing on, unsurprisingly enough, a TVR! Take your Tuscan to the Red Bull Hangar in this week's unedited combo and let loose. Jump to the thread now!
This Week's Poll: With Porsche being the last big name missing from GT (and if rumours are true, will also be absent from Forza Motorsports 4 come October), many users look to RUF's limited lineup for fun. In GT, none of the cars Alois built made the change to Premium, but that hasn't stopped bmxmitch's healthy addiction, with last week's The Missing Legend In The GT Series theme focusing on the RUF BTR at… where else, the Nurburgring! With 2.0 rules, editing brings out the best of the car, and now it's your turn to pick the best in a very, very impressive poll. Jump to the thread now!

Last Week's Winner: lilmann73
This Week's Theme: lilmann73's winning entry was out of this world last week, but this week, he pulls a 180 with the theme Virtureality. The Photoshop competition allows any amount of editing, provided there is some portion of GT5 in the final image, and he's asking members to combine reality with GT5. Jump to the thread now!
This Week's Poll: Last week's theme was Game Posters, made to advertise fictional games using GT images as bases. Don't forget to view full-size to see all the details! Jump to the thread now!
…
All sound a bit complicated? Read this thread for an explanation on how to get your images off your PS3 and onto a computer, and read over the individual rules in each competition's thread. If you're further stuck, feel free to Private Message me (click here). Start snapping those digital shutters!
More Posts On...
The original comments for this post are no longer available.