Following in the footsteps of GT Academy champions Lucas Ordoñez and Jordan Tresson, European GT Academy 2011 winner Jann Mardenborough and his US counterpart champion Bryan Heitkotter would conclude their intense driver development programme at the Britcar "Into The Night" 3-hour endurance race around Brands Hatch circuit. This race would signify the last segment of the pair's development campaign and their last competitive race before the GT Academy 2011 grand prize, the chance to compete at the prestigious Dubai 24 hour race.
Already looking the part of professional racing drivers, Jann and Bryan were kind enough to sit down for a chat with GTPlanet on Saturday 19th November, just after qualifying 14th on the grid for that evening's race.
GTP: How much did the New York Marathon take out of you, and how do you think it will help you for Dubai?
Jann Mardenborough: It didn't take too much out of me, it's helped me tremendously with my fitness and my pain threshold, so I know Dubai is never going to be as tough as that marathon, because it was just insanely hard. The hardest thing I've ever done. I don't ever want to experience pain like that again, I'm sure of it! (laughs)
Bryan Heitkotter: The New York Marathon, it was a big test. The first half of the marathon was alright actually but then it just got harder and harder. It was quite painful, but it's good to know I can push through and finish something like that. It's a big challenge, and it's not something that's my favourite thing to do, so for racing if things are not going well and I'm getting tired or sore, in a racecar it's something I love to do so it's gonna be easier to keep pressing on and doing the best I can in the car.
GTP: The driver development programme has undoubtedly been essential for your race preparation, but how deep have you had to dig inside yourself to make the most of the driver development programme?
JM: The driver development programme was all about me taking in as much information as I can from anyone, because they've got more experience than me. My mentors, even people at the track who have some track knowledge and have been there more times than anyone else in our team. So I just take it all in and listen, just one word of advice, listen. The programme has been fantastic, we've had a lot of hours in the Group N and GT4 cars and it's all just preparing us for Dubai. It's just been fantastic.
BH: The driver development programme definitely pushes you, it's a very thorough and condensed programme so we're constantly either racing or go-karting or doing fitness, or any number of things with the media. I've been put in situations I've never been put in before in my life, so with any kind of new experience you're always learning and growing a lot, both as a driver and a person. It's been very positive.
GTP: What has been the most surprising aspect of the racing you've been doing?
JM: I would say the welcoming of other drivers, I would have thought they'd be more like "He's a gamer, he's not going to be very good" but because Lucas and Jordan have been racing the same events as we have, they've come to know that the winners that GT Academy select are good drivers. We get quite a lot of respect and people do come up to as saying they remember Lucas and Jordan. The other surprising thing was when we had our first race at Pembrey, I really wasn't nervous at all, about having other cars around me and not being too intimidated.
BH: Like Jann said, the respect we've gotten from other drivers has surprised me as well. I was also expecting other people to say we're just gamers and we don't really know how to drive. A lot of the people I talk to are actually really interested in the programme and how we got to where we are now. I would say the other thing that has surprised me is how much support we have and how thorough it all is. They think of everything with this programme, it's probably the best driver development programme in the world that I'm aware of.
GTP: Have you spent much time in the simulator on the Dubai track?
JM: Yeah we've trained on I-Zone simulators at Silverstone. If Gran Turismo had the Dubai track I'd be constantly on that at home. We've had a few sessions at the Dubai track and it looks fantastic, the first section looks really quick and technical. The last sector has a lot of undulation which I didn't really expect for the Dubai track somewhere out in the desert. With the amount of cars participating, it's going to be a great event.
BH: Jann and I both did the simulator sessions together, watching each other and alternating back and forth. It was interesting because I would do something and Jann would pick up on that and either start taking that line or using that gear, and I would see things that he was doing better and start using that. We were both pushing each other forward. We have another simulator session scheduled in a couple of days where we'll be back at Dubai again, so by the time we arrive at the real Dubai Autodrome, I think we'll be up to speed very quickly.
GTP: Now that you're GT Academy champions, and you're experiencing the whole thing from the inside, what advice would you give to someone who is currently where you were 1 year ago?
JM: My advice would be don't give up! When I entered GT Academy Time Trial, I did it for a laugh to see where I would place. Just stick at it, train as hard as you can physically, really work hard on your running because GT Academy week is tough. Learn all the tracks on GT5 and as many car and track combinations as possible.
BH: It's something you really have to pour your heart and soul into, it is very intense, it can be very emotional at times. It's a really tough programme but I think that's good because by the time you get down to the final few people you have a lot of really strong drivers to choose from. Just stay as focused as possible, learn from everything that you can. It has to be your passion, or you're not going to put everything you have into it.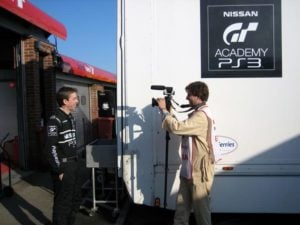 GTP: How well did Gran Turismo 5 prepare you for the challenges of driving a real car fast?
JM: A great deal. At the national finals we had some gaming on Gran Turismo 5 and then went straight into a 330 BHP Nissan 370Z, and I was amazed by the end of it how natural it felt and when the car got into an oversteer situation (which I'd never experienced leading up to that), and I was able to control it with throttle and steering input. So, Gran Turismo has shown it's one of the best simulators out there and it can help your driving in real life situations.
BH: For me, beyond the basic things like line and how to drive the car, it develops muscle memory for understeer and oversteer situations. With the force feedback wheel you can actually feel what's going on with the front of the car. The other thing is focus, if you do a longer online race with other people, you really have to maintain your focus at a very high level for a long time. A lapse in concentration can send you off the track or into a wall. At the national finals in Florida, I wasn't always the quickest driver but I tended to make the fewest mistakes and I think that's why I came out on the top to go to Silverstone.
GTP: Where do you see yourself in 3 years time?
JM: I can't say exactly what I'll be doing as it's all up to Nissan, but I would like to see myself racing competitively in a Nissan, having my own trophy room at home (laughs)! My dream from a young age has been to be a racing driver, and that's what I plan to do as a career.
BH: I'd like to be doing some kind of major international series, I don't know what exactly. I'd like to continue racing and hopefully in 3 years have the respect of my peers in whatever series I'll be racing in, really establish myself as a professional driver. Like Jann said, we don't really know what's on the cards with Nissan, I'm sure their plans are open for discussion at this time. We're looking to build a relationship with Nissan to take us to new heights.
GTP: How helpful has it been to spend time with Jordan Tresson and Lucas Ordoñez?
JM: A great deal, Lucas especially has given me a lot of advice leading up to race weekends. I remember asking him online for any tips about Castle Combe, and he gave me quite a lot of advice on lines and gear selection early on in the driver development programme. Bryan and I have done quite a lot of events with Lucas and Jordan including the New York Marathon obviously, they're great guys. Recently we went down to a bobsleigh training facility in Bath and we did some filming which was a huge laugh.
BH: It's been really good to talk to them, especially with the way Lucas has done so well for himself. He was the first GT Academy winner and has sort of legitimised the programme. Without his success, maybe the programme wouldn't have continued long enough for Jann and myself to go racing, so we owe a lot to Lucas and Jordan. It is kind of a special bond we have, as there's only four of us that have been through this together and come out as winners.
GTP: How different will your approach be to the Dubai 24 hour compared to your race here today or the races during your development programme?
JM: It's going to be the same, I have a pre-driving routine and leading up to an event we have simulator and training sessions, and for Dubai we'll have a bit more training in a heat chamber in order to help us acclimatise to the weather when we go out there. When we get to the track, I'll go through my routine which I do at every race weekend, every test session, every time I'm in the car. Just making sure I've done everything I can, so that all I have left to do is drive the car on the track.
BH: I think the main difference for me is that we'll have more time to prepare for the Dubai race. We've been racing quite frequently during the summer and the fall, and I'm going home for six weeks before Dubai so I'll have plenty of time to do fitness training, watch laps on YouTube and just really get into the whole thing, get myself mentally prepared for it.
GTP: Has it been beneficial for you to grow and develop alongside each other?
JM: Yeah, definitely. We're both competitive guys as we've both played Gran Turismo 5 online and we don't want to lose! (Both laugh) With regards to say simulator work, as Bryan said, if one of us is slightly quicker at the beginning of a session then we'll learn from each other and it's the same at a race weekend. We complement each other quite well, people have said we have quite a different driving style which is a good thing as we can learn from each other, especially here at Brands Hatch as there's some different lines you can take into corners. We're not malicious in our competitiveness (both laugh). We're teammates, we want to help each other and the team to win races. We bounce off each other quite a lot…
GTP: Hopefully not physically…
JM: (both laugh) No no no, not physically!
BH: Yeah, exactly what he said.
GTP: What has been the single most thrilling experience of this journey so far?
BH: I can answer that one, it was winning at Silverstone. It was my first race ever, it was at Silverstone, I won the race and it changed my life completely. It was the best moment ever.
JM: I think both of us qualified on pole for our race, both of us made a mistake and lost the lead, then got the lead back and won at the Academy. That has been the ultimate, but there's been a lot of ultimates. Getting in that GT4 car every race, almost every weekend, is just fantastic. As soon as I'm in the car I'm in my own zone, where I'm comfortable and it's where I thrive, and I'm just happy. I love it.
GTP: How have you found the technical side of motor sport, setting the car up etc?
JM: That has been an area where I want to improve, I've been asking a lot of questions towards Bryan and the team. I want to learn a lot more with regards to car setup, I've been reading a lot of books like Michael Krumm's book. That has helped me leading up to this race at Brands Hatch and for Dubai, so I'm going to continue to do that over the 6 weeks I'm off between now and Dubai.
BH: It's something I want to learn more about as well. I have a little bit of experience with car setup, Autocrossing in the US with stock class cars which are limited to stock springs, which are very soft so we didn't have room in the options for tuning cars. It was basically shocks, front sway bar and tyre pressures. Now we have a lot more tools at our disposal in the GT racing car, so there's a lot more for me to pick up on and learn. I have to take myself back and think about what's the best way to change the car if it's doing something, and the team is really good with that as well when we give them feedback. It's a continual learning process.
GTP: With the races you've done, have you always had Dubai in the back of your mind, or do you not think about that?
JM: I would say in endurance events that is in the back of my mind, because in those kinds of races I'm trying to gain as much experience as possible. In endurance races I tend to think about the long term more than anything. If a car's behaving in a certain way at the start of a race with a high fuel load or grippy tyres, I have to think about what the car's going to do later on in the stint when the tyres have started to wear away and the fuel load's low. It's always a compromise so I'm trying to gain as much experience as I can in those kinds of races. In the sprint races the goal is basically to go as fast as you can in a short race and not think as much about being mechanically sympathetic to the car.
BH: I think about Dubai in-between race weekends and I relate that race weekend to what to expect in Dubai. Leading up to and during a race weekend I've been focusing on that weekend exclusively, but then afterwards I'll usually do some video review. We have in-car video so I'll look at that and I'll be thinking about Dubai when doing that.
GTP: If you were to go onto Gran Turismo 5 now and practise, what combo and settings would you pick that would be the most relevant and useful to you in your continual development?
JM: I would pick Nürburgring Nordschleife or Spa Francorchamps, using the GT Academy Nissan 370Z Tuned on Racing Hard tyres with all driving aids off apart from ABS at 1. I think my aim would be to do say 50 laps and I would want all the laps to be within 2 seconds. We've done quite a lot of that in simulator sessions at Silverstone. With regards to Dubai we have to run consistent lap times during our stints with no lapses in concentration at all. Traffic management is also important so I could do an online session at Nürburgring with 16 cars on track, and try to be really consistent. I will be doing that during my 6 week break, long sessions of Gran Turismo 5!
BH: Yeah that's actually what I was thinking, the Tuned Nissan GT Academy 370Z. I really like the way that car drives and it's pretty similar to the GT4 car we're driving now. I haven't driven Spa yet in Gran Turismo 5, so when I go home I'm going to download that and be all over it! Like Jann said, it's about driving a bunch of consistent laps, as I said earlier, focus and not making mistakes are key to endurance racing.
GTP: Thank you so much guys, we wish you the best of luck for this weekend, Dubai and your futures.
After the interview, the guys had a few hours to kill before they had to attend the drivers' briefing and then line up on the grid. Many interviews followed with Radio Le Mans, Radio Silverstone and other organisations keen to find out just what these extraordinary young men had been through in order to make the successful transition from bedroom gamer to professional racing driver.
The race itself was a huge success, with Bryan making up 7 places on the first lap and eventually pitting in 6th place. By the end of Jann's stint the RJN Motorsport Nissan 370Z was up to 3rd overall and 1st in class! Thanks to a high rate of attrition and the descending darkness, the boys were able to maintain an excellent pace and continue delivering super-consistent lap times, Bryan eventually bringing the car home in a massively impressive 5th overall and 1st in class. Team principal Bob Neville was sure 4th place was on the cards but for a safety car picking up the Academy 370Z instead of the leader during a caution period.
http://www.youtube.com/watch?v=H82abu1PwwY
Refuelling and driver change during the race… 
It's fascinating to note that Jann and Bryan's best race laps were no more than 0.006s apart, and also that they were occasionally the fastest car on track a few times in the dark where they were a great match for drivers in more powerful cars. From the team's reaction and from what I could see myself, these guys are as well-prepared as anyone could hope for the Dubai 24 Hour race. Good luck!
Deepest and most gracious thanks to RJN Motorsport, Jardine International and in particular to Jann Mardenborough, Bryan Heitkotter and Bob Neville for unprecedented access to their team, facilities and race weekend. -Maz (Synwraith)
More Posts On...
The original comments for this post are no longer available.