This weekend will mark the merging of ForzaPlanet and GTPlanet into one cohesive being, henceforth known as "ThePlanet". I'm only kidding of course, as a great deal of you will already be aware that GTPlanet will remain GTPlanet but with even more bits. A never ending well of potential is how I would reference the upcoming merger. Of course it's nothing like a law firm where the names can be partnered, because then you'd have Planet-Planet and that's just confusing for everyone involved.
Nine days is all that stands between this space of time and the beginning of the 2013 Formula 1 season. I mentioned this last week and I'm definitely going to mention it again next week because it will officially be the weekend of the first race at Albert Park in Melbourne, Australia. It's a bit difficult to hide the excitement knowing a new channel is providing full coverage for the next four years in the United States. That company being NBC, more to the point, NBC Sports.
Before I begin frothing at the mouth thinking about all things F1, I'll take this opportunity to announce further expansion of the Weekly Rewind that will begin this very week: coverage of all things Forza Motorsport and Forza Horizon. For those of you scoffing right now you've nothing to worry your pretty little heads over because you're free to zip right on past the news and continue to read about all things GT. Be warned though, the typical comments baiting for arguments will not be tolerated; I've come to expect quite a bit from those of you who read this week in and week out and now wouldn't be the time to disappoint.
Without further ado, let the Rewind commence!
GTPlanet Picture of the Week
This week's entry was recommended by ShaolinMasta, and is courtesy of zambuca and features the Honda NSX in a shot mastered in blue tones and overtones alike. The picture, aptly titled "Feeling Blue" is an entry in this week's 3.0 Unlimited Photomode Competition. Best of luck to you, zambuca!
Have a suggestion for next week's featured image? Drop me a private message, entitle it "GTPlanet Picture of the Week" and fill it out with your two choices and they'll be featured in upcoming Rewinds. NOTE: You cannot elect your own work.
HDR and Tone Mapping Tutorial
If you've been following the previous two photomode tutorials featured in previous Rewinds, you're undoubtedly familiar with, and perhaps even mastered, the art of reflections and cleaning up GT5's many Standard cars and making them look Premium, but what if you're looking for a new challenge? Well sixtoes is here to guide you in the right direction with his HDR and tone mapping tutorial, both literally and figuratively.
HDR, or High Dynamic Range is essentially the process of combining multiple images of varying exposure (and shutter speeds) into one image that highlights not only the vibrant colors but the lights and darks of the photo as well — bringing detail to your images that wouldn't be otherwise possible, short of pseudo HDR methods, which aren't as entirely efficient as the full-blown method being taught here. The tutorial itself is lengthy and for good cause, but it's well worth the effort. It takes a bit of tweaking and getting used to even after the tutorial to get things right, but the journey is, again, worth the effort.
Having read the tutorial myself (you'll see my comment in the thread, dating back to 2011) I can speak from personal experience: get to it! You can find the full-blown tutorial right here.
GTPlanet Weekly Race Series (WRS) Week 107 – 7 Gears for 107

This week you're going in reverse—as in Grand Valley Speedway Reverse with the fierce-looking conceptual GT by Citroen Race Car of the dream car variety. With 611 horses under it's bonnet (and more once broken in) and Racing Mediums, this is perhaps one of the best technical tracks to let loose on with the tool provided. For more, here's the Steward's Comments:
"This car is incredible. If you have not driven it, please know up front that it's nothing like the Concept or Road cars. It does not have the unrealistic, F1 type downforce both of those cars are equipped with, and it has a proper, petrol powered motor. Best of all, it has a 7 speed gearbox. This is a great combo, the car it well suited to the flowing nature of the track, have fun out there."
Stop by the official thread here and remember that you NEED to be registered before officially participating in the WRS, and that can only be done by submitting a time for the official GTP Registry Qualifier.
GTPlanet Vehicle of the Week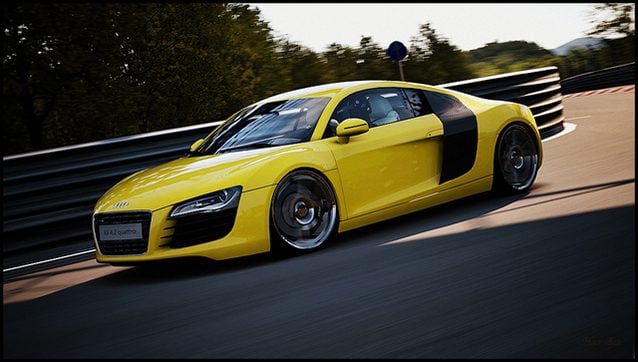 This week's featured vehicle was first revealed in 2003 as the Le Mans Quattro Concept, and bears the same name as one of the most successful race cars of the 21st century – none other than the R8. Officially shown off the day before the 2006 Paris Motor Show, the car was presented in La Defense with speeches from Jacky Ickx and Tom Kristensen. The car itself began production at the Neckarsulm site, the same location where Lamborghini's Gallardo chassis was being constructed at the time.
Power is delivered to all four wheels via Audi's Quattro permanent four-wheel drive system and is attached to either a 6-speed manual or a shift-by-wire R-Tronic transmission. At the heart of Audi's first foray into the world of supercars lies a dry sump version of the RS4's FSI direct injection V8 producing 420 horsepower.
Have a suggestion for next week's featured image? Drop me a private message, entitle it "GTPlanet Vehicle of the Week" and fill it out with your two choices and they'll be featured in upcoming Rewinds. NOTE: You cannot elect your own work.
Forza Horizon – March Meguiar's Car Pack Released
This past Tuesday, the fifth (sixth including the Rally Expansion Pack) consecutive DLC expansion was released, bringing forth six new vehicles to the virtual world of Colorado to race and customize:
2013 Audi RS4 Avant
2013 BMW M135i
2003 Ferrari Challenge Stradale
2012 Mercedes-Benz G 65 AMG
1998 Nissan R390
2004 Peugeot 206 RC
And a seventh exclusive vehicle for Season Pass owners, the 2010 Joss JT1. The pack is available now for 400 Microsoft Points ($5) or free if you're in possession of a Season Pass.
GTPlanet Tune of the Week
This week's tune, recommended by danbojte for the third consecutive week focuses on the RM specification Chevrolet Corvette Z06 done by our resident tuner praiano63. The tune itself, as you can see, allows for a 650PP-based monstrosity at your outing of choice, and with Racing Mediums it's almost assured to make short work of the competition – whomever they may be. The tune can be found here.
Exactly like the Picture and Vehicle of the Week features, if you have any suggestions for the upcoming Rewinds be sure to drop me a private message, entitle it "GTPlanet Tune of the Week" and let me know. NOTE: You cannot elect your own work.
GTPlanet Photomode Competitions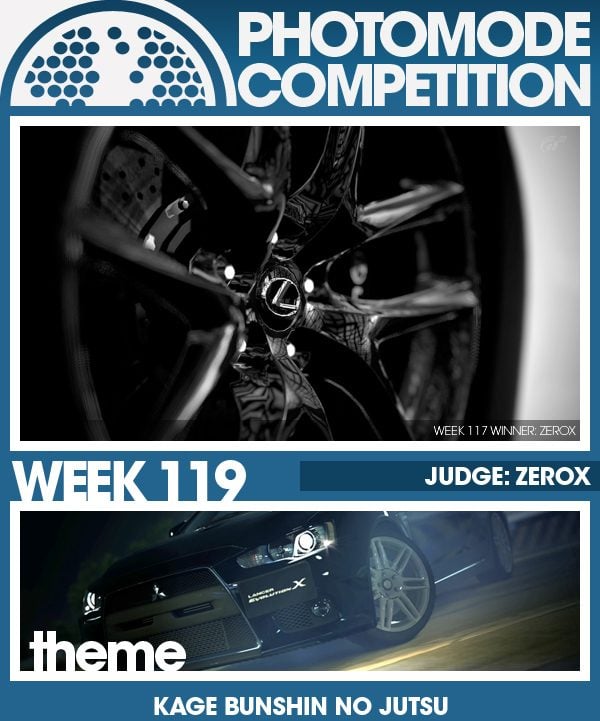 In Week 119 of the Standard and Advanced competitions you are to put your best foot forth and show the community just how seriously you take your in-game photography. All you need to know is as follows:
Week 119, Standard: Kage Bunshin no Jutsu – Zerox, take it away: "Alright, some may already heard of this one. Particularly, anime fan out there. Never heard of it? Just google it. Or just don't mind about that. This week, I want you to take out a 'certain' same base model car that have multiple different manufacture badge. I think you guys know what's coming…."
Haven't gotten the entire picture? Then allow me: you have three choices here, the Toyota 86, Scion FR-S, or the Subaru BRZ, take them to any location and capture the still life of either (or all) of these cars in all of their electrifying tenacity. The unique restriction is that the shot, as already mentioned, must be static (still; not moving) and no body modifications can be done outside of a tier 1 spoiler/rear wing upgrade and custom wheels/rims. Are you clear as to what your task is now? Good, get to it!
Week 119, Advanced 2.0: Other Feats of Engineering & Design – Be creative this week, but wait just one moment… you can't use a vehicle! I've gotten your interest now haven't I? Any location you want, whether it be a fantasy track, a real-world track, or a Photo Travel location, the objective is simple: capture something that's simply not a car. Need a example? How about the coliseum at Rome or one of the many satellite dishes at Special Stage Route X? The scenic route is what this week's challenge is about.
For all of the relevant information pertaining to this week's challenges be sure to stop by here and here.
Closing Thoughts
Next week is time for another video and I'm letting you all know right now that it's going to be F1-related, but I guarantee you'll enjoy it even if you've never cared to watch an F1 race. The magic can easily be heard in the engine notes, for that was the grace of Formula 1 once upon a time. Things could definitely go uphill again, just as I alluded to last week, I have absolutely no idea what's in store for F1 in the years to come.
Another thing I'll re-address is the addition of all things Forza to the Rewind; with the falling out of the official blog over at ForzaPlanet this is going to be the outlet for that part of me that still wants to talk about Forza, but I assure you all that it's not going to overshadow anything else in the long run. There will be times where there's simply more to talk about regarding Forza, but that's simply the nature of things. Again, all comments derivative of causing sparks will be deleted on sight. I expect plenty of you all.
With all of that said it's currently snowing outside and I'm going to go and stare, so until next week keep racing!
Oh! Before I forget, Knight Rider is still awesome.
GT5 Photomode images by StrayShadow, EDK and HaerBev.
More Posts On...
The original comments for this post are no longer available.