What a great week it's been thus far, the 2013 GT Academy demo was released this past Tuesday and has left many of us wanting so much more. Whether or not we'll get more remains to be seen but I wouldn't get my hopes up too high because we all know something has to be maintained for when Gran Turismo 6 sees itself onto store shelves later this year.
What are my personal thoughts on the demo? I think it's absolutely fantastic, however, it leaves me wanting more and I'm referring to content in this regard. The vastly improved suspension modeling is a very welcomed addition to the series, but the entire package as it's presented in the GT Academy demo leaves me thinking it's operating within the confines of a hybridization of the old data present in GT5, and the forthcoming new data that will debut in GT6.
Of course I could be mistaken but that's the lasting impression I've been left with. I've enjoyed the demo nonetheless and will patiently await the games release in the coming months alongside any and all new information that creeps its way through in the process.
GTPlanet Picture of the Week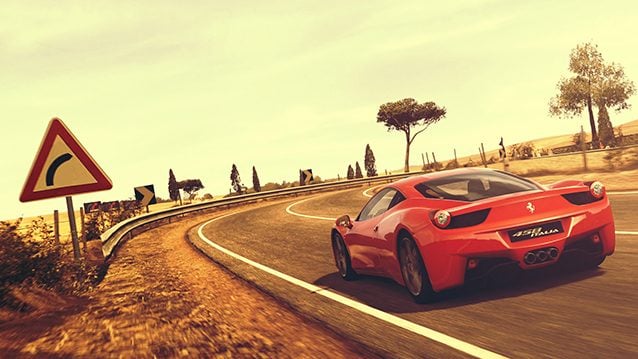 This week's image, recommended to us by The Stig Farmer and courtesy of Gagtooth, features the ever-so-quick Ferrari 458 Italia taking in the sights around Toscana in Italy.
Have a suggestion for next week's featured image? Drop me a private message, entitle it "GTPlanet Picture of the Week" and fill it out with your two choices and they'll be featured in upcoming Rewinds. NOTE: You cannot elect your own work.
GTPlanet Weekly Race Series (WRS) Online Events: 2013 WRS F1 Championship
You'll recall back in May this was featured to coincide with the Grand Prix of Monaco, and now it's time to revisit this illustrious series in the WRS as the Grand Prix of Germany awaits the F1 crowd this coming weekend.
The competition is fierce and the winner of the Monaco GP, GTP_Pasm, will be looking to extend his lead in the upcoming event with a back-to-back victory so you'd better come prepared. Best of all, if you're unable to participate you can catch the action as-it-happens for qualifying and the Sunday event on oink's TwitchTV channel.
There's no hard feelings here, you'd might as well be racing in the actual Grand Prix's because the rules, regulations and practices are pretty much identical. You have 2 Practice Sessions (instead of 3), Knock-out Qualifying, and of course the race itself – all over the course of a single week. To give an even greater feeling for the attention to detail being paid for this series look no further than the Steward's comments:
This special event series has been designed to offer participants a Full Formula 1 Experience covering all available GT5 Grand Prix Circuits.  Each stop on the calendar is scheduled on the same weekend as the corresponding real life FIA Formula 1 Grand Prix and includes free practice sessions on Thursday and Friday, a three round knockout qualifying session on Saturday, and a full length race on Sunday.
Full Formula 1 Experience
Live F1 style knockout qualification
Multiple tire compounds – Race Soft and Race Hard
Drivers must use both compounds during the race, but will only be provided two sets of Race Soft tires
F1 style formation lap and standing start (race starts at the 3 minute mark)
Race distance will match the real FIA Formula 1 Grand Prix (+1 for the formation lap)
The driver championship will utilize the FIA Formula 1 point system (25 | 18 | 15 | 12 | 10 | 8 | 6 | 4 | 2 | 1)
You'd better be prepared for some of the most hair-raising and intense on-track action seen nowhere else. Who will be the Sebastian Vettel in each of the five WRS Divisions? I can't wait to see the results!
Stop by the official thread here and remember that you NEED to be registered before officially participating in the WRS, and that can only be done by submitting a time for the official GTP Registry Qualifier.
GTPlanet Member of the Week
You know what time it is, time to place another member in the spotlight and acknowledge the worth they bring to the GTPlanet community. This week's inductee is a bit of a special case and is someone many of you will undoubtedly be familiar with, welcome axletramp to the Member of the Week hall of fame!
For the full interview be sure to stop by the Member of the Week thread and get to know Logan better, or maybe even ask him why after so much confusion he's decided to change his name to the very thing people confused it for thus causing even more confusion. He is, after all, the eleventh member to be recognized among his peers. Who's next?
Anyone you'd like to see recognized as the Member of the Week? Drop me a private message, entitle it "GTPlanet Member of the Week" and fill it out with your choices and they'll be featured in upcoming Rewinds. NOTE: You cannot nominate yourself.
GTPlanet Vehicle of the Week
Managed by Zagato, this week's featured vehicle was the late celebration of Alfa Romeo's centennial year and may come as a surprise as being a rebodied Dodge Viper.
Based off of the Viper ACR's mechanical chassis with a carbon fiber body, the TZ3 Stradale uses "Bellezza necessaria" (necessary beauty when translated from Italian) as the inspiration for the car which can be represented as the first American Alfa Romeo.
Have a suggestion for next week's featured image? Drop me a private message, entitle it "GTPlanet Vehicle of the Week" and fill it out with your two choices and they'll be featured in upcoming Rewinds. NOTE: You cannot elect your own work.
GTPlanet Tune of the Week
This week's tune, recommended to us by tuning aficionado danbojte, features yet another 'Ring Toy taking the spotlight and is perhaps the lightest and nimblest track-specific tune to date. The focus is the 1996 Lotus Elise in 400PP sporting Comfort/Soft tires, and having been helped along by mainstay tuning addict praiano63 it's sure to make short work of the competition, whoever they may be.
Victory is the name of the game as usual and if it's a deserving victory that you'e after then you'll want to stop by and see the tune for yourself.
Exactly like the Picture and Vehicle of the Week features, if you have any suggestions for the upcoming Rewinds be sure to drop me a private message, entitle it "GTPlanet Tune of the Week" and let me know. NOTE: You cannot elect your own work.
GTPlanet Photomode Competitions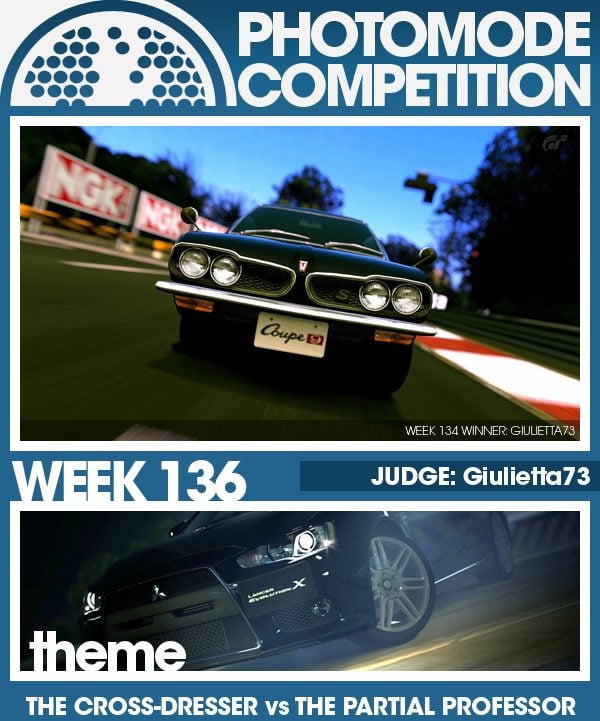 In Week 136 of the Standard and Advanced competitions you are to put your best foot forth and show the community just how seriously you take your in-game photography. All you need to know is as follows:
Week 136, Standard: The Cross-Dresser vs. The Partial Professor – I know what you're thinking, well maybe I don't because I'm not entirely sure what to think myself coming across such a title as it's certainly one of the more unique ones we've had in the past weeks so let's get to the bottom of this.
The challenge this week is simple, any track in the entirety of GT can be your canvas and any car your proverbial brush and the subject matter is simply whether you enjoy a bit of cross-dressing with the Cross-Processing filter, or a bit of half-dress with the Partial Color filter. The choice is yours.
Week 136, Advanced 2.0: Momentum – Take it away ShaolinMasta:  This video inspired me when I was thinking about a theme. Think it can inspire anyone no matter how many times you see it. Fantastic video, I can watch it again and again. 
This week I want you to capture something unbelievable, something really amazing. It could be a moment of absolute tranquility, when it seems that time has stopped or really intense, breathtaking moment or… whatever you like. There are so many great things that can be happened. Just catch the moment and use your imagination. I would like to see pictures that maximally convey the amazing atmosphere of captured moment. Have fun.
For all of the relevant information pertaining to this week's challenges be sure to stop by here and here.
GT5 Photomode images by MadMoss and BlameAuntJemima.
More Posts On...
The original comments for this post are no longer available.