What a crazy week this has been, nay, what a crazy Friday this has been for me thus far. Whether it be my own computer not wanting to function as it should, or our very own Jordan spooking the daylights out of me with the newly appointed "GTPEDIA" footnote here – I've had quite the experience in these few hours ushering in a new Friday; the first for December might I add.
If you're asking yourself "Well how could text have spooked you, T?" the answer is simple: I have a procedure; a ritual if you will, where every week I'll enter the header title, fill out the excerpt, check off the applicable categories and hit "Preview", just to see where I stand and what direction I want to go in with the Rewind. Now, nary a word had been written and here's this block of text there, taunting me. What was I supposed to think? Ghosts, that's what.
With everything steadily returning to normal and my sanity firmly intact we can move onto this week's Rewind! I've been photoshooting like a madman as of late and I'm easing back into getting not only good shots out of the mix, but good edits as well. Check out my gallery and judge for yourself because I'm all ears to any form of criticism. Granted, I'm not at the point where I'm really "happy" with anything I've put out just yet but I'm getting back to the point where I am, but don't let that stymie any thoughts going into the gallery.
Enough of my rambling, on with the show!
GTPlanet Picture of the Week
This week's vehicle, recommended by dice1998 and courtesy of ShaolinMasta and features the Schultze Motorsport GT-R screaming down what looks like the Mulsanne Straight at Circuit de la Sarthe in a masterful wet weather edit.
Have a suggestion for next week's featured image? Drop me a private message, entitle it "GTPlanet Picture of the Week" and fill it out with your two choices and they'll be featured in upcoming Rewinds.
[GUIDE] Reflection Tutorial
Have you ever wanted to visibly reflect your favorite vehicle(s) in Gran Turismo 5 but never knew exactly how to do so? Well, look no further; per zzz_pt's suggestion, this week's spotlight is once again on our very own leeislee and his spectacular tutorial teaching you how to do just that.
The tutorial uses Photoshop as the tool of choice but GIMP users should be able to follow along as well without much trouble. You're walked through the process every step of the way and the end result will be something to be proud of. And this is only one of a handful of ways to achieve such a result, so if you're reading this and feel like you have something worthy to contribute in addition to, or perhaps entirely unique to this tutorial you are encouraged to do so. For the full tutorial have a look here.
GTPlanet Vehicle of the Week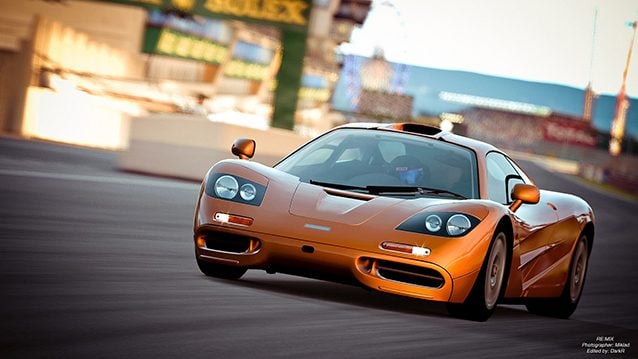 This week's featured vehicle, courtesy of QuikSlvr223, features the brainchild of Gordon Murray, the McLaren F1; the fastest naturally-aspirated car in the world with a restricted top speed of 230 mph. The McLaren F1 is powered by a BMW 6.1 V12 that outputs over 600 horses, and was the first production vehicle to be made entirely from carbon fiber – something we take for granted in this day and age.
Have a suggestion for next week's featured image? Drop me a private message, entitle it "GTPlanet Vehicle of the Week" and fill it out with your two choices and they'll be featured in upcoming Rewinds.
GTPlanet Tune of the Week

This week's tune strays away from the Seasonal-specific variety focused on for the past two weeks and instead turns it's attention toward "GT by Citroen Race Car 2" tune done by C-Zeta of Zed Tunes. It's tuned especially for Monza, and despite being down on power it's still pretty fast. Have a look here for the tune and get ready to blast around Monza – but be wary of the dashboard view!
Exactly like the Picture and Vehicle of the Week features, if you have any suggestions for the upcoming Rewinds be sure to drop me a private message, entitle it "GTPlanet Tune of the Week" and let me know.
Closing Thoughts
Apologies for getting this out as late as I did, but I couldn't see eye-to-eye with the day for a little while. With that said I don't really have much to say this week so I'll take this opportunity to advertise: those of you familiar with this segment are even more familiar with where it originated, ForzaPlanet. Now, before any of you go "Oh noes, T has gone rogue!" I have not gone rogue or anything of that sort, but the community is small (and, admittedly, kind of dead) so if you're not a member already and you enjoy the Forza Motorsport series you should join and bring some much needed life into the community there.
It's a little more than disheartening to see a community so full of life in the opening months of it's run to suddenly die off like an extinct breed after all the hard work myself and Jordan put into it. So, those are my closing thoughts for this week, so if you'll excuse me I need to cool off. Until next week keep racing!
EDIT: Hah! I forgot this week's title. It's there now, but do you see what a hectic day this has been now?
 GT5 Photomode images by gtuned, Miklad and DarkR.
More Posts On...
The original comments for this post are no longer available.