If you've had a go in any version of the SRT Tomahawk – the newest Vision GT concept car in Gran Turismo 6 – you know how crazy it is. The "X" model takes things to the furthest extreme, producing over 2,590hp with the use of "experimental technologies".
As if that wasn't enough, Polyphony Digital (or perhaps SRT?) created a special Seasonal Event in GT6 for the car at the Nurburgring Nordschleife, one of the most tight and technical circuits in the world. Put them together, and you have a brain-melting virtual driving challenge that will challenge anyone.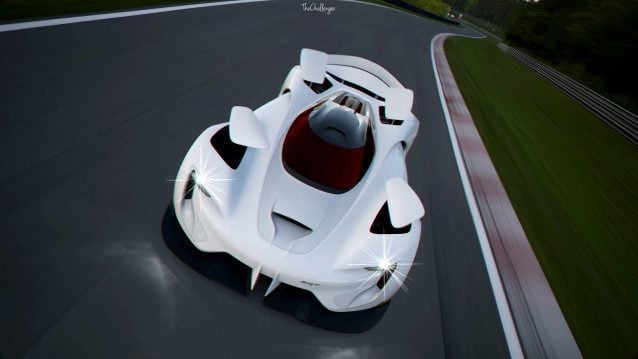 To give you some encouragement, we're hosting a special competition within this Seasonal Event, with one-of-a-kind prizes up for grabs. The fastest 12 drivers win exclusive SRT Tomahawk posters signed by the car's design team, and the top two drivers score an extra signature on their poster from Kazunori Yamauchi, the Gran Turismo series' creator himself!
Here's how to enter:
Sign in to your GTPlanet account (if you're not a member, create a free account here).
Add your PlayStation Network username to your account information.
Enter your lap time for the Seasonal Event into the "GTPlanet SRT Tomahawk X Challenge" field on this page.
That's it! You can update your registered time as often as you like before the challenge closes with the Seasonal Event on July 24, 2015 at 02:00 EDT. Unlike most competitions, this one uses a blind leaderboard – you won't know exactly who else has entered or what their time is; just go as fast as you can.
Once it's over, we'll verify your time with the in-game leaderboards, and the fastest players will win their exclusive posters. Good luck!
Official Contest Rules
Due to the complexities and legal restrictions of international contest laws, prizes can only be awarded to United States residents, age 13 and older. Winners under age 18 will be required to present a document signed by their parent or guardian before prizes will be awarded.
Lap times may be submitted and edited through July 24, 2015 at 02:00 EDT. After the contest is completed, winning users will be contacted via GTPlanet's private messaging system with further instructions on how to verify their time; failure to respond to this message within 24 hours will result in forfeiture of the prize, which will be awarded to the next eligible competitor. Winners will be required to send a PlayStation Network friend request to a specified account to verify their username. The Seasonal Event leaderboards provided by Gran Turismo 6 will be used to determine player ranking. If a competitor is found to have reported a faster time on GTPlanet than the one associated with their PlayStation Network account in the game, they will be disqualified.
No purchase necessary. Void where prohibited. GTPlanet reserves the right to exclude any competitor for any reason. Prizes offered "as is".
GT6 Photomode images by TheChallenger.
See more articles on Online Competitions and SRT.