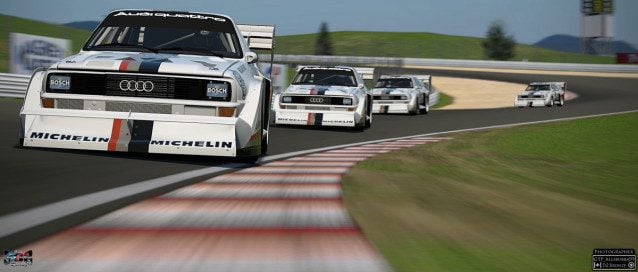 WRS Online Events

On this Wednesday, January 29th, WRS Online will continue to support the online racing platform of GT6, hosting our first official weekly race event on GT6.  The Week 1 WRS Time Trial provides the platform for this race.  This exciting event features a car that's brand new to the GT series, the Audi S1 quattro Pikes Peak Courtesy Car, on a returning favorite Original Circuit, Apricot Hill.  The races are open to anyone listed in the GTP_Registry.
This week, we'll return to our standard race format, in which we run a 1 Outlap/2 Hotlap qualification, followed by a feature length race (40 laps, in this case).  Pit Strategy will enter into the equation, with a longer race on race tires, and tire wear and fuel consumption being set to Normal.
Interested in running?  Be sure and visit the race thread and follow the instructions to register for the event in your time zone!  We now feature 3 convenient time slots, with one added last week for racers in Australia/Asia time zones.  One (or more) of these should work for most members in most regions –
3:00 PM Eastern / 12:00 PM Pacific / 20:00 GMT
10:00 PM Eastern / 7:00 PM Pacific / 3:00 AM GMT
3:00 AM Eastern / 12:00 AM Pacific / 8:00 AM GMT / 7:00 PM AEDST / 10:00 PM NZ
WRS Time Trials
The WRS Time Trials are off and running, the
Week 1
Event has been running for 7 days, and the
Week 2
event is now live in our forums.  Week 2 features another car that's brand new to the Gran Turismo series, the Ferrari FXX.  Titled FXXza Irresistible!, it takes place on a very appropriate Italy based World Circuit, Monza.
Check out this First sector video from Time Trial Steward Vagabond, to see what the week 2 combo is all about.
For those taking part in our Week 1 Time Trial, the deadline is upon us, just about 30 hours from this initial posting.  Don't forget to submit your final time, and see where you stack up!  Week 1 action has been hot and heavy, and incredibly close.  As of this posting, there are 135 drivers on our leaderboard, with more than 10 drivers separated by less than 0.3, and more than 20 drivers separated by less than 0.5.
What's Next?

If you're interested in joining the GTP_Registry to take advantage of the events we are offering, here's what to do:
Run the GTP WRS Qualifier. The registry is open to submissions at this time, and divisional placement is required to participate in our events.
Have questions? Anything related to the qualifier can be discussed in this thread.
More Posts On...