Hot on the heels of June's World Series 1 broadcast, the official FIA Certified Gran Turismo Championship is back with another show this month.
The second round of the World Series, a new event format for 2021 to replace the World Tour for this year's exclusively online championship, will be broadcast on July 11.
For the first two stages of the World Series we'll see the top drivers from the 2020 World Final going head-to-head in a races for 2021 points. Following World Series 2, the drivers will meet up with the top online qualifiers from Season 1 in the World Series Showdown, both for points and the right to race in the World Series 3 and World Series 4 events.
That means we'll be seeing some very familiar faces, as the players in each event will be the same as World Series 1 last month. Reigning world champion Takuma Miyazono will return, hoping to get off the mark this season, but he might have met his match this year as Valerio Gallo won both the opening contest and the Olympic Virtual Series last month.
The Manufacturer Series will also be unchanged, with newcomer Alexandre Le — the top-ranked eligible player for the qualified Citroen brands at the time of World Series 1 — once again taking his place alongside 11 of 2020's World Final drivers. Angel Inostroza won for Porsche last time out, ahead of Ryota Kokubun for Mazda, and defending champion Subaru, with Takuma Miyazono, third.
As we expected, the format will be the same as World Series 1 last month, with a single race in each championship — this time set at the Nurburgring Grand Prix circuit (Manufacturer Series) and Laguna Seca (Nations Cup). The winner of each race will score three World Series points — for themselves in Nations or their brand in Manufacturers — with two points for second and one for third. These will accumulate across the season, right through to December's World Final.
The stream will start at 1300 UTC on July 11, and you'll be able to watch it right here on GTPlanet.
Competitors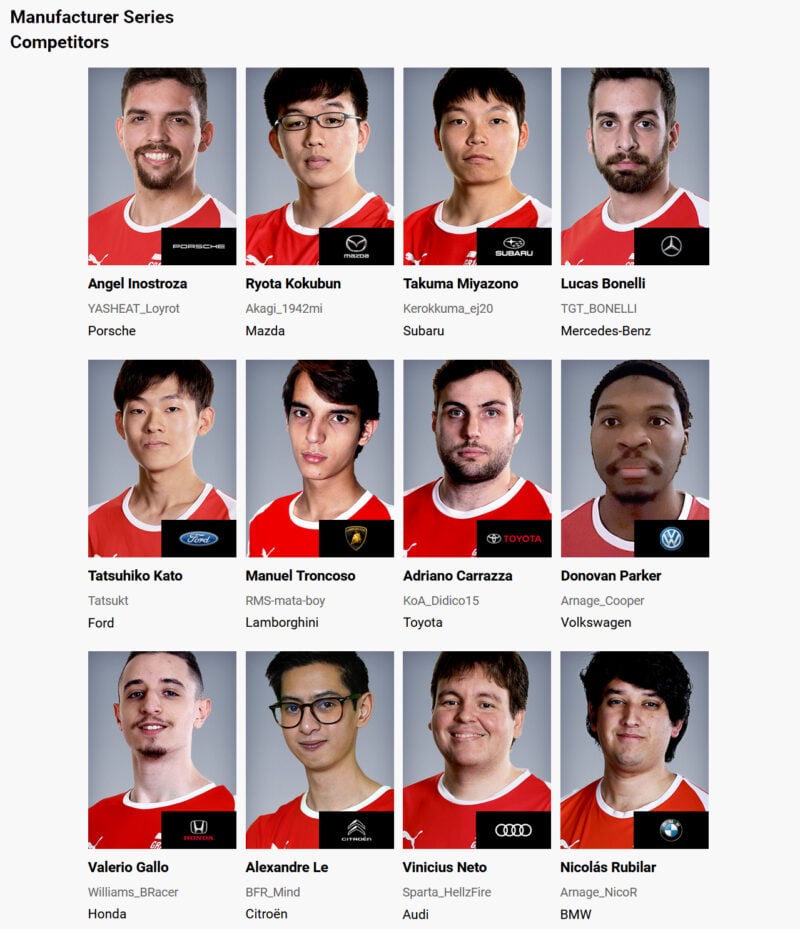 See more articles on 2021 FIA GT Championship.