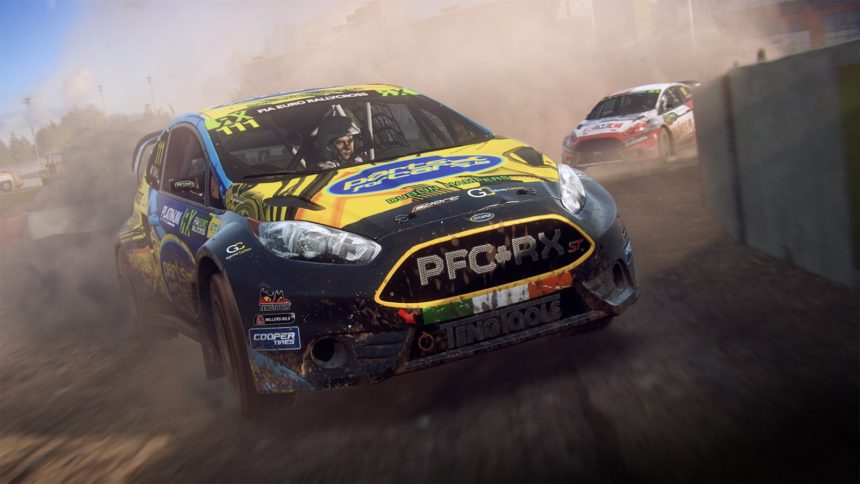 First it was the launch trailer, giving a gritty look at the game and much of what it has to offer. Now we've got the next bit of info on DiRT Rally 2.0: the achievements.
All 50 achievements for the game are now live, thanks to progress-tracking website True Achievements. By the looks of things, there's plenty to keep players occupied over the first couple of weeks. Expect more to do too, as Codemasters has outlined its plans for the game's post-launch support.
One challenge stands out among the rest, "Keepin it Real". The task? Engage Hardcore Damage on 15 Rally stages. No doubt a challenge even for veterans, it will take nothing short of iron will to nail this one down.
Beyond that, there's "Against the Clock," where players will need to complete 10 Time Trial events. Which, if we're being honest, sounds like a walk in the park compared to the former.
While the game releases in mere days on February 26, those with the Deluxe Edition will have first crack at the game in its entirety beginning tomorrow.
If you can't wait until either day, we took the new rally racer through its pace in our review. The short story is the game upholds its reputation and then some. If you're a fan of the discipline, this is a must-have.
For those interested in the challenges that await, look no further than down below.
A Noteworthy adVANTAGE – Win 5 events in the Aston Martin V8 Vantage GT-4
A Household Name – Finish a Custom Championship
Some Minor Wear and Tear – Purchase 5 cars from the Classifieds
Rocky Road – Complete 10 stages in Argentina
On the Ladder – Win your first My Team event
Tough Competition – Win your first Custom event
Antilag Engaged – Purchase your first FIA World Rallycross Supercar
Fire Up That Car… Again – Finish in the top tier of an Audi Sport quattro S1 E2 Daily in Community Events
That's Dedication – Complete 3 Weekly Community Events
Living the Dream – Purchase all five Group B AWD vehicles
Eat my DiRT – Complete 20 Custom Events
It Would Be Bakke'RUDE Not To – Win every Qualifier, the Semi Final, and Final in a World RX event
Viva España – Win a Rally event in Spain driving the VW Polo R5
Watch the DELTA – Purchase every Group A car
Monster Energy Supercharge Award – Get the fastest start in the World RX Championship mode. In an event Final.
We Had to Change the Girboks – Repair your car before a stage and win
Clown Car – Complete 50 Joker laps
Flight School – Complete 25 jumps of 50m or more
Focused – Win your first event with Hardcore damage enabled
Wheel Spin – Win 10 stages without using any assists
CAUTION, Don't Cut – Complete a stage without damaging your car
Don't Knock my Line – Spin 3 times on a stage and win
Speedy Machine – Complete a Full Format Rallycross event at Silverstone
UPGRADED – Fully research and apply the maximum engine upgrade to 5 cars
Qualified – Complete your first AI Scenario
When in Doubt… – Set the fastest time on a stage with high degradation
Against the Clock – Complete 10 Time Trial events
Pro Driver – Win an event in the Renault Megane RS RX
Bringing the Thunder – Win 10 stages in the rain.
An Expensive Hobby – Earn 1,000,000 Credits
Adaptable – Complete a stage in Dry, Overcast, Rain and Wet conditions
The Right Way Up – Roll your car during a rally stage in Australia and continue
Polo Club – Finish 5 events in the Volkswagen Polo GTI R5
Golf Club – Win 3 events in the Volkswagen Golf GTI 16V
Rally North America – Complete 3 Rally events in New England with the SUBARU WRX STI NR4
Fine Tuned – Create and save your own tuning setup
World RX Champion – Win 8 Events in the FIA World Rallycross Championship mode
Classic Rally 2.0 – Win your first Classic Rally Historic Championship
Past and Present – Win your first Present Day Historic Championship
Group B Master – Win the Group B 4WD Masters Championship
Velkommen til Hell – Complete 5 Rallycross events in Hell
Going the Extra Mile – Complete 2 Joker laps and win
Modern Art – Win your first Modern Classics Historic Championship
Back to the 80's – Win your first Back to the 80's Historic Championship
Consistency is Key – Complete 3 consecutive laps in a Rallycross Qualifier all within a second of one another
Wouldn't Expect Anything More – Win a Rallycross Qualifier by less than a second
Taking the Scenic Route – Win a Rally event in New Zealand
Time Machine – Complete 3 Championships in Historic Championships
Keepin it Real – Engage Hardcore Damage on 15 Rally stages
Around the Gloeb – Complete an event at every unique location
More Posts On...