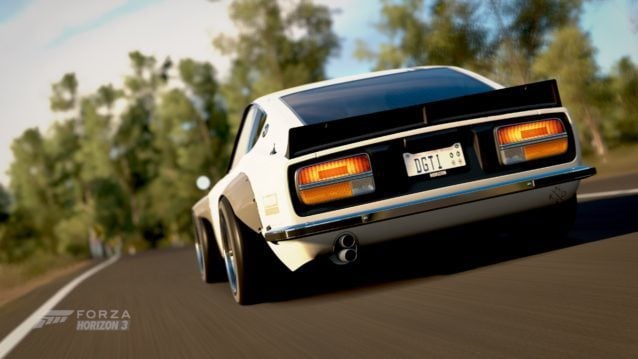 Last seen in Forza Motorsport 4, the cult classic 1994 Nissan Silvia K's is back with the franchise, but only for those who manage to drift their way through week two of Forzathon.
The inaugural set of challenges kicked off last week, rewarding comedic car horns to those who managed to complete online adventure tasks. This time around, Forzathon puts drivers' drifting mettle to the test with three skill-based activities:
The Drift King: Get 3 stars on 3 Drift Zones with any Japanese Car to win 15,000 CR
AKA D.K.: Bank 100,000 Skill Score in a single chair with a Japanese Car to win 15,000 XP
Initial Drift King: Score 35,000 Points in a Drift Zone with the Toyota Trueno to win the Nissan Silvia K's '94
Without much reason for doubt, the latter should spark the greatest amount of attention. The car universally referred to as the S14 has been one of the most requested vehicles within the Forza community. Virtual wheelmen and women who succeed in the Initial Drift King challenge will garage the car which is wildly synonymous with drift and tuner cultures.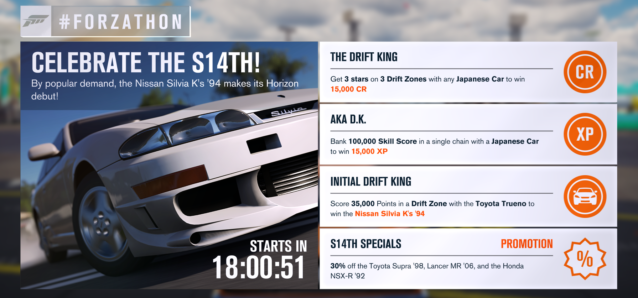 To complement the week's tasks, a 30 percent discount is applied to the 1998 Toyota Supra, 2006 Mitsubishi Lancer MR, and 1992 Honda NSX-R, all accessible in the Autoshow.
Seeing the Silvia K's make an appearance as a winnable content was anticipated when Playground Games' Ralph Fulton briefly mentioned the new Forzathon feature at this year's Gamescom showcase.
Forza Horizon 3 owners on the Xbox One and PC who are looking to snag the S14 will need to be quick with the hooning action. This round of Forzathon closes at 9 a.m. UTC on Oct. 15, according to a Playground Games tweet.
So, how do you feel about seeing one of the most demanded vehicles being introduced as winnable content? Provide your feedback in the comments section below, then head over to the Forzathon Discussion in our forums to share tips and tricks to checking off all challenges.