A group of the fastest Gran Turismo Sport players from around the world have descended on Salzburg, Austria this weekend to compete in Polyphony Digital's second "World Tour" exhibition event of the year.
The first World Tour event was held last at the Nurburgring 24 Hours back in May, and if that was anything to go by, we're in for some good racing.
Even if you're not interested in the racing, there is good reason to watch: the live stream will offer our first look at GT Sport's all-new Fuji Speedway GT circuit.
Unlike the Nurburgring event, though, Polyphony has invited a more diverse group of competitors from around the world, including the Americas, Asia, and Australia. Here is the full lineup of all 36 participants:
Driver Lineup
Event Format
Although "World Tour" events are exhibition events — just for fun — they follow the same format of the GT Sport FIA Online Championship, which includes a Nations Cup and Manufacturers Cup.
Nations Cup
The Nations Cup consists of four races. The first three are sprint races, and will include one driver from each country. The fourth race is an endurance race and will include driver changes, so every player will contribute.
Each player will score points based upon their finishing position, and the player at the end with the most points wins. Here's a visual breakdown of how it works (and yes, Fuji Speedway is an entirely new track for GT Sport that is not yet available in the game for the general public).
Manufacturers Cup
For the Manufacturers Cup, the same 36 players will be divided into groups of two, with each group representing one of the 18 different manufacturers in the event.
Two races of nine manufacturer teams will compete in the first round of the tournament-style competition, with the top six manufacturers from each race moving on the final. The two drivers on a team will share a car throughout, and each race will require a mandatory driver change.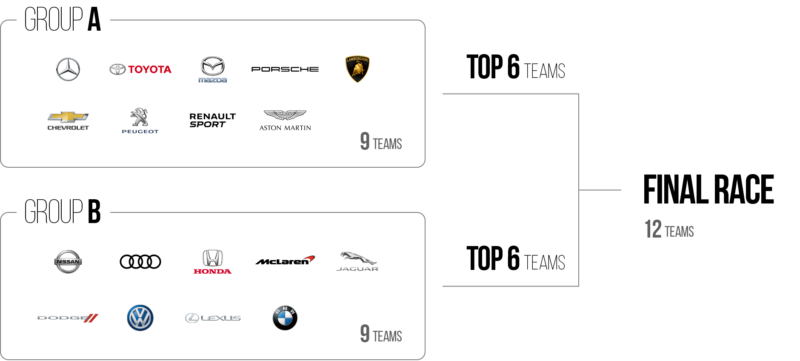 Event Schedule
Live Streams
You can watch the English-language stream from the official Gran Turismo YouTube channel above, or stream on RedBullTV or Twitch, if you prefer.
Live streams with commentary in five other languages are also available:
Our own Andrew Evans is on the ground at the event, so keep an eye on GTPlanet's Twitter feed for more coverage.
Last but not least, be sure to join all the discussion in our forums, where many of the competitors will be posting and chatting about the races when they are not behind the wheel. Best of luck, guys!
See more articles on FIA Online Championship, Live Streaming, and World Tour.