After five intense days of on and off track action, Luca Lorenzini from Mantova in Italy and Jordan Tresson from Villers La Montagne in northern France have been announced as the two winners of the GT Academy 2010. More hard work awaits the victorious pair who will be back at Silverstone next Monday to commence an intensive driver training programme to qualify them for an international C race licence. Only one of the pair will then be given the opportunity race a full season in the European GT4 Cup in a Nissan 370Z GT car.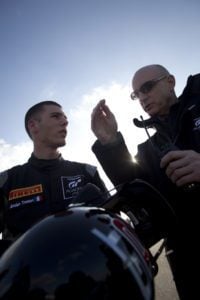 It was not an easy decision for the GT Academy judging panel that consisted of Eddie Jordan, Johnny Herbert, Sabine Schmitz and experienced sportscar driver Rob Barff. Irishman Daniel Collins and Spaniard Marco Calvo just failed to make the grade from among the final four. However, they could be proud to have emerged from an original 18 and, even more impressively, from among the 1.2 million gamers that entered GT Academy via the PlayStation®3 Gran Turismo time trial.
"This has been extraordinary," enthused former Formula One team boss, Jordan. "I have been absolutely blown away. I could not believe that these gamers, with no experience of racing cars could do this. Apart from one accident today, we have had no issues at all on the driving side. They really are great drivers, all of them, and this has been a great experience. In the end, I think we had two clear winners and I think they will do very well. But each and every one of the 18 can be rightly proud of what they have achieved and I know that they have all had an amazing experience that will stay with them forever."
The final day of action started with an early morning triathlon, comprising a muddy sprint from Whittlebury Hall to the Silverstone off-road area for bike changeover and a cycle to Stowe circuit, followed by laps in the 370Z. The event produced high drama when Jordan Tresson, who was the clear leader, put his chances of winning at risk when he misjudged the first corner of the new Stowe Circuit on cold tyres and crashed into a tyre barrier.
"It was a serious incident and he really let himself down at that point," explained Barff. "However, overall Jordan has been extremely good and fast and he is supremely fit. Crashing on cold tyres is a mistake that many drivers have made, and I suspect he will not do it again!
"This has been a fantastic final day. I was so impressed with how quick the guys were in a full GT4 car. Luca has been so consistent and got better and better throughout. I think we have a great pair. Dan Collins is a PlayStation learning machine who has just grown and grown. Marco had a great last day but just wasn't quite there."
Lapping the Stowe Circuit in a full race-spec Nissan 350Z GT4 car must have been a highlight of GT Academy for the gamers turned drivers. It was the very same car that had carried their predecessor, Lucas Ordoñez, to second place in the 2009 GT4 Cup. However, there was a final, and incredible, challenge still to come for the four finalists.
After 10 minutes of practice and a 10 minute qualifying session, all four drivers lined up in identical race-prepared Nissan 370Zs on Silverstone's famous start-finish straight. The competition was fierce in a 20 minute race, punctuated by a simulated driver change in the pits. With the drivers having to release their steering wheels, jump out of the car and run around it before getting back in, it proved to be a decisive element of the race. Jordan Tresson entered the pits with a lead, but it was third-placed Marco Calvo who re-entered the circuit first after a lightening pit stop. Marco held on for the win and hoped that he had done enough to progress to the fourth stage of GT Academy.
"This has been an incredible journey for all of us, but particularly for our two winners," said three-time F1 winner, Johnny Herbert. "They have really stood out over the course of the week and today showed that they are ready to compete in a GT4 car at international level.
"All 18 drivers that we started with have got a lot to take away with them. They have driven things and experienced things that they never would have. It has been wonderful to be a part of this and I look forward to watching the progress that Luca and Jordan make from now."
German winner of two Nurbürgring 24 hour races Sabine Schmitz, was also impressed with GT Academy: "I have enjoyed this so much. Working with two F1 legends was one thing, but to work with all these great young guys who are so talented has been unbelievable. I have worked with many people on track days with more experience. These gamers came here with virtually no track time and they knew where to brake, when to turn in. They struggled at first with the G-force, but I think it really shows how good the Gran Turismo game is."
QUOTES
Jordan Tresson, France
"I was worried about my chances this morning after I crashed, but I am so happy I made it. It's just amazing that Nissan and PlayStation have given me this opportunity.
"I'm going to do my best over the next two months and try and improve as much as possible. Even if I'm not the winner who gets to race in the European GT4 Cup, I will have still learnt so much."
Luca Lorenzini, Italy
"Jordan was so fast, I always tried to beat him but it was tough! I did think that I would get through, as my times were faster than the other two guys. I'm so happy that Nissan and PlayStation are running GT Academy. It's my one opportunity in life to live my dream"
Daniel Collins, Ireland
"To be honest, I am happy. This has probably been the best experience of my life. I am also really happy for the other two. They really deserved it so I can't be disappointed. It was an incredible learning experience. I would like to thank PlayStation and Nissan and all the judges, the organisation and other competitors. I would certainly like to come back again if I get another chance."
Marco Calvo, Spain
"I am quite disappointed but Luca and Jordan were fast and they deserved to win. I went a bit wrong in the GT4 car. It was right hand drive, which was hard. I certainly would like to do more racing and would love to come back here again. Being a racing driver is still my dream."
Mark Bowles, Sony Computer Entertainment
"We're really pleased with the two guys that won, they are going to do a fantastic job in the next stage of the competition. All eighteen finalists should be so proud to be here. They beat 1.2 million other hopefuls to get a place in the GT Academy, and we appreciate all the hours they have put in playing Gran Turismo and everything they have achieved here at Silverstone over the last five days. PlayStation would love to see either Jordan or Luca go on to mirror the success of last year's GT Academy winner Lucas Ordoñez."
"We have learnt a bit from 2008 and I think we put together an extremely intensive programme. We took 18 gamers, most of whom had never been on a track. When I watched the final four driving a 400 bhp, slick-shod international race car they all looked like professional race drivers. They have a lot to live up to. Lucas, our winner from 2008, was on the podium in his first race. These two now have to aim high during the next two months.
See more articles on GT Academy 2010.