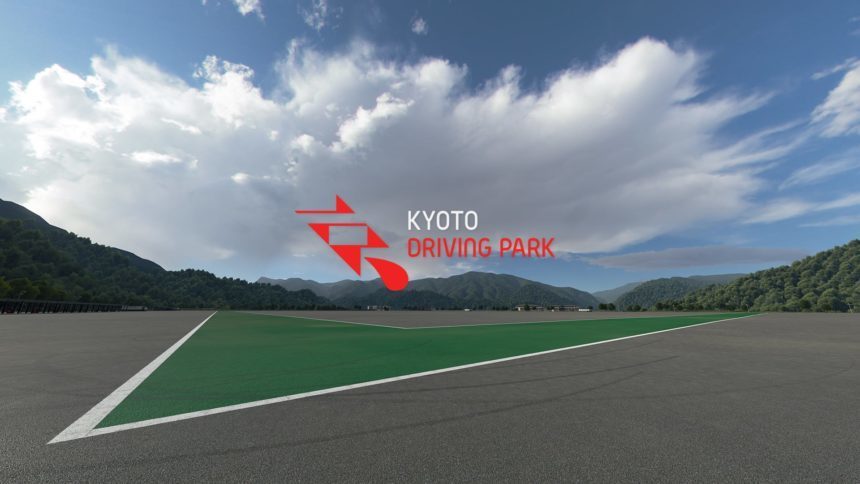 We're fresh off the GT Sport 1.11 update that brought us Monza, along with new variations of Lago Maggiore Circuit. However, some clever GTPlanet community members have found an additional mystery track.
Named Kyoto Driving Park – Square (KDP-S), this unlisted track appears to be a large asphalt pad. Multi-color lines also squiggle their way around the wide open space as well.
The setting is just outside the confines of Kyoto Driving Park – Yamagiwa+Miyabi II.
Analyzing the photos, posted by users CLowndes888 and Double H, conjure up several theories on what the track might be.
One of the leading theories is an autocross course. Since these events are typically held in wide open parking lots, KDP-S does seem to fit the bill. Changing the course is also relatively easy for developers too, since all they need to do is rearrange the cones.
However, there are several multicolor rings on the asphalt. This could throw a wrench into the autocross theory since rarely do the course feature 360-degree turns.
Given the presence of the rings, another theory is that KDP-S is a skid pad.
We aren't really sure what the purpose of this would be outside testing the handling limits of some of the cars. However, it does line up nicely with images of real-life skid pads.
Building on the autocross theory, another possibility is a gymkhana course.
We aren't talking Ken Block sliding around an urban area or up Pikes Peak though. Instead, we wager if it is gymkhana it'll line up more with the amateur motorsport events that take place across the globe.
The final theory, and one we quite like, is the return of the Coffee Break.
These little activities, first found in GT4, provided a break from the otherwise intense requirements of the license tests. All of them focused on either running over cones or trying to navigate through them.
The Coffee Break mode didn't make it into GT5 but did return for GT6.
For these new challenges, the cones were still there, just inside Gran Turismo Arena instead of outdoors. But a new layer of fun was added including eco-challenges that made you complete a track on fumes, and drift challenges.
Ideally, KDP-S will tackle a combination of these uses.
For now, there's no indication on when or even if KDP-S will find its way into GT Sport. However, Double H did uncover some additional details that make us think it's on the roadmap at least.
According to Double H's digging, he found that there's a set length of 500m and the default time of day is 11:30 am.
We will keep our eye on all the latest news and rumors surrounding this potential new track. In the meantime, we'd like to hear your theories on what it might be.
Photo credits to CLowndes888 and Double H.
More Posts On...