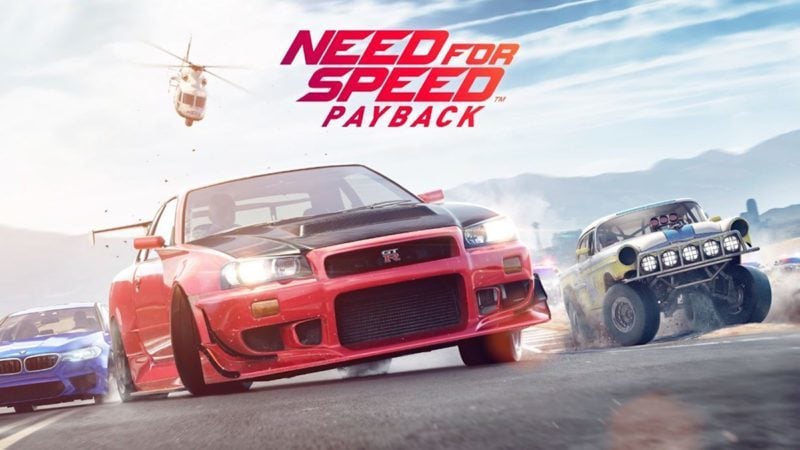 Electronic Arts has shown off the first trailer for the next NFS game. Titled Need For Speed Payback, it launches November 10 worldwide.
The trailer follows an earlier teaser image posted by Ghost Games, the same team responsible for 2015's Need For Speed. While it doesn't give much away — that's what EA's E3-adjacent EA Play event will be for — there's still plenty contained within the 85-second trailer.
What's New?
After the perpetual night setting of the last game, fans will notice a full day cycle on display. There's been a change in setting as well, to the fictional area of Fortune Valley. From the sounds of it, this new location should offer a lot more variety than the previous game. The official site lists a city (Silver Rock), desert, mountain, and canyon. It all seems much more about open-world exploring than the relatively hemmed-in nature of the last game.
As you'd expect of a modern NFS title, there's a storyline. Players will assume the role of Tyler Morgan, former street racer. Your job is to take down The House, a cartel that has its hands in the pockets of the local business and cops. Yes, the trailer wasted no time using "the house always wins".
Cars will be divided into five categories in Payback: Race, Drift, Off-Road, Drag, and Runner. If that sounds not only similar to the last game to you, but also to The Crew, you're not alone. With the second installment of that franchise set to launch soon, it'll make for an interesting comparison.
The Cars
Like any driving game, the big focus here is on the cars. The trailer kicks off with a glimpse of the latest Mustang RTR, a car built by Vaughn Gittin Jr. Soon after, we watch as Tyler's crew loads a Koenigsegg Regera into a trailer.
Next, we're treated to a botched semi-truck hijacking straight out of the Fast & Furious franchise. It's unclear if this is the same Regera-carrying truck or not. Nonetheless, we spotted what appears to be the new Dodge Challenger SRT Demon here, in addition to the big, burly BMW X6M.
Petrolheads will no doubt be focused on the big reveal of the 2018 BMW M5, however. BMW hasn't even officially revealed it in the real world yet! This isn't the first time NFS has been a step ahead in this regard, though. 2015's Need For Speed included the smaller M2 before it went on sale.
The M5 will have some high-powered four-door competition too. The Porsche Panamera Turbo makes a brief appearance in the video, confirming that while the EA exclusivity deal may be dead, Porsches will still appear in NFS titles.
Other cars we spotted in the trailer:
Nissan R34 Skyline GT-R (er, obviously)
Nissan 350Z
Lamborghini Aventador
Datsun 240Z
Chevrolet Bel Air
Pagani Huayra BC
Ford Mustang (1965)
BMW E46 M3
When Is It Out?
EA has announced Need For Speed Payback will launch worldwide November 10 on PS4, XB1, and PC. As is increasingly common these days, there will be a Deluxe Edition. It will include exclusive in-game goodies, and provide early access starting November 7.
In addition, all pre-orders will receive the Platinum Car Pack. This will include five pre-tuned versions of cars already available in the game (though Ghost only lists four):
Nissan 350Z
Chevrolet Camaro SS
Ford F-150 Raptor
Volkswagen Golf GTI Clubsport
EA Play will provide us our next look at Payback — including gameplay — on June 10. We came away mildly disappointed with 2015's Need For Speed, largely due to the handling model. Due to this we'll be keeping an eye on Payback at E3 to see what improvements Ghost has made.