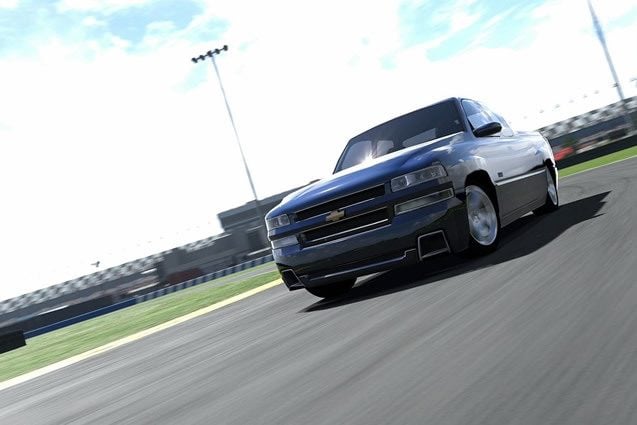 In a somewhat surprising update to GT5's "Seasonal Events" given the continued disruption of life in Tokyo, Polyphony Digital has introduced five new races in the game and extended the deadline for existing events. Here's a closer look at what's new along with the potential earnings from each (thanks for the stats, MarsSpork):
5 laps of Tsukuba Circuit (79,700 Cr)
3 laps of Fuji Speedway F (82,000 Cr)
1 lap of the Nurburgring Nordschleife (111,900 Cr)
3 laps of Grand Valley Speedway Reverse (84,300 Cr)
5 laps of "Mt. Aso Tarmac" (91,000 Cr)
Changes have also come to the game's Online Car Dealership, which highlight the game's trucks:
TRUCKS
Chevrolet Silverado SST Concept '02
Chevrolet SSR '03
Daihatsu Midget II D type '98
Dodge RAM 1500 LARAMIE Hemi Quad Cab '04
Ford F-150 Lightning '03
Toyota Tacoma X-Runner '04
STREET
Acura HSC Concept '04
Alfa Romeo 155 2.5 V6 TI '93
Bugatti Veyron 16.4 '09
Fiat Panda Super i.e. '90
Ginetta G4 '64
Lamborghini Countach 25th Anniversary '88
Lamborghini Countach LP400 '74
Oullim Motors SPIRRA 4.6 V8 '04
Pagani Zonda C12S 7.3 '02
RUF 3400S '00
Volvo 240 GLT Estate '8
RALLY
Lancai STRATOS Rally Car '77
Mitsubishi Lancer Evolution Super Rally Car '03
Peugeot 205 Turbo 16 Evolution 2 Rally Car '86
Subaru IMPREZA Rally Car '01
RACE
BMW V12 LMR Race Car '99
Gran Turismo Formula Gran Turismo
Jaguar XJ220 LM Race Car
Mazda RX-7 LM Race Car
Nismo GT-R LM Road Going Version '95
Nissan 350Z Concept LM Race Car
Pagani Zonda LM Race Car
Panoz Esperante GTR-1 Race Car '98
Vauxhall Astra Super Touring Car '00
GT5 Photomode image by Ghertel.
More Posts On...
The original comments for this post are no longer available.