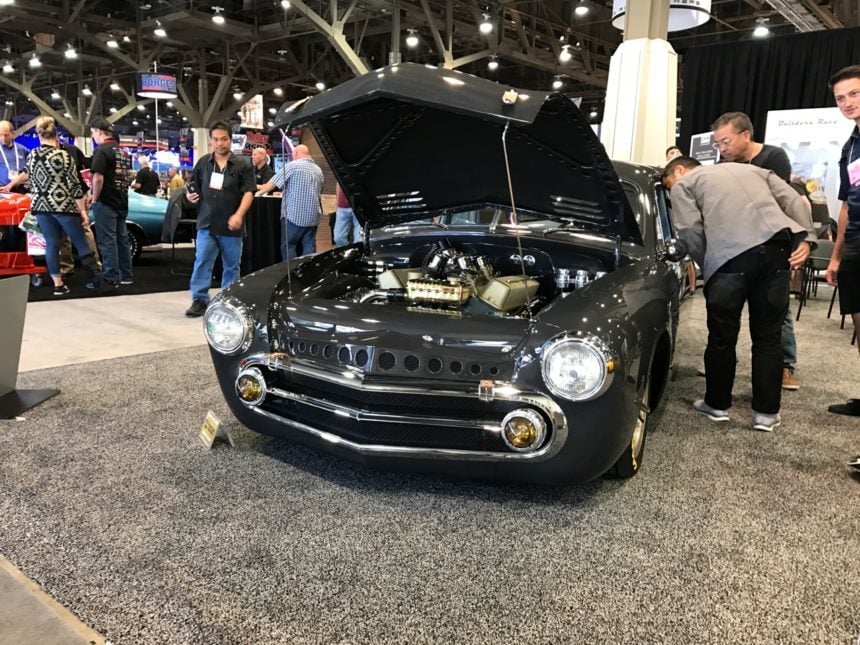 With the next update for GT Sport due any day now, players might have something else to look forward to as we approach 2018. If you guessed more cars, you could be onto something.
One such car is a custom 1951 Ford Coupe, last year's GT Awards winner. Bruce Levens' Ford come out on top of last year's awards and for good reason: everything about it screams "exquisite". From its classic good looks, to the bucket seats wrapped in Italian leather, this Ford is a beast.
Put together by Chad Wick, the '51 Ford is all about attention to detail, both inside and out. A 1956 Lincoln V8 sits underneath the hood, making 375hp. Did we mention the powder-coated gold engine block? Talk about one of a kind.
Players looking to get behind the (digital) wheel will therefore be happy to know Polyphony Digital was on-site at Wicked Fabrications to scan the classic Ford last month. It's a rare look behind the scenes, especially the image showing off the partially modelled wheel.
With PD scanning the car, it looks like players may not have to wait much longer to drive the vehicle for themselves. Taking into account the six-month figure Kazunori Yamauchi tends to quote, we don't expect to see Levens' ride in a GT game until at least summer 2018.
While GT Sport seems the likely candidate, we should point out that Polyphony has only ever targeted "a future Gran Turismo title". None of the previous award winners have appeared in the newest installment yet, but the dozen cars earmarked for inclusion later this month does include the 2013 winner.
Nonetheless, we'll be keeping an eye out for the digital version of the '51 Ford. Stay tuned for any future developments on it, and the rest of the GT Awards lineup.
Thanks to queleuleu for the tip!
More Posts On...