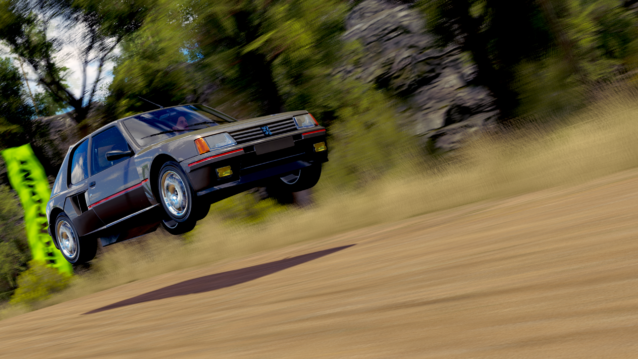 In case you couldn't tell from the headline and featured photo, this weekend's round of Forza Horizon 3 Forzathon challenges encourage drivers to do one thing: log some flight time.
Coming off the first weekend of November when the Ford Raptor Horizon Edition was up for the taking, this weekend's Forzathon event keeps it simple with credits and wheelspins set to be awarded. Additionally, all challenges can be completed in solo mode.
Helping to inspire drivers to get the wheels off terra firma are these punny task titles, including one paying homage to the great Star Fox …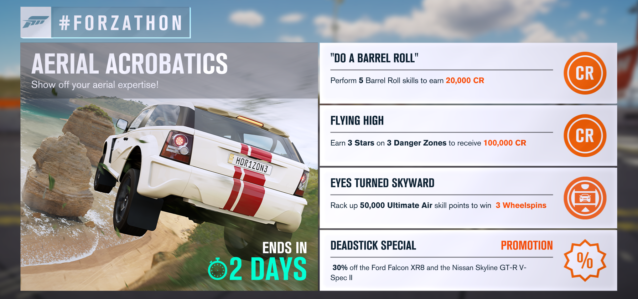 Do A Barrel Roll: Perform 5 Barrel Roll skills to earn 20,000 CR
Flying High: Earn 3 Stars on 3 Danger Zones to receive 100,000 CR
Eyes Turned Skyward: Rack up 50,000 Ultimate Air skill points to win 3 Wheelspins
Deadstick Special: 30% off the Ford Falcon XR8 and the Nissan Skyline GT-R V-Spec II
As that last bulleted point affirms, Forzathon vehicle sales have returned if only for two vehicles. Take advantage of the promotional pricing by visiting any Horizon Festival hub and selecting the Forzathon tile under the 'Autoshow' tab.
So, there is your mission driver … err … pilot. As with all Forzathon events, if you would like to bank these rewards, you do need to act fast. The Aerial Acrobatics challenges will close on Nov. 13. Check the in-game countdown under the 'Social' tab to see how much time remains.
For recommended approaches to completing these challenges, visit our Forza Horizon 3 forum for Forzathon discussion and tips on where to find big air.
See more articles on Forzathon.