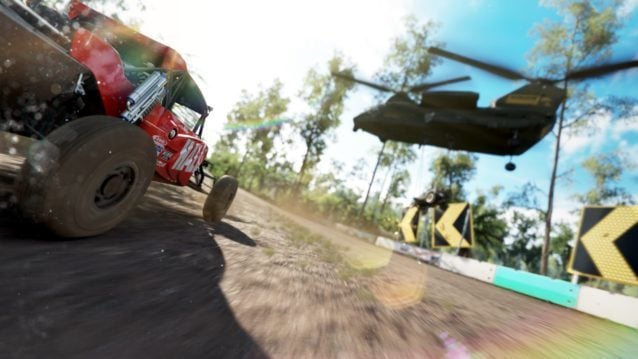 After a few days of respite, Horizon Festival-goers should be well rested and geared up for Round 5 of Forzathon — a sporadic series of in-game challenges with some worthwhile rewards.
Up for grabs this go-around: experience points, credits, wheelspins, and a Horizon Edition F-150. The latter of the prize pool should pique the interest of those collecting the "HE" vehicles since this will be the first (and not last) of these special editions appearing by way of Forzathon.
For those not already in the know, Horizon Edition vehicles are decked out in body modifications and livened up with performance parts. As a bonus, they generate additional credits or skill points when driven by the player. If you would like a sneak peek, this image shows the F-150 Raptor Horizon Edition looking as rugged as ever.
Now, the breakdown of this round's tasks:
Flag Bearer: Play 4 Flag Rush matches to earn 12,000 XP
Field Goal: Finish in the top 3 of 3 Flag Rush games in an Extreme Offroad vehicle to win 100,000 CR
Heavy Weight Champion: Come in 1st in a game of Flag Rush in an Extreme Offroad vehicle to win 3 wheelspins
Not A Scratch: Survive 1 game of Infected in an Extreme Offroad vehicle to win the Ford F-150 Raptor Horizon Edition
Similar to Round 4, no vehicle discounts are being offered to go along with the challenges. To determine eligible vehicles, visit the Autoshow and filter for "Extreme Offroad."
As with each round of Forzathon, the window to bag these prizes is limited. Round 5 is slated to close on Nov. 6 (depending on your time zone). To confirm availability, keep an eye on the in-game timer located under the 'Social' tab of the pause menu.
Looking to team up with some of the GTPlanet community to knock out these and future Forzathon trials? Head over to our forum to share your Xbox Live details.
See more articles on Forzathon.