Update: The update is now available for Xbox One users and weighs in at 2.3GB and brings the following changes specifically to the Xbox One, in addition to those shared across all the platforms.
[Online] VOIP – stability updates.
Fixed an issue where the player could get stuck on the Session Results screen if signing out and signing back in during a Practice session.
[Controls] Logitech G920 – updated default controller map sets for the layouts to be consistent between wheels and across platforms.
[Vehicles] Mitsubishi Evo-X – improved engine sound quality.
[General] Fixed an issue where the ambient car shadow appeared with a solid outline in night races.
Fixed an issue where events sometimes do not download from global storage.
Slightly Mad Studios continues their monthly support for Project CARS with the latest major update now available to PC and PlayStation 4 owners, while, once again, Xbox One owners are looking for what's to come.
Weighing in at over 4GB on the PS4 and 1.1GB on the PC, the primary intention of Update 5.0 are improvements and bug fixes brought to light by the WMD community. The only new features this time around are on the PC front while using the Oculus Rift as stated in the patch notes.
The PC-specific portion of the patch contains:
[Controls] Logitech G920 – fixed an issue with the gearshift mapping.
[GUI & HUD] Fixed an issue with the Leaderboards navigation that prevented the user from changing the vehicle or location.
[General] Fixed an issue with Enhanced Mirror, where enabling it could at times cause occasional drop-outs of mirror content.
[Oculus Rift] Improved support for Oculus Rift rendering to desktop and headset simultaneously.
Added command line option -vrfullscreen for use when using second screen, to use whole screen instead of windowed mode.
Amended driver head offset when in Oculus Rift mode – defaults to 0.0 but can be set using command line -vreyeoffset amount.
Added HUD position editing control keys to the existing HUD editing setup: AD – left/right, WS – up/down, ZE – in/out. (Note that this doesn't save yet between game restarts. We have this working internally now but it missed this patch, so will be coming your way very soon).
HUD and Menu system is now located in world and car space instead of attached to the player's head.
Updated to Oculus SDK 0.7.0.0.
NOTE – If you experience a black flicker/flash in the right eye view when playing in VR, please ensure that you have VSync enabled.
And the PS4-specific changes are as follows:
[Controls] Logitech G29 – updated default controller map sets for the layouts to be consistent between wheels and across platforms.
[Vehicles] Mitsubishi Evo-X – improved engine sound quality.
[General] Resolved more retail crashes.
The remaining changes are universal between the two and, as a result of the patches weighing in as they do, are more on the lengthy side.
In Online players can no longer use custom setups when default setups are enforced i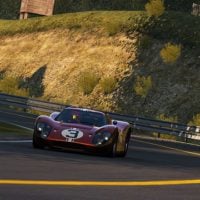 n the restrictions. Custom controller setups have been enabled while the former is enforced. Host disqualification no longer results in end-of-race for everyone racing on any of Mojave's layouts, and tire choices are no longer ignored during pit stops.
AI behavior has been improved to further reduce cars hitting the pit walls while exiting the garage. Cars under AI control will no longer struggle to drive correctly on tracks with high banking, in addition to car parts dislodged during a collision now being removed when the track is cleared.
On the controls front an issue with the controller used to press 'A' on the splash screen not being selected as the current controller has been resolved. The default mappings for the Logitech G29 have been updated to be consistent between wheels and across all platforms, and the default assignments for wipers and lights have been removed as it was disabling the lights and wipers from automatically turning on when raining or getting dark.
Tracks have their fair share of the attention as well as the team has worked on a number of fixes, such as an issue causing cars to pit in the first pit spot on the Nürburgring GP, Sprint, and Sprint Short variations. Cars no longer getting stuck alongside the pit wall while driving down pit lane on the Nordschleife. A track cutting issue through the NGK Chicane on the Nürburgring Sprint Short has been fixed, alongside another cutting issue while entering pit lane at Barcelona GP.
A number of vehicles have undergone physical, visual, and display changes as well. The list includes Aston Martin's Vantage GTE, DBR 1-2, DBR1 1959, Audi's R8 V10 plus, 90 IMSA GTO, RUF CTR and RT 12R, BMW 320 Turbo, Bentley Continental GT3, Ford Mustang GT, Ginetta G40, Historic Lotus F1 cars, Lotus 98T, and the Mercedes C Class DTM. The changes cover next-to-everything from helmet and cockpit exposure adjustments to improved braking power to mirror the car's weight.
Next up we arrive at the changes made to the GUI and HUD, which includes displaying the correct message when trying to toggle disabled assists. Making real time changes to the stability control no longer resulting in incorrect information being displayed, and fixing an issue where the in-game Standings screen lap times were cleared too soon.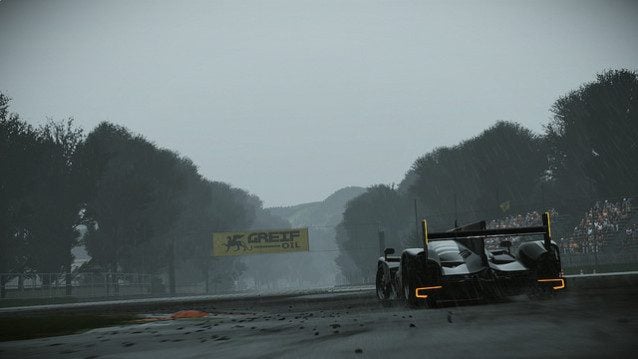 Finally, there are the general changes which fixes 'Sync to Race' no longer being unavailable when configuring weather, players no longer being able to toggle driving assists on when they're disabled. Clouds will no longer randomly 'pop' in and out of view, nor will they disappear while using time acceleration.
For the fully detailed changes of everything brought forth in Update 5.0, in addition to any further discussion be sure to stop by our Project CARS forum for more!
More Posts On...
The original comments for this post are no longer available.