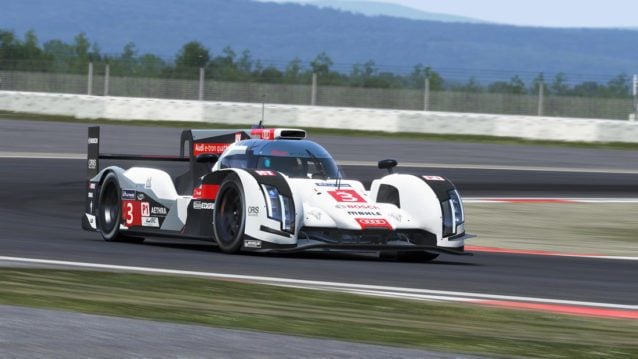 The push toward Virtual Reality is coming hard and fast, with Sony's Playstation VR launching this October – if you can get your hands on it – while HTC's Vive and the Oculus Rift are already in consumer hands for the PC market. From a sim racing perspective, Project CARS leads the way for inclusion of VR with support for both Oculus and the Vive. Slightly Mad Studios will further show off their VR capabilities this Saturday as they host the '24 minutes of Le Mans' in conjunction with Audi.
Taking place in 4 of the 'Audi Cities' across the world – Moscow, Paris, Beijing and Berlin – the event is a scaled down version of the world famous endurance race that will feature some of Audi's best pro racing drivers from the DTM series and some who've even competed (and won) in the real event.
Representing the Beijing Audi City, Italian Edoardo Mortara will look to take home glory, Audi prospect Nico Müller will race from Berlin, former Le Mans champion Mike Rockenfeller will look to recreate his real-life success in-game from Moscow and Adrien Tambay takes charge at his home-town in Paris.
The racers will drive specifically in a re-created version of the 2015 race, right down to the full day-night cycle and weather conditions that had to be faced in the real race. The Le Mans parties where the event will be hosted at Moscow, Paris and Berlin are invitation only for Audi VIPs who can try out the game for themselves on full racing rigs – however the Beijing party is open for members of the public so if you can, why not get down and have a go?
For those of us not fortunate enough to be Audi VIPs or attend Beijing's public Audi party, the race will be streamed live on Twitch for all to watch, with the racing kicking off tomorrow at 7AM PST, 3PM BST and 4PM CET respectively. With some real-life Audi racing drivers going toe-to-toe on the famous La Sarthe circuit, it should promise some fast, clean and close racing to whet your eSports appetite alongside the real 24 hour race this weekend.
See more articles on Project CARS.