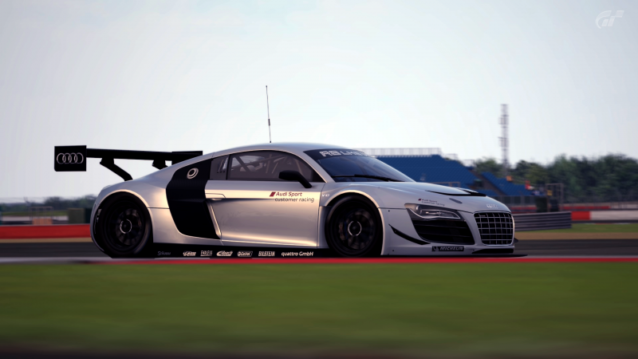 Polyphony has pulled the trigger on the latest Seasonal Events for Gran Turismo 6. This week's events are a combination of time trial and drifting challenges, testing your mettle at a variety of racing venues. Whether it be tuned or purpose-built racing machines, this week's events have a little bit of something for everyone.
This week's prizes are all befitting of their respective challenges. You can find all the details below, and don't hesitate to swing by our GT6 Seasonal Events forum for in-depth analysis and discussion, tips and tricks, and more.
All events will be available through March 23, 2017 at 0300 GMT/UTC.
British Non-Racing Car Super Lap
Brands Hatch Grand Prix Circuit
Normal cars, 550PP Max, Sports/Medium compounds or less
Gold: 640,000cr; Silver: 339,000cr, Bronze: 226,000cr
Gift: Gold: McLaren F1 GTR '95

Silver: GT OLD GENERATION 003-W
Bronze: GT PASTELTONE 007-C
 Racing Car Super Lap
Eifel
Racing cars, 700PP Max, Racing/Hard compounds or less
Gold: 687,000cr; Silver: 364,000cr, Bronze: 243,000cr
Gift: Gold: Jaguar XJR-9 '88

Silver: Silver Chrome
Bronze: GT FLOURESCENCE 008-W
Non-Racing and Tuned Race Car Drift Trial
Tokyo R246 Reverse
Gold: 649,000cr; Silver: 343,000cr, Bronze: 229,000cr
Gift: Gold: HKS GENKI HYPER SILVIA RS2 '04

Silver: GT GUNMETAL 009-W
Bronze: GT POLARIZED 008-P
Racing Car Drift Trial
Côte d'Azur
700PP Max
Gold: 655,000cr; Silver: 347,000cr, Bronze: 231,000cr
Gift: Gold: Nissan SKYLINE GT-R R34 Touring Car

Silver: Matte Yellow
Bronze: GT GUNMETAL 010-W
More Posts On...