As you may have spotted in the news, the Russian state has been making moves to block instant messaging service Telegram.
Russian courts ruled that the country's authorities could block the use of the Telegram messaging app. This followed a request that Telegram turn over its encryption keys to the Federal Security Service (FSB), as it believes terrorists use the app to plan and conduct operations.
Telegram refused, also noting that it was technically impossible to comply. This prompted Russia's communications watchdog Roskomnadzor to seek the court's permission to block access to the app. The court agreed on Friday, in just 18 minutes, and Roskomnadzor duly blocked Telegram's IP addresses. Pavel Durov, the Russian exile who founded Telegram, stated on his Telegram channel:
"For the last 24 hours Telegram has been under a ban by internet providers in Russia. The reason is our refusal to provide encryption keys to Russian security agencies. For us, this was an easy decision. We promised our users 100% privacy and would rather cease to exist than violate this promise."
However, in order to continue to allow its Russian users access, Telegram migrated its services to third-party cloud servers. Specifically, it chose Amazon Web Services and Google Cloud.
Roskomnadzor responded by, predictably but inexplicably, blocking Amazon and Google IP addresses. This amounts to something north of 15 million addresses, and affects any service that uses Amazon or Google servers.
As Gran Turismo fans in Russia discovered, this includes GT Sport. A number of the game's vital functions — including the ability to save progress — require an internet connection. With Amazon Web Services blocked in the country, Russian GT Sport players face severe difficulty in even accessing the game.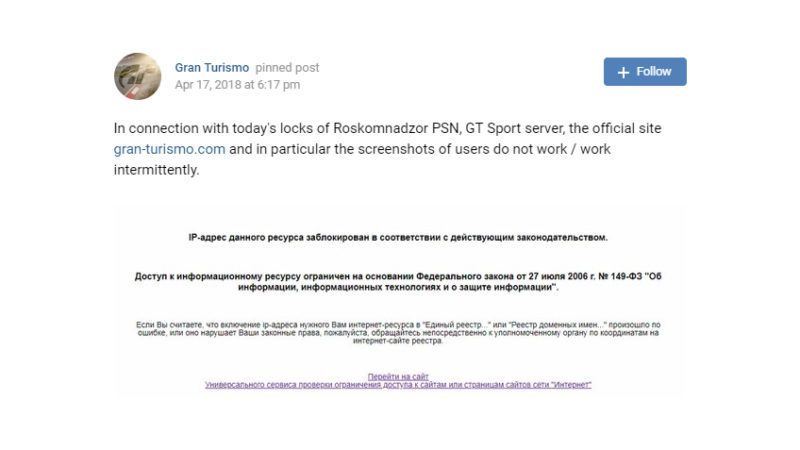 The Gran Turismo World account on Russian social media site VK (translated above) reports that many of GT Sport's functions either don't work or work intermittently.
Russian users have separately reported their issues to GTPlanet. Their access to GT Sport has been absent, or patchy, for much of this week.
Of course the move has impacted services much further and wider than just Gran Turismo Sport. Access to wider gaming services, like PlayStation Network, and streaming platforms like Twitch is similarly affected. Reports also suggest some banks, including ATMs, have experienced issues.
As for Telegram? Durov reports that continues unabated as Russians use proxies and VPNs to access the service.
More Posts On...