Last week, Kazunori Yamauchi took to the PlayStation Blog to announce Gran Turismo Sport would not be released in 2016. The news came as a shock to players, as the public beta scheduled to arrive early 2016 had already been cancelled to ensure the target release date was met. Yamauchi only said that the game would now be targeting the 2017 calendar year, with a more exact launch window (Q2 2016, April, etc.) not mentioned.
Shortly after the news hit, GTPlanet member Nico_Ble99 received a message from Sony on his PSN account. The message explains that his pre-order had been cancelled, and without a new release date, pre-orders will be unavailable. Once Polyphony has locked in a revised date, pre-orders will again be available on the PlayStation Store.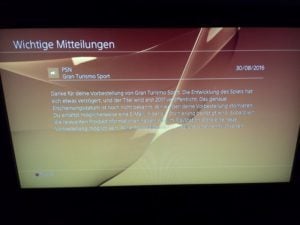 Later on, another member (torque99) confirmed he had a similar message in his inbox:
"Thank you for pre-ordering Gran Turismo Sport from PlayStation®Store. On 30th August 2016 we regrettably announced that the release of Gran Turismo Sport has been delayed until 2017. We do not have a new release date at this time. We have, therefore, decided to cancel your pre-order and refund your pre-order payment. This refund may take up to 7-10 days to be processed. Please keep a record of this message for future reference.

Once we have a new release date for Gran Turismo Sport we will offer a revised pre-order for it on the PlayStation®Store at the earliest opportunity. Thank you for your custom and please accept our apologies for any inconvenience caused."
Delays definitely aren't unheard of with popular titles, though cancelling a pre-order is much more rare. There have been a handful of high-profile release date shifts on the PlayStation over the past year, but most have been accompanied by specific new dates, rather than a vague calendar year as per GT Sport.
Final Fantasy XV was recently delayed by two months, but there have been no reports of similar messages sent to pre-order holders for that game. Earlier this year, the same developer (Square Enix) cancelled pre-orders of Hitman on the PS Store, but reassured customers it had nothing to do with a delay. It didn't: the configuration of the pre-order had simply changed enough to warrant a new one.
One of PlayStation's other big exclusive titles — Uncharted 4 — suffered numerous delays as well. Originally set for a 2015 release, it received three separate delays before landing on the PS4 this past May. The news of the first delay hit at an oddly similar time: A Thief's End was pushed to 2016 on August 31 last year, while GT Sport's delay was announced August 30.
Notably, Uncharted 4 was never available for pre-order digitally until an actual release date was available, and each delay brought with it another date. GT Sport doesn't have that: all Kazunori has said so far is that the game is set to release at some point in 2017. This PS Store pre-order cancellation simply re-affirms this.
Of course, other retailers will happily collect pre-orders. Amazon, Gamestop, and Best Buy all have the game listed. The industry-standard end-of-year dates are attached to the first two (December 29th and 31st, respectively), while Best Buy simply states "yet to be announced".
With no historical precedent, it's hard to determine when to expect GT Sport's arrival, or even the reveal of a new date. We'll continue to report on any updates as they happen.
See more articles on GT Sport Release Date.