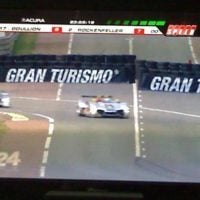 With the legendary
24 Hours of Le Mans
endurance race coming up the weekend of June 12-13, Sony has re-affirmed their interest in motorsport with title sponsorship of
Team Peugeot Sport
. Of course, the PlayStation and
Gran Turismo brand has been prominently connected with the event for
several years now
, with highly-visible banner placement around the Mulsane chicanes. This year, though, with the pending release of
GT5
, they've got more reason than ever to support the big race. Here's the Sony France press release, via
GT5rs
(thanks to Vidor for the tip!):
Sony Computer Entertainment France is very proud to announce its partnership with Team Peugeot Sport for the 2010 24 Hours of Le Mans. Sony Computer Entertainment France is engaged in the sports world since its launch, especially in the field of auto racing. Besides the commitment of Sony Computer Entertainment France in the car does not stop at 24 hours Le Mans and extends to several French pilots. The first of of them is Sebastien Loeb, six times World Champion Rally which we partner for over 10 years. […]

In this connection, George Fornay, VP of SCE Europe and CEO of Sony Computer Entertainment France said: "Our involvement in racing and especially the 24 Hours of Le Mans for 13 years is at the heart of our marketing strategy. This year promises to be outstanding for more than a title for fans of the PlayStation 3 since 2010 celebrating the release of Gran Turismo 5 , a new racing game sequel in the best selling of all time on game consoles with more 55 million units sold worldwide. "
More importantly for us, let's hope Sony's presence at the race prompts Polyphony Digital to show off an updated version of Circuit de la Sarthe in a new track-side demo – it would be a nice little appetizer to have a few days before E3 kicks off in Los Angeles!
More Posts On...
The original comments for this post are no longer available.