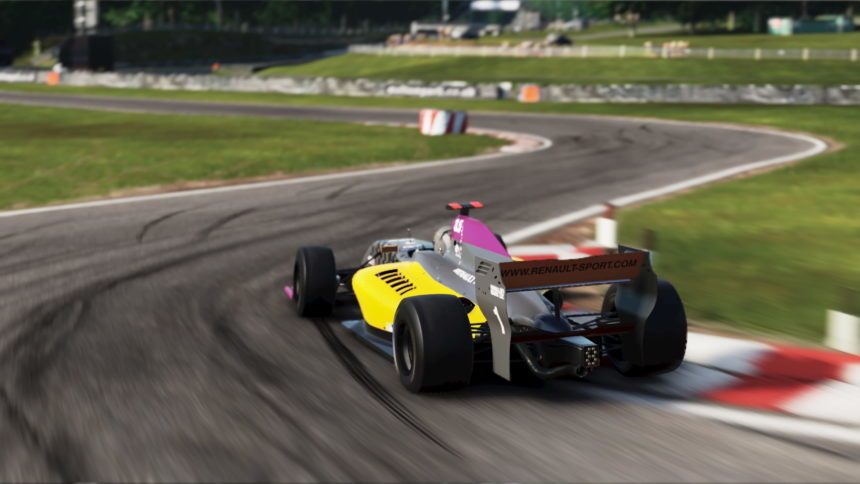 The latest Community Event in Project CARS 2 is testing players against an ex-Stig from Top Gear. Ben Collins is a known champion for the series and as a member of Team SMS-R, he's part of a new time trial. This event will last from January 29 until February 5.
This week's combination of choice is a Formula Renault 3.5 at Oulton Park. Long term Project CARS fans may recognize this combo, as Collins dropped a similar gauntlet in the original title. This time around though, the licensed open wheel Renault makes this much a more fun drive.
The racer has a nice punch to it, especially when it comes to straight line acceleration. One of the most fun aspects of the car is the level of grip it has in the corners; as long as you don't disturb the vehicle's natural flow, it can fly around the track.
Speaking of which, Oulton Park International is a perfect circuit for some open wheel action. There's plenty of high speed segments but still enough technicality to keep it exciting. The British circuit is no stranger to open-wheelers and it shows. This is one of the most fun events in the past few weeks — almost as much fun as the real thing!
As far as event regulations go, there's no weather to worry about once more with just a slight amount of cloud in the sky. Tuning is permitted in this round so don't be afraid to get lost in the car settings to find a few milliseconds. Top 10 times so far are indicating a sub 1:22.00 being required to place high.
Full event details are listed below.
Team SMS-R Challenge – Ben Collins
Track: Oulton Park International
Car: Formula Renault 3.5
Weather: Light Cloud
Class: Formula Renault 3.5
Minimum Grade: U100
Fixed Setup: No
More Posts On...