We got a fair amount of seat time with Gran Turismo Sport at E3 last week. Between catching the latest trailer and interviewing series creator Kazunori Yamauchi (twice), we took in the latest build of Polyphony's first PS4 game.
Our GT Sport experiences took place with the familiar — yet still uncomfortable — racing pods, equipped with the new Thrustmaster T-GT wheel. We also got the chance to try the game with PlayStation VR, a first for both Jordan and I.
We found a large number of new cars in the game, which you can read about here. As both of us went in with plenty of experience via the ongoing closed beta, we won't be focusing on the graphics or general structure of the game. Instead, we'll be looking at three main aspects: rallying at Sardegna, VR implementation, and the Thrustmaster setup.
Exploring Sardegna
We were tossed into Sardegna with no real experience of rallying in GT Sport. Jordan had a brief go of it at SEMA 2016, where he found it "actually really fun". In terms of this generation, I was a GT rallying virgin. It helped, then, that I was starting on pole in the media race, having won the qualifier at Brands Hatch Indy.
Sardegna is a challenging rally circuit full of off-camber turns and humps designed to put your car off balance. It has hints of the Swiss Alps track from Gran Turismo 3, with a lot of elevation changes keeping you on your toes.
The Gr.B cars — including the mental Pikes Peak Audi I was piloting — were almost too fast for the circuit. The final corner of the circuit, for example, saw many drivers getting intimate with the wall. Or, in a few instances, somehow ending up in the pit!
The PD-designed cars all seemed fairly evenly matched, but the Audi had the edge in terms of acceleration. To balance that out, the old car suffered from a comparative lack of braking power, painting a target on its bumper in the longer braking zones.
In terms of feedback and physics, the experience felt largely similar to older GT games. While much has been made of the wide tracks and general inauthenticity of the off-road experience in the series, it actually felt good to race against a dozen or so other players.
Think of it as Rallycross on longer tracks, and it suddenly starts to make a lot more sense. From a competitive multiplayer persepective, it works — and crucially, it's more spectator-friendly than the traditional point-to-point rally. We shudder to think what will happen to Sportsmanship Points on the dirt, though!
The one major niggle we experienced with rallying was what felt like rollover protection. The Audi was capable of massive air at some of Sardegna's jumps. Hitting one off-kilter, my car dipped its right-side rear corner… until it stopped. It felt and looked similar to what we experienced in classic PS1-era GT games.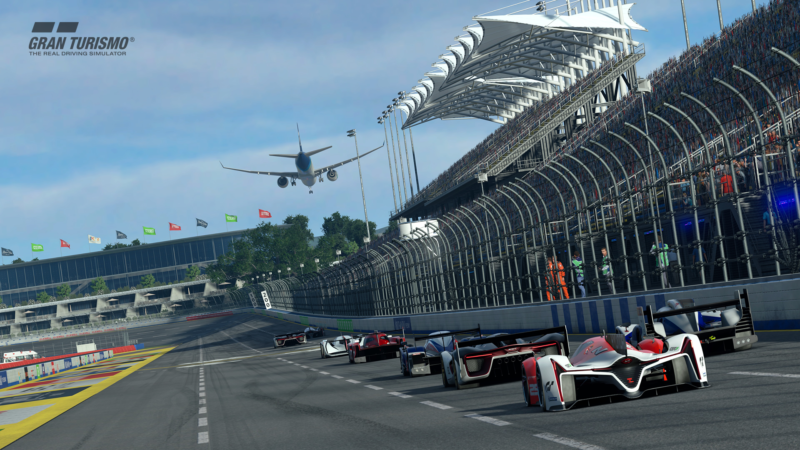 PlayStation VR
This was our first experience with Sony's headset and GT Sport. We both enjoyed it quite a lot.
Yes, the graphics aren't as downright impressive as what you see on a big 4K, HDR screen. But, in our opinion, the trade-off is worth it. The game still looked good, and the increased immersion more than made up for the lack of eye-candy. Jordan got a go first, in a road car:
"Driving a BMW M4 around Willow Springs Raceway, I immediately felt an unusually strong connection with how the car was behaving. Everything felt more intuitive and natural. I found myself enjoying the drive immediately, comfortably executing four-wheel drifts through corners. It actually made the game feel easier to play, probably because my brain was more convinced that I was actually driving a car."
Next up, I got comfortable in the rig before selecting Kazunori's 2016 N24 ride, the BMW M6 GT3. Once again going around Willow Springs, I too was instantly comfortable with the experience. Up against a lone AI opponent, I was constantly looking over to the side to check my mirrors. Not just that, I found hitting apexes was so much easier to do with PS VR.
The experience peaked when I found myself raising my hand to shield my eyes from the sun on the straight. Racing games really do make the strongest case for VR out of all the genres, and it's exciting to think about how the tech will only improve.
Neither of us felt any discomfort during our GT Sport VR experience. We know this is an active area of research for game developers, and Polyphony certainly appears to be on the right track, no pun intended.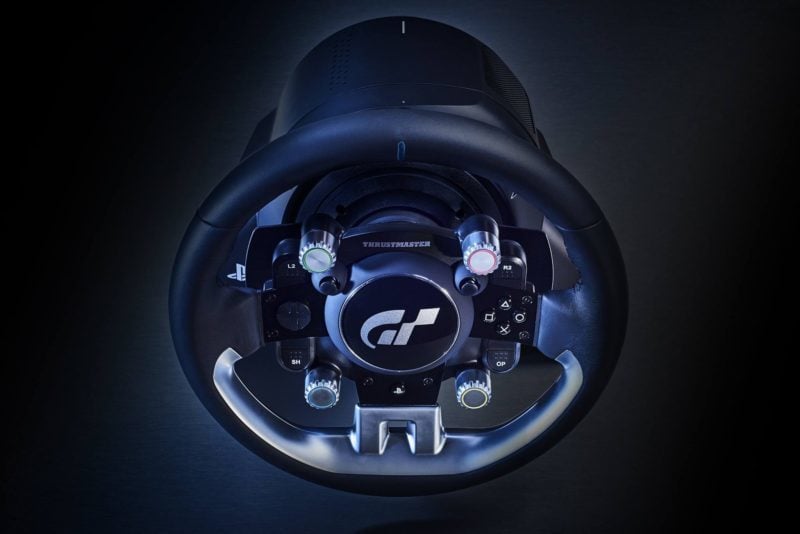 The Thrustmaster T-GT
The new Thrustmaster T-GT was the only input device we used with GT Sport at E3 2017. Quick refresher: the $799.99 (€799.99/£699.99) wheel is the new Thrustmaster range-topper. Built in cooperation with Polyphony Digital, the wheel features an exclusive GT Sport mode, which utilizes the four color-coded rotary dials.
This mode also introduces what Thrustmaster is calling T-DFB ("Thrustmaster Depth Feedback"). This feature utilizes specific frequencies that, in Yamauchi's words, operate somewhere between sound and vibration. The stated goal is to give players a better understanding of exactly what the tires are up to in-game.
In practice, the T-GT was a good piece of hardware that, with a few FFB refinements, could be great. To complicate matters, the force feedback strength was inconsistent between the racing pods at Sony's booth; this makes it difficult to compare opinions among media outlets and E3 attendees. Jordan offered his own feedback:
"The T-GT's new high-frequency vibration has promise, but it felt more distracting than immersive. It engaged too frequently, constantly buzzing the wheel in an unnatural way that did more to remind me that I was playing a video game instead of driving a car. The pedals felt roughly the same as the T3PA set, only with wider foot plates. It was difficult to tell much about them while wearing shoes."
Yamauchi told us that work is ongoing with the new wheel, as this is uncharted territory for both Polyphony and Thrustmaster. Hopefully, with months before GT Sport's release, the T-DFB system can be further refined.
Despite that criticism, the T-GT itself felt strong and well put-together. We really enjoyed the adjustment knobs, which allow on-the-fly adjustments of brake balance, fuel mapping, TCS, and torque distribution. Given GT Sport's competitive bent, the ability to change these settings throughout a lap could give T-GT players a slight advantage.
Conclusion
The main takeaway from our time with GT Sport at E3 was one of refinement. The team seemingly has all of the major pieces in place, and is tinkering with finer details in the lead-up to release.
Sounds — always a series bug-bear — seemed to improve again, and the audio team assured us that work continues on that front. The new Veyron Gr.4 emitted the sort of large, complicated noise you'd expect of a quad-turbo W16: it wasn't a pretty sound, but then again, that's true of the real item too!
We were impressed by the game's VR implementation, even if it will be limited to a closed-off VR Tour Mode. The new wheel showed lots of promise as well. While we wait for a new, more exact release date, we look forward to the next major gaming event: Gamescom. The yearly German affair kicks off in exactly two months, so stay tuned.
Read up on more of impressions from E3 2017 below:
Forza Motorsport 7 E3 2017 Hands-On Impressions
Project CARS 2 E3 2017 Hands-On Impressions
WRC 7 E3 2017 Hands-On Impressions
See more articles on E3 2017 and Polyphony Digital.