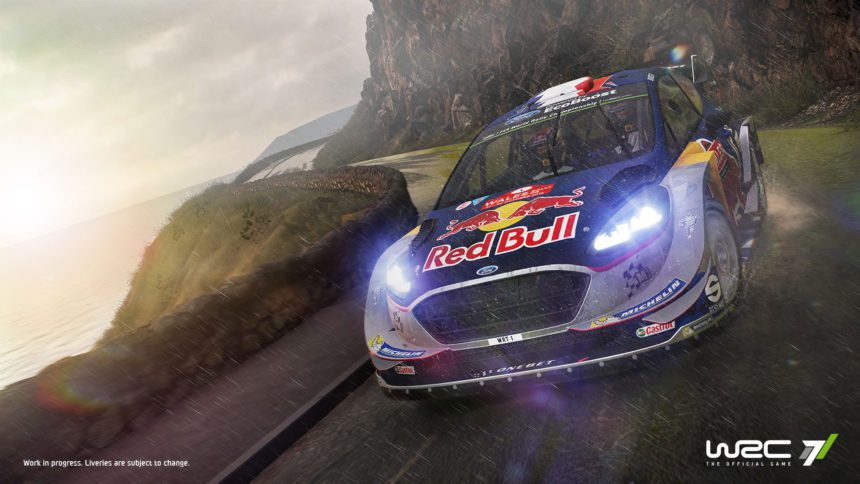 Kylotonn Games has deployed a new update for WRC 7 on PlayStation 4, Xbox One and PC. The main motivation behind the patch is to prepare the game for its use in the upcoming WRC Esports series.
The patch brings a variety of technical upgrades under the game's skin. Kylotonn has made a few key tweaks to tracks in the game, in order to stop potential cheating during online qualifying. The stage designs have received various alterations to stop players exploiting certain sections of impacted tracks. For example, where a driver could use jumps or hills on a track to skip sections, this should no longer be possible. Kudos to Kylotonn for getting the patch out before the issues could influence the upcoming Esports series.
There are also other minor fixes relating to the overall presentation and authenticity of WRC 7. These changes include fixing nationalities of those who compete in the series and the names of some teams and cars. We suppose if you're going to have a fully licensed game, it better be totally accurate.
You can find the full list of changes below. Don't forget to check out our review of WRC 7 as well.
WRC 7 Version 1.4 Changes And Fixes
Improvements to track design on the following tracks have been made. This change has been made to address exploiting opportunities on the stages prior to the WRC Esports series:
Monte-Carlo – Special Stage – Agnieres en devoluy
Sardegna – Special Stage – Lerno
Portugal – Special Stage – Fafe
Deutschland – Super Special Stage – Panzerplate
Australia – Super Special Stage – Coffs
Poland – Super Special Stage – Mikolajki Arena
The following corrections have been made to driver, team and car details:
Sebastien Marshall's flag now shows Great Britain
Sergei Larens's flag now shows Estonia
Lorenzo Bertelli is now assigned to F.W.R.T
Martin Prokop is now assigned to OneBet Jipocar World Rally Team
Dennis Rådström (team and driver) now shows correct accenting in name
ADAC Sachsen e.V. now shows in-game correctly
Quentin Giordano car choice has been corrected to Peugeot 208 T16
Ford Fiesta RS WRC has now been renamed Ford Fiesta WRC
Mini John Cooper Works has now been renamed BMW-Mini John Cooper Works
PC version fixes:
An issue with Nvidia Ansel technology has been fixed.
More Posts On...