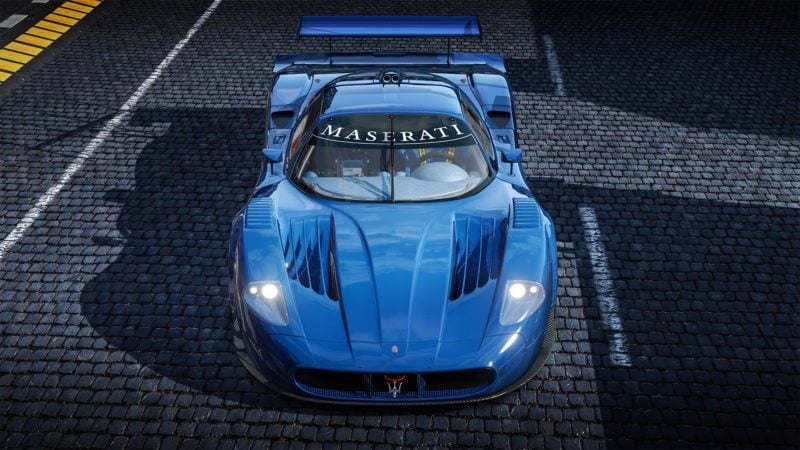 Assetto Corsa players have received a fair amount of goodies this month. Yesterday saw the much-anticipated launch of the 1.14 update on PS4, and today brings the latest car pack DLC to the original PC version.
The Ready To Race Pack introduces ten new cars into the fold. These new machines cover a broad spectrum, ranging from a lightly-fettled Audi TT to two full-blown Le Mans prototypes. Players can grab the pack from Steam now, where it lists for $7.99/£5.99/€7.99.
There's been one notable change to the pack since it was first teased last week. Unfortunately, the liveries first shown for the Maserati MC12 GT1 will be unavailable in Assetto Corsa, at least officially. Modern liveries require a developer to jump through a lot of legal hoops. Due to this, the car will run without the iconic Vitaphone livery.
While the PC community will undoubtedly crank out a user-generated replacement in no time, the same solution will not be available for console players when the pack eventually lands on the PS4 and XB1.
Alongside the RTR pack, a new update has also gone live for Assetto Corsa. The latest upgrade brings with it numerous detail changes, including the addition of a wind algorithm. For the full list — it's a big one — head to the bottom of the article.
As we tend to do around these parts, we're going to take a closer look at the cars included in the Ready To Race Pack. The R8 LMS, TT-RS, and MC12 have already been detailed earlier this week, but we've included them here again in case you've missed them.
Audi R18 e-tron quattro
This year marks the first time this millennium where an Audi will not be competing in the top class at Le Mans. How appropriate then, that Assetto Corsa welcomes the final iteration of the R18 to win the historic event. This is the 2014 version of the car, which — to our eyes at least — is a much better-looking racer than the later versions.
The R18 pulled a 1–2 victory over Toyota and Porsche in the 2014 race. A year later, Porsche would return with a revised car and snatch victory from its VW Group sibling. Thanks to a tragic last-minutes failure on Toyota's part, Porsche repeated the feat. All three cars are now available in Assetto Corsa, as well as another LMP1 challenger…
Audi R8 LMS
The second generation of Audi's production-based racer is one of the most common GT3-class vehicles out there. Over 200 customers have taken delivery of an R8 LMS since the program began, and the latest model can be yours for a little over $400,000. That makes the digital version quite a bargain, then.
Audi TT Cup 2016
The TT Cup car is based off the third-generation TT. Created for a one-make support series, the engine is very slightly more powerful than the road-going TTS. Don't let the power figure — or the fact that it's front-drive — fool you: this is not a boulevard cruiser. Scrapping the four-wheel drive means the Cup only has to haul 2,480 lbs around, plus it boasts race tires and bags of aero grip. Not to mention, it's equipped with a handy push-to-pass system.
Audi TT RS VLN 2013
Audi built the TT RS for a specific class of the VLN series, and in an unorthodox move, converted the car to front-wheel drive. That's right: despite looking like an evolution of the wild DTM TTs from a decade previous, this car sends its power to the front. With the five-cylinder engine pumping out 380 hp, this car should be quite the handful.
Lotus 3-Eleven
The 3-Eleven is the first new Lotus model in five years. It's also the fastest, most powerful, and boasts the best power-to-weight ratio in the company's road-car history. The car included in Assetto Corsa is even crazier, though: it's the 460 hp race version.
Following the principles of company founder Colin Chapman, Lotus engineers comprehensively upgraded the Exige V6 by throwing most of it away. Gone are the roof, doors, and windshield — so much was shed that the 3-Eleven tips the scales around 400 lbs less than the Exige.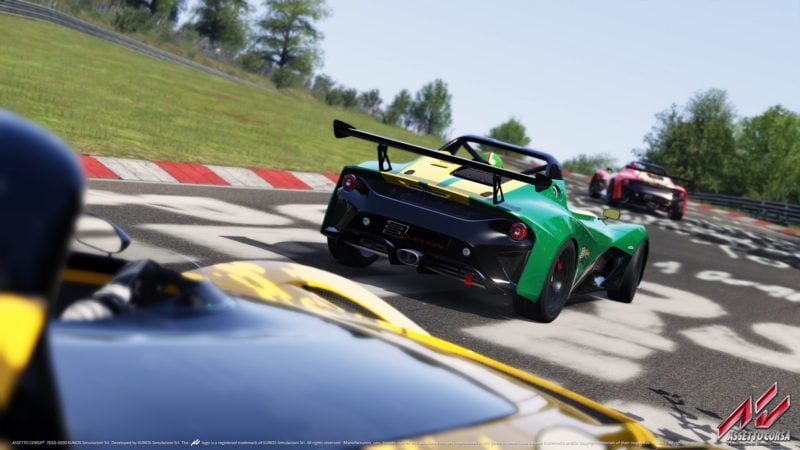 Maserati MC12 GT1
The MC12 should be very familiar to fans of early-naughts sports car racing. This ultra-rare Maserati was crafted from the bones of the Ferrari Enzo. Maserati completed a short run of road-going models to satisfy homologation rules before the car began its on-track domination. In the 94 GT Championship races the MC12 took part in, it won 40.
McLaren 570S
McLaren continued its road-car expansion two years ago with the introduction of its "entry level" Sports Series. While the 540C is the starting point of the range, the 570S is the highlight. Billed as a more everyday proposition than the 650S (and the recently-unveiled 720S that replaced it), the 570S does battle with the likes of the 911 Turbo and Audi R8. With both of those already a part of Assetto Corsa, we're betting some players will be putting their own comparison tests on.
McLaren P1 GTR
The P1 GTR was built to celebrate the 20th anniversary of the legendary F1's Le Mans win. No longer confined to the limitations of road use, McLaren bumped power up to the magic four-digit mark (1000 ps, or 986 hp) and stripped weight out. Thanks to these changes, the car boasts the production-based lap record at numerous circuits across the globe.
Initially limited to only 58 units, the P1 GTR cost $1.9 million.
Toyota Celica ST185 Turbo
There's never a bad time for pop-up headlights. The ST185 Celica arrives in Assetto Corsa sporting the instantly recognizable Castrol livery that numerous Toyotas wore in the 90s. For a generation that grew up with Gran Turismo, there are few more evocative designs.
Sure, the ST185 can't compete with the Group B madness of the Audi Quattro S1 that was recently added to the roster. But we don't care.
Toyota TS040 Hybrid
The final car of the pack is another LMP1 challenger. The TS040 was a top-shelf prototype that only could have come from the world's leading hybrid manufacturer. While the TS040 and its wailing 3.7-liter atmospheric V8 couldn't defeat Audi at Le Mans in 2014, Toyota played the long game. By the end of the 2014 FIA WEC season, the team handily out-pointed the competition, winning five of the eight rounds. Toyota won both the Drivers' and Manufacturers' Championships.
Changelog v1.14
New autosaved replay options and UI added to launcher main theme
Mandatory pitstop window is now related to pit entry timing (replacing old system)
Pitstop animation enabled with oculus or STAY_IN_CAR enabled (system/cfg/pitstop.ini)
Added Position set digital script
Added ballast and restrictor option offline for championships and multiplayer. Work in Progress for offline quick race and race weekend UI
Added wind algorithm
If controller is keyboard then Pitstop app is replaced by mouse pitstop
Mouse pitstop with Mouse Steering enabled is now working correctly
Tweaked backfire flash flames in many cars
Realtime app: qualify/practice colors are based on leaderboard position, race color on current position
Added DIGITAL_PANEL script to display current position and P2P on car's external panels (Audi TT Cup)
Added FUEL_PERC script to show fuel quantity as percentage (McLaren 570S)
Fixed broken UI interaction due to session switching when pitstop was not finished
Fixed rare automatic pitstop activation at car spawning in the pit
Fixed deadzone for gamepads
Fixed Tyre App thermal value for exploded tyres
Minimum for automatic reset tyre on track is now 2
Fixed flag rendering in VR with PP off (again, hopefully for real this time)
Fixed Achievements from unlocking when car is blackflagged
Pitstop app: new tyre pressure can only differ from the current one by 4psi (because of minimal height rule)
Added Push To Pass system (Audi TT Cup), P2P amount depends on grid position, enabled in Practice and Race sessions only
Added physics option for different fuel weight/density (optional section in car.ini [FUEL_EXT] KG_PER_LITER=value)
Adjusted Lotus 98T tyre wear
Fixed old pitstop UI from allowing more fuel when setup is fixed
Added Black Flag description
Added Online time of day multiplier (x1 to x10)
Added track animated starting lights
Added blink feature to RPM SERIES script (updated all relevant cars)
Added acServerManager 1.14.0
Added Time multiplier
Added Wind
Added Restrictor (BoP)
Fixed BoP server message to client
Fixed bug on client fixed setup 2nd reloading
Added resolution string on splash screen
Added "safe mode" initialization when first DX11 init fails, it will try again with desktop resolution and AA/Fullscreen off
Added AI Aggression selection
More AI differences within a single lap to generate more battles
Added AI wing setup variations
Added new Random camera mode algorithm
Fixed driver model visibility bug in Random camera mode
Removed AI slowdown hack for cars with spool differentials
Improved Downshift Protection algorithm
Fixed AI giving away green light by flooring gas 500ms in advance
New AI algorithms for understeer detection and downshifting
Fixed Car Engineering app sometimes reporting wrong total and sprung weights
Added Fuel x Time on Setup Fuel tab and Pit Stop app
Added best splits at the end of the race on leaderboard timetable
Tweaked leaderboard to show player name/position even if that player has disconnected
Updated Steam statistic reader to synchronize steam achievement
Added "virtual desktops" functionality to in-game GUI (cyclable through CTRL+U key combination)
Fixed session synchronization issue when session switches while a new player is joining
AI is now using KERS
Fixed Nissan Skyline R34 having downshift protection when it should not
Added "variation" slider for AI. It will randomize the AI level in the range selected.
Fixed Nissan GT3 texture map on lod B
Added player's nation flag support (not valid flag will be rendered as AC logo)
Added new Driver Label GUI (customizable in \system\cfg\name_displayer.ini)
Added nation flags on leaderboard GUI
Tweaked opponents list to include nationality
Update special events to include nationality
Added Mandatory Pit warning message at the start of the race
Added minisectors to overlay leaderboard and performance delta app, this can be disabled through [Documents]/Assetto Corsa/cfg/gameplay.ini
Some template updates to existing content
Porsche 911 RSR 2017 template added
Templates added for Lotus 3-Eleven, Audi TT Cup, Audi TT VLN, McLaren 570S, Mclaren P1 GTR, Toyota Celica ST185, Maserati MC12 GT1,
Minor graphical updates on the Porsche 911 GT3 Cup and Lotus Exige V6 Cup
Digital display script tweaks across the board
Fixed a bug on Nissan GTR GT3 LOD B
Minor livery fix on Glickenhoue SGC003
Python new functions:
getWindSpeed
getWindDirection
getDriverNationCode(CAR_ID)
getCarSkin(CAR_ID)
Added deactivation on lateral G on McLaren P1 and P1 Gtr (optional [DEACTIVATION] LIMIT_G=[x] in drs.ini)
Porsche 911 RSR 2017 official WEC liveries added
We've got a more detailed breakdown of the cars themselves down below as well as the sub
More Posts On...