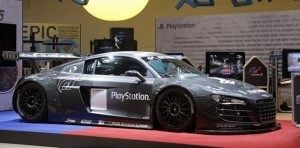 Though Gamescom 2011 wasn't nearly as exciting for GT fans as it was last year, Sony and Audi did use the event to launch an impressive new GT5 simulator built around an R8 LMS race car, similar to the one found in the game.
As you can see in the videos below, the R8 sits upon a pneumatic suspension that moves the chassis in response to what's occurring on-screen. With the exception of a slightly modified roll-cage, the authentic interior features functional gauges, a real R8 LMS steering wheel, bucket racing seats, and a Dolby Digital sound system.
The R8 replaces the GT5 Prologue-based Audi TT-R simulator (where's it going now?) which, according to Audi, has been driven by over 15,000 people at 240 events since 2005. Thanks to all of you who sent this in!
http://www.youtube.com/watch?v=sa-IHChr5y0
More Posts On...
The original comments for this post are no longer available.