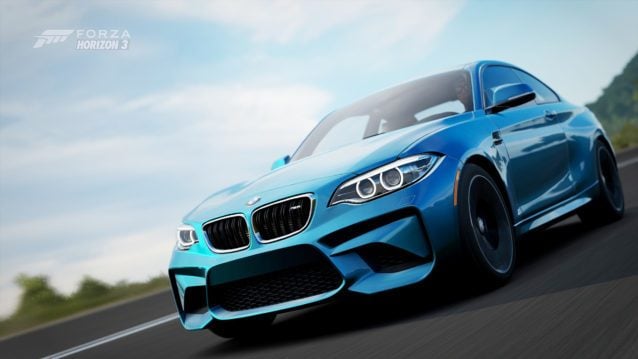 Turn 10 Studios has kept up a long-standing tradition of inviting fans to guess the contents of its downloadable car packs, and that ritual continues ahead of November's Forza Horizon 3 update.
The Alpinestars Car Pack, due to arrive with the Nov. 1 title update, will include seven vehicles which are not yet specified. Instead, the Turn 10 Community Team has begun feeding the customary list of clues for those who wish to rack their brains before the turn of the month:
Vehicle 1: Halloween is such a kooky time of year! I love the festive nature of this holiday.
Vehicle 2: It may be crazy to hear this but, what comes around goes around.
Vehicle 3: You never know until you try! The result might make for generations of cherished rivalries and competition.
Vehicle 4: If lives were gears this cat would be hitting 60 in less time than it takes to read this clue aloud.
Vehicle 5: It takes class to inspire this kind of driving. Well, that and one helluva big wing!
Vehicle 6: Street legal yes. Daily driver, probably not.
Vehicle 7: Sometimes winning makes for strange bedfellows.
Have each vehicle pinned down? Don't be so sure. Additional hints may follow, but aren't guaranteed. To play along with the GTPlanet community, visit the Forza Horizon 3 forum where the guessing is already underway.
The Alpinestars Car Pack will be the second monthly pack included at no additional charge for Car Pass holders, following October's Smoking Tire Car Pack. Those without the Car Pass can expect to pay $6.99 (USD) for the set of seven.
Also worth mentioning: an added barn find is on the way.
No barn find is worth spoiling, so the make and model of this decidedly abandoned heap of metal will go unidentified for the next few days. The Nov. 1 freebie will be discoverable by all who fully install the content update, so long as they have already located the game's first barn find amidst the sprawling Forza Horizon 3 landscape.
For the very latest on the November update as it becomes available, stay "tuned" to GTPlanet.
See more articles on Barn Find, Forza Horizon 3 DLC, and Forza Horizon 3 Game Updates.