Chevrolet and Polyphony Digital formally announced their special collaboration on the next-generation C7 model corvette today at the Los Angeles International Auto Show.
First spotted in Gran Turismo 5 by GTPlanet community members earlier this month, the heavily camouflaged prototype will be drivable in the game "today" by downloading the car as free DLC from the PlayStation Store.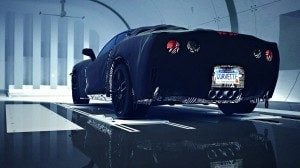 According to the press release, Polyphony Digital paid careful attention to every detail in the creases and wrinkles in the soft camouflage, used to disguise the prototype while its driving characteristics are currently being tuned and refined ahead of the vehicle's official debut in January.
"Until now, only the most skilled drivers on the Corvette team have been authorized to push the test prototypes to the limits on some of the most challenging track surfaces in the world," said Chris Perry, vice president of Chevrolet Global Marketing. "Through this unique collaboration with Gran Turismo, Chevrolet is able, for the first time, to give performance car enthusiasts access to such an exclusive driving experience."
"Gran Turismo has had many firsts and we're excited to partner with Chevrolet for yet another – bringing the first-ever Chevrolet prototype vehicle into a racing game," said Kazunori Yamauchi. "As car enthusiasts, we're thrilled to give fans this extraordinary level of access to the seventh generation Corvette that otherwise would not be possible."
Chevrolet will formally reveal the 2014 Corvette prototype on Sunday, January 13, 2013. More information on the announcement will be available at One13Thirteen.com.
More Posts On...
The original comments for this post are no longer available.