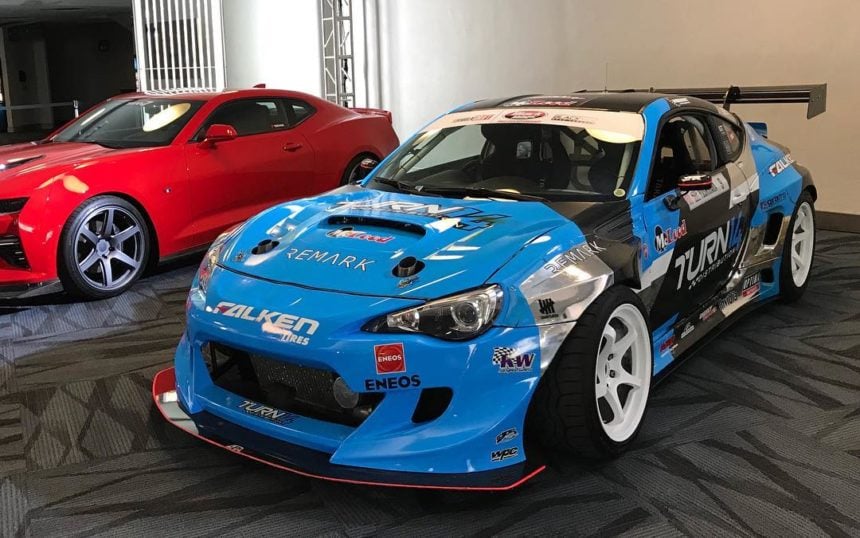 The good news keeps on rolling. Earlier today we discussed the GT team recently scanning Bruce Levens' 1951 Ford Coupe but it doesn't end there. GT Awards winners aren't the only cars Polyphony seemingly has eyes for.
Dai Yoshihara's Formula Drift Subaru BRZ was hanging around last weekend's PlayStation Experience. When asked on Instagram whether the vehicle would feature in GT Sport, Dai's coy emoji-based responses seem to suggest as much.
This may sound familiar to some as we previously covered the BRZ's possible inclusion in April. While nothing is set in stone, Yoshihara's never-say-no attitude certainly hints at the car's inclusion.
The Formula Drift-spec Subaru BRZ is the very definition of "bonkers". Powered by a Chevrolet LSX V8, the blue coupe puts down over 1000 horsepower. As you may imagine, it won't take much prodding to break loose with that much power going to the rear wheels.
As a quick refresher, this isn't the first time Yoshihara has worked with PD. Before GT6 released in 2013, Dai showed off the game's GPS Visualizer around Willow Springs.
The Formula Drift Scooby would sit alongside Chris Forsberg's 370Z that we discussed last month. As it stands, these are the only two purpose-built drift vehicles set for the game, though we suspect the roster will grow in time. After all, Yamauchi-san did say the target is 500 cars by the end of Sport's support.
This leaves one to wonder about future content for GT Sport. While the game features a drift mode and even an achievement for earning a certain amount of points, perhaps there's more in the pipeline? Only time will tell when Dai's car — and Chris' — will make their in-game debuts and what comes with it.
More Posts On...