https://youtu.be/BwYNvB17EWs
Hot Wheels, the object of your die-cast toy car-collecting fantasies. How often have you ever wondered what it would be like to get behind the wheel of these positively insane machines? Turn 10 has partnered with toy giant to bring that dream to (virtual) reality in this month's newest car pack for Forza 6 that's sure to please both die-cast diehard and virtual racer in all of us.
With a car pack using the name "Hot Wheels" you'd better expect some heavy-hitting, tire-shredding machinery, and that's exactly what you're getting this month with seven new rides begging you to "Think Fast," and they are as follows:
2011 Hot Wheels Bone Shaker
2005 Ford Hot Wheels Mustang
2017 Ford Focus RS
2015 McLaren P1 GTR
1990 Ferrari #1 Scuderia Ferrari 641
2016 Chevrolet Camaro Super Sport
2015 BMW X6M
The Hot Wheels car pack is available now, and as the second car pack to be released outside of the Car Pass, it too will cost $6.99 for all players. Each individual car can also be purchased on its own, and we'll explore each in a bit more detail below.
While it doesn't carry the "Hot Wheels" name, the one car that can be argued as the star of this month's pack fits the bill all the same – the 1990 Scuderia Ferrari 641 Formula One chassis driven by four-time champion, "The Professor," Alain Prost. Powered by a 3.5L 680 horsepower V12 engine with a bellow unique to the era, the 641 was used to battle the McLaren of a most capable adversary, Ayrton Senna.
The Bone Shaker, designed by "Mr. Hot Wheels" Larry Wood, was a model that was so popular it was built in the real world by Picture Car Warehouse in 2011. Carrying all of the details of the original 1:64 die-cast model, down to the skull face with hands gripping the headlights and the open top roof line.
Powered by a small-block Chevy motor, the Bone Shaker is dressed to impress – and its intimidation factor is only strengthened by the skull-topped spine shifter and the skull-and-crossbones steering wheel that adorns the interior.
Celebrating the then-50th anniversary of Ford's pony car, Hot Wheels and Action Vehicle Engineering took a 2005 Mustang and built a car that oozes with the styling cues of a Bosuzoku-style Japanese race car. This mad Mustang has its oil-cooler lines routed through its grille, one-of-a-kind wheels, and flamboyant rear spoiler and diffuser – both of which are adjustable.
All of this is intensified further with the purple and orange paint scheme and carbon fiber accents. This Mustang can fulfill your needs whether it be on the track fighting for position, or in a more stylish environment where powerslides are king.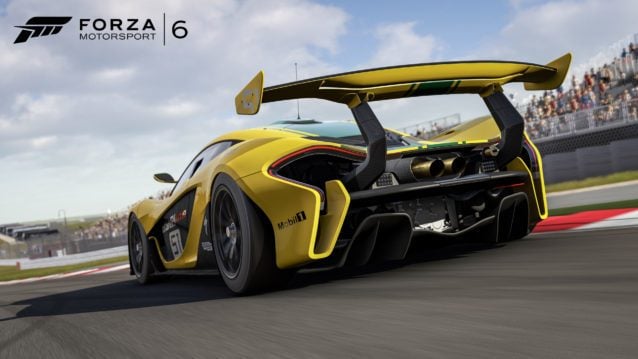 Named after the 1995 Le Mans-winning McLaren F1 GTR, the P1 GTR has been bred for the track. As part of the GTR Driver Program, owners can receive training in this tire-shredding track weapon and will then go on to compete in exclusive racing events.
Powered by a massaged version of the P1's exisiting twin-turbocharged 3.8-liter V8 and electric motor, the P1 GTR comes to play with 986 horsepower and 3.1 million USD asking price, but you'll be able to forego the asking price and jump into the P1 GTR whenever you wish, and that's a luxury not even the real owners can attest to.
The Chevrolet Camaro Super Sport shares its platform and chassis with the Cadillac ATS and a powertrain from Chevy's own Corvette halo car, the seventh generation Camaro improves in all of the right places. The retro-body style has a few defining lines that differentiates it from the rest, and while it might be smaller and 200 pounds lighter, it has all of the grunt necessary to make the argument that it is the best one yet.
The BMW X6M is powered by a twin-turbocharged V8, and this 5,000 lbs-plus crossover stays true to the "M" moniker that it bears. With all-wheel-drive and an eight-speed automatic transmission in its arsenal, it will take off the line with the same ease cars half its weight can muster and can blitz through a corner and brake as efficiently as you'd expect from an M-class bimmer.
After all, would you expect anything less from a class of car that was once the official safety car for MotoGP?
And powersliding in under the radar is the new-for-2017 Ford Focus RS. The first RS available state-side boasts 350 horses, aggressive lines, an adjustable suspension and Ford's own Torque Vectoring Rear Drive Module. The new RS is all talk and then some and with a raspy bark that draws on its rally heritage. There's plenty of fun to be had behind the wheel of a car made for driving.
Turn 10 have also confirmed an earlier leak by announcing the partnership with Hot Wheels will extend to several new die-cast collectibles as well. The first two of which, the 2016 Chevrolet Camaro Super Sport and 2017 Ford Focus RS, will be available in stores on May 23rd and June 20th, respectively.
Furthermore, November will see the launch of the Forza Motorsport Hot Wheels Entertainment Series of die-cast cars that will feature five FM-themed models.
See more articles on Forza Motorsport 6 DLC.