https://youtu.be/qYHP9d0d3bE
Revealed in full yesterday following a leak, the Duracell car pack for Forza Horizon 3 — the sixth and final pack covered by the game's Car Pass — is now available. This month's car pack brings with it a number of heavy-hitters, including a previously-leaked newcomer to the franchise: the GT-R NISMO LM Road Going Version.
The name should sound plenty familiar to Gran Turismo players, as up until now the elusive GT-R has only been present in Polyphony Digital's franchise. Given this month's named sponsor, you would expect a battery-powered or hybrid vehicle, yet the full list only reveals vehicles powered by combustion engines:
2017 Camaro ZL1
2015 Jaguar XE-S
1959 BMW 507
1992 Ford Falcon GT
1972 Land Rover Series III
1995 Nissan Skyline GT-R R33 NISMO LM Road Going Version
1983 Volvo 242 Turbo Evolution
In addition to the seven cars in today's pack, all players will have access to a Duracell-livery GTA Spano, a vehicle originally included in October's Smoking Tire Car Pack. Head to the Xbox Store and search for "GTA Spano" and it's yours to download at no cost.
As ever, we'll be taking a closer look at the cars included, kicking things off with the Camaro.
2017 Chevrolet Camaro ZL1
Heralded as the most powerful Camaro ever built, the ZL1 packs plenty wallop: 650 horsepower and 650 ft-lbs of torque, more than enough to make short work of the straight and narrow. Keeping the car's handling in check are magnetorheological dampers, ensuring that not only can the ZL1 bark loudly, but that it has the bite to back it all up.
2015 Jaguar XE-S
While the latest sports sedan in Jaguar's lineup may bare the refined skin of an executive vehicle, under the hood is a different matter. Powered by a 3.0-liter supercharged V6 capable of putting down over 330 horses, the XE-S is more than capable of playing the part of calm and subtle, or that of loud and powerful.
1959 BMW 507
Returning to the franchise for the first time since Forza Motorsport 4, the BMW 507 is without a doubt a classic. With 252 examples rolling off the line, all hand-built, the 507 was powered by a 3.2-liter V8 offering 150 horsepower. While both its power and 136 mph top speed are paltry by today's standards, the 507 wasn't about speed and yet it managed to offer an impressive-for-its-time 0-60 time of 8.8 seconds.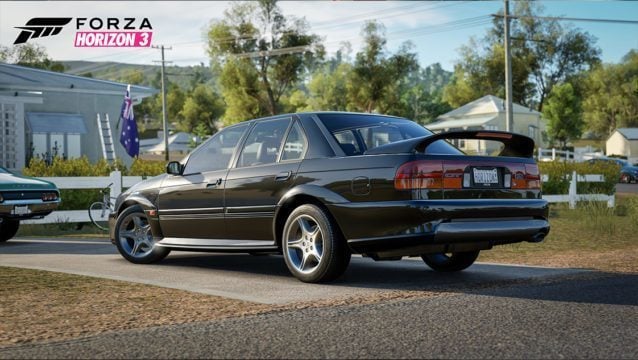 1992 Ford Falcon GT
Celebrating the 25-year anniversary of the original Falcon GT, a Windsor V8 powers this EB II model. Developed by Tickford Vehicle Engineering, Ford's answer to Holden's Special Vehicles, The EB II was limited to just 250 examples for Australia, with an additional 15 for New Zealand.
1972 Land Rover Series III
A viable (and tough) British alternative to the contemporary Jeeps and Toyotas already found in the game, the Series III will be plenty to explore anything. No matter what's set before you, whether it be uncertain terrain, hazardous weather conditions, or even a tree — the Series III will mow them down while you remain comfortable behind the wheel.
1995 Nissan Skyline GT-R R33 NISMO LM Road Going Version
The GT-R LM is a literal one of a kind machine: one model exists in the entire world, the model built to fulfill the necessary homologation rules to race. Loosely based on the R33, the NISMO GT-R is unconventionally rear-wheel driven and (much) wider. While the real deal remains hidden in a top-secret bunker guarded by who knows what, in Forza there's nothing to prevent you from finding out what makes this GT-R so unique.
1983 Volvo 242 Turbo Evolution
Another familiar face not seen since Forza Motorsport 4 is the race-bred homologation special 242 Turbo Evolution. Volvo may commonly be associated with safety and reliability, but the 242 Turbo, otherwise known as the Flatnose, is one classic Volvo that will take anyone by surprise.
The good news doesn't end there as players can now experience one further addition to this month's festivities, India's own Tamo Racemo.
The Duracell Car Pack is now available on the Xbox Marketplace and Windows 10 Store. It lists for $6.99 USD, and is free for players who purchased the Car Pass.
See more articles on Forza Horizon 3 DLC and Forza Horizon 3 Game Updates.