https://www.youtube.com/watch?v=Y5cP2ZLMb7E&feature=youtu.be
Hot on the heels of last week's Smoking Tyre Car Pack release, a new DLC pack has been unintentionally revealed for Forza Horizon 3 by Formula Drift driver Corey Hosford.
Discovered by YouTube channel Hey Stack, the audio clip comes from the 'Maximum Driftcast' podcast which features the interesting tid-bit from Hosford. In the clip, the Formula Drift Champion quips about how he may not be able to attend an upcoming event due to 'Forza' coming to scan the road-going version of his car, the Nissan 240SX S14 — otherwise known as "The Boss".
The Rocket Bunny bodied drift-monster should prove to be a fantastic addition to the Horizon festival but Hoonigans travel in packs — and the DLC will be no different. Rob Parsons' unique Nissan 240SX S13, nicknamed the "Chairslayer" due to it's hand-control system, will arrive alongside resident mad-man Ken Block's Ford Focus RS Gymkhana. Whilst these exact models are confirmed, there's also a nod toward one of the RWB Porsches coming to the game but no specifics beyond that.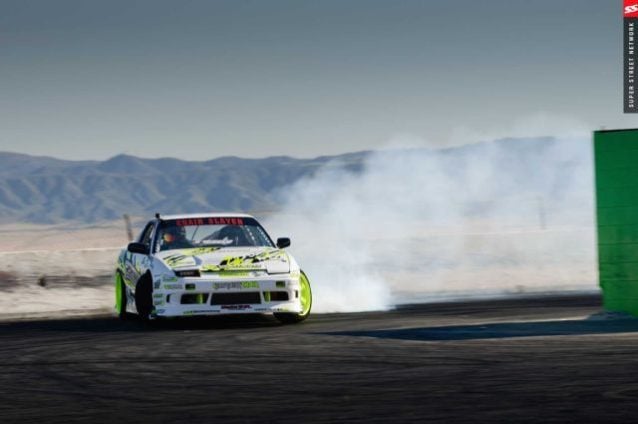 This isn't the first time that RWB has been named dropped in relation to Forza Horizon 3. We reported back in mid-September that RWB appeared in the game credits on the demo version of the game. It appears we now know the reason for this, with some sort of RWB Porsche coming our way at some point in the near future.
Forza Horizon 3 is one of the finest racing games of the generation so far and has had a good start with post-game content after last week's inaugural car-pack. Whilst we don't have a time-frame for the 'Hoonigan' pack we imagine we won't be kept waiting too long if the work-rate of Playground Games is anything to go on.
See more articles on Drifting, Forza Horizon 3 DLC, and Ken Block.