Over the past week, Gran Turismo 6 has taken over the small town of Ronda, Spain, in what was arguably one of the largest launch events in the history of the video game industry.
Of course, the Gran Turismo series has a history of impressive parties: GT4 was launched in a London garage filled with exotic cars, GT5 was launched in Madrid's City Hall, and GT6 was announced during the series' 15th Anniversary celebration event, held at one of the most historic racetracks in the world, Silverstone.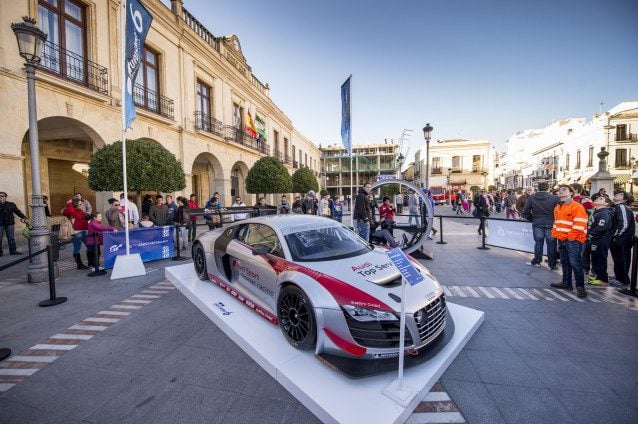 How do you top that? You take over an entire city and the world's most exclusive private race track for more than two days.
I had the incredible privilege of being a part of this massive celebration in southern Spain, and to call it "special" would be an understatement.
I arrived in Ronda, the ancient Roman city which hosted the event, a few days early, with the chance to explore before the celebrations began. I immediately recognized my hotel from the GT6 screenshots – it's the prominent building perched on the edge of the cliff next to the Puente Nuevo bridge.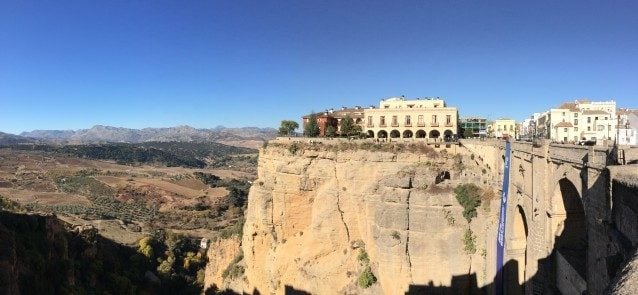 The view from the room offered a stunning vista of the valley below, which I later learned from Kazunori Yamauchi will be the area where player's custom Course Maker tracks will be laid out – it's quintessential Spanish countryside with the dramatic backdrop of Ronda's bridge and skyline towering overhead.
The local roads offered a preview of possible Course Maker tracks, with tight, twisty bends and lots of elevation changes.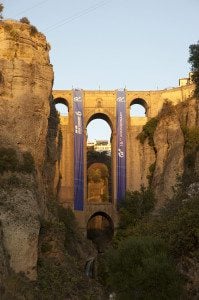 Ronda itself is a relatively small town of approximately 35,000 people, divided into modern and historic districts. There's a lot of history in Ronda, which was settled by humans long before Julius Caesar himself officially declared it a city.
The city's famous Puente Nuevo (or "New Bridge") was completed in 1793, after more than 40 years of construction. It stands today at over 120 meters (390 ft.) tall, accurately re-created and forever preserved in Gran Turismo 6.
While looking at the city in the game, you may also notice a large, circular arena. This is the Plaza de Toros de Ronda – one of the oldest original bullfighting rings in Spain, built in 1785. It was home to some the most famous bullfighters in history, including Francisco Romero, who is credited with inventing the muleta (the red cape, used to lead the bull), and Pedro Romero, the "most important figure in the history of bullfighting".
Those organizing the GT6 launch event took special advantage of this historic location, installing a racing pod and displaying an ultra-rare Lamborghini Reventón (named after a famous fighting bull) next to the bull statue just outside the Plaza de Toros.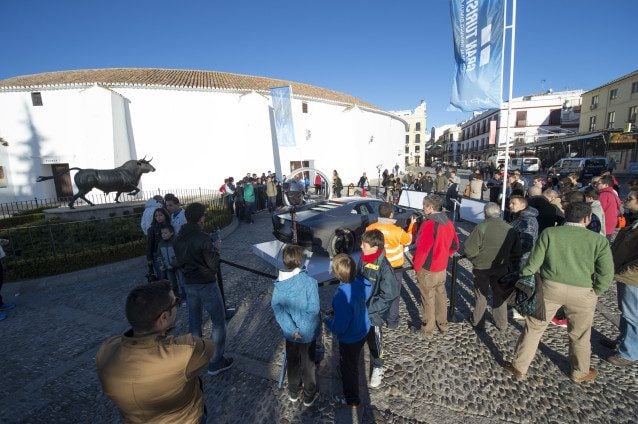 The day before events officially kicked off, Ronda was buzzing with excitement, as seemingly hundreds of workers prepared the city for its transformation. Gran Turismo 6 flags were raised, giant banners, nearly 300 feet tall, were draped over the side of the Puente Nuevo bridge, and trucks carrying exotic cars squeezed through Ronda's tiny streets.
On opening day, I made my way over to the Palacio de Congresos, venue for the opening presentations. A "V.I.P." bracelet granted me early access to the festivities, which consisted of cocktails and tapas around Schulze Motorsport's 2013 GT-R NISMO GT3 N24 and a Mercedes-Benz SLS GT3 from the AMG Driving Academy.
As the crowds gathered, we were taken inside to the main presentation room – a dramatic cathedral, bathed in blue light and GT6 banners. I live-tweeted most of the presentation on @GTPlanetNews, but aside from the news and announcements revealed by Kazunori Yamauchi, some of the most passionate comments came from Ronda's mayor, Maria de la Paz Fernandez Lobato.
She reflected the city's pride in hosting the event, and she expressed deep gratitude to Kazunori Yamauchi for choosing to feature Ronda so prominently in Gran Turismo 6.
Tourism is vital to Ronda's survival, especially during the troubling economic times experienced by Spain and all of Europe. To be prominently featured in a game expected to sell millions of copies around the world is extremely important to all of the citizens of Ronda, who make their living running all of the restaurants, shops, and small hotels throughout the city.
After the presentations, we were asked to head back outside for a few "special surprises". Sure enough, a breathtaking sight was waiting for us – over 13 cars were lined up across the Puente Nuevo bridge, along with a mass of local residents who came to see the spectacle.
We were directed back to the Parador hotel, where it appeared there would be another small presentation. I was quite intrigued – a row of bright lights flanked dozens of camera crews as they gathered around an odd place for any kind of presentation, given the stunning venue we had just left.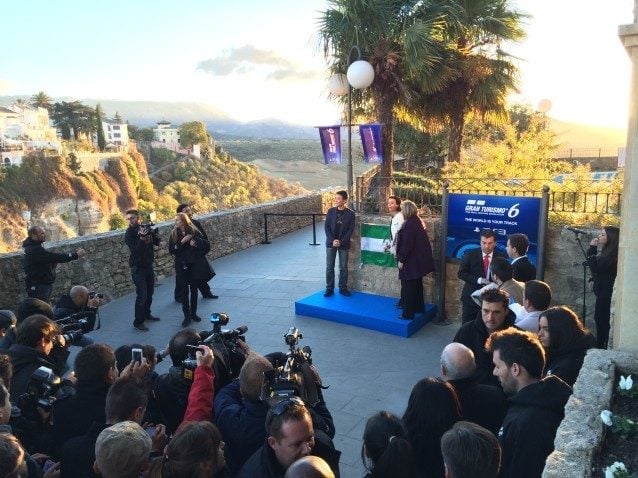 Kazunori Yamauchi seemed equally puzzled, as he made his way through the sea of journalists with Translator-san and Ronda's mayor.
Once everyone was in position, Ms. Lobato began speaking again about the importance of Gran Turismo 6 to the city of Ronda, and said they wished to honor and thank Kazunori Yamauchi in a special way. She then asked him to pull back a small Andalusia flag, revealing a sign which read "Paseo de Kazunori Yamauchi".
Surprised and overwhelmed, Kazunori blushed as he covered his face. The street or pathway which carries his name is a popular and important part of the the city, offering some of the most spectacular views of the Puente Nuevo bridge and the valley below. It's an essential stop for every visitor to Ronda, and will see hundreds of thousands of tourists in the future.
Of course, the party was just beginning, and we made our way to a scenic overlook that provided an excellent view of the Puente Nuevo bridge.
As sunset turned to night, music began to play, and the entire bridge came to life as a massive projection screen, featuring the Gran Turismo 6 logo and Kazunori Yamauchi's face (to which he responded with even more surprised, humbled embarrassment!). The overwhelming scene was topped off with a massive fireworks show, as the bridge glowed and the entire city of Ronda cheered in celebration.
Finally, we returned back to the Palacio de Congresos, which had been transformed from a presentation venue to a party, complete with tapas, drinks, music, a C7 Corvette, a mint-condition BMW 2002 Turbo, and plenty of Gran Turismo 6 racing pods. There was even a display of the GT6 logo in meat!
A special room was set aside, called the "Gran Turismo Gallery". Configured as an art gallery, with tile floors, stark white walls, and downtempo music playing in the background, it documented the evolution of the GT series in a unique way. As Kazunori recorded a video interview in one corner, I explored the gallery, which featured rare images of Polyphony Digital's development process and some never-before-seen screenshots of Gran Turismo 6.
Polyphony's engineers are shown with their scanning equipment digitizing Ronda, while screenshots reveal the 3D wire-frame structure used to construct the virtual city in the game. Another wall was devoted entirely to a timeline of GT Academy.
One piece which I found particularly interesting shows the evolution of the number in the Gran Turismo 6 logo – the first game in the series to use a more stylized font, different from the brand's classic Neue Helvetica 97 typeface.
Early the next day, we loaded into buses to head out to Ascari Race Resort – one of the most exclusive, private race tracks in the world, prominently featured as a new circuit in Gran Turismo 6.
The entrance to Ascari is surprisingly unassuming, if not imposing. A small sign marks the single-lane road which takes you into the facility, protected by a massive gate, and as much barbed-wire fence as you would expect around a military compound.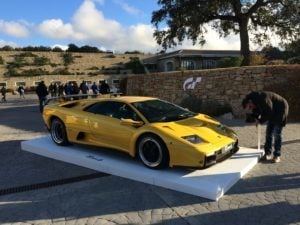 Once inside, it's clear what they are protecting, as tens – if not hundreds – of millions of dollars worth of ultra-rare exotics are housed inside, owned by the resort's wealthy members who prefer to store their car collections a few steps from the longest private racetrack in Europe.
After a briefing from the Ascari staff, it was announced that a "very special car" would be visiting the circuit, and we gathered outside as the brand-new BMW M4 Coupe, still wearing heavy camouflage, pulled out from the resort's garage. Kazunori Yamauchi was then given a few special demonstration laps in the car, with a BMW test driver behind the wheel.
The demonstration was followed with the announcement that the BMW M4 Coupe would be coming to exclusively to Gran Turismo 6 in 2014, as the final production version is also revealed to the public.
Next up, it was our turn to drive; we walked over to the pit lane and were offered a selection of sports cars to choose from. I chose a matte blue 2014 BMW M5, eager for the chance to drive one my favorite modern sports sedans. It lived up to all my expectations, with lots of power and lots of feedback delivered through the wheel.
The Ascari circuit itself is something special. As a private track, there are no grandstands, no advertising billboards, and no safety requirements which usually impact the aesthetics of circuits built to host modern race cars. Ascari, instead, was designed and built for the pure pleasure of driving.
If you've had the chance to drive it in Gran Turismo 6 already, you know what I'm talking about – it's like your favorite country road, with no speed limits and no traffic coming the other direction. It has a nice collection of tight, technical sections, and includes a few high-speed corners to keep things interesting. What I found most enjoyable was the generous number of banked turns. There's just something special about throwing the car into a corner with lots of helpful camber, then powering through the apex.
The real exotics and race cars at the track were driven by professionals and GT Academy champions. After my driving session was complete, I jumped at the chance to hop into the Mercedes-Benz SLS AMG GT3 – the same car which had been on display in Ronda the night before.
After putting on a full race suit, helmet, shoes, and HANS device, I folded into the passenger seat of the SLS with ROWE Racing's Nico Bastian behind the wheel.
The word "brutal" gets used a lot when talking about especially fast cars; it's nearly cliché, but I struggle to come up with another adjective that so succinctly describes what it's like. I've had the privilege of being in some very fast cars on very fast race tracks – including the Lamborghini Aventador, the Ferrari 458 Italia, some small open-wheeled race cars, and even the road version of the SLS AMG – but this was so different and so fast.
What stuck with me most was the SLS AMG GT3's braking force. In each turn, I anticipated the braking points, as any passenger would. "Oh, I think he will start braking here," I would think to myself. But, no…Nico's still on full throttle. "Ah, wow! He's going really, really deep into the turn, he pretty much has to start braking right now." But, no…Nico's still on full throttle.
Then – at the approximate point where your life begins to flash before your eyes – time and space seems to warp, your head flies forward, and crushing g-forces dig the tight five-point safety harness into your chest. Less than a second later, you're powering out of the turn again, as Nico plays with the throttle, fighting just a bit of oversteer after taking too much of the curb inside the apex.
For someone who enjoys cars, racing, and driving, this is about as good as it gets. Of course, it was made even sweeter by the fact that we were on-track at the same time with all the other exotic cars. I'll never forget approaching the matte black Lamborghini Aventador – driven by a Lamborghini test driver, no less – then passing him as if he were standing still.
There's not many times when you'll see an Abarth 500, a BMW M5 and M6, a Nissan GT-R and 370Z, and a Toyota 86 on track with an SLS AMG GT3 car, but here it was. Gran Turismo had truly come to life.
After our track time and interview session with Kazunori Yamauchi, we had a chance to explore the grounds of the Ascari Race Resort, and enjoyed lunch in the clubhouse; I even slipped in behind former F1 driver Vitantonio Liuzzi in the buffet line. There is no place in the world like Ascari – it has all the comforts of a fancy, luxurious country club or resort, but instead of a golf course, there's a racing track just a few steps away from the pool.
On-track activities were topped off with one final grand finale, as Ayrton Senna's Lotus 97T – the same car he drove to his first Formula 1 victory – was rolled out of a garage and into the Ascari pit lane. The engine fired up, and the car was driven around for a few demonstration laps. The sound of the car, echoing through the Spanish countryside, is something I will not soon forget.
Our day at Ascari concluded with a tour of the private garage which houses many of the resort member's private cars. There are few garages in the world with such a collection, and gear-heads will be happy to know that nearly every car – including the priceless GT40s – proudly wore dirt and rubber marks, indicating they were being driven as intended.
Later that night, the GT6 launch event concluded with a gala reception, complete with Flamenco dancers, a beat-boxer, a five-course gourmet meal, an impressive Gran Turismo 6 cake, and one more special surprise for Kazunori Yamauchi, as the staff from Ascari presented him with honorary membership to the resort – a gift worth several hundred thousand dollars.
There was one more surprise for me, too. Everyone in attendance was invited to visit the various "hot spots" around Ronda, where Gran Turismo 6 racing pods had been set up with cars on display from the game. If you visited them all, you'd be eligible for a prize drawing. I had completed the tour earlier that day and turned in my entry card, but realized there was little chance my entry would be chosen.
GT Academy champion Lucas Ordoñez was brought on-stage to randomly draw a winner from a pot. He chose a card, then looked at it and smiled as he read my name! Stunned, I went up to receive the special prize – a PlayStation 3 console signed by Kazunori Yamauchi himself – now a prized addition to my personal GT collection. It was the perfect way to end a perfect few days.
I must congratulate everyone from SCEE, Ascari, Ronda, Polyphony Digital, and HPS Jardine, who organized a massive, wildly successful event.
Having interacted with many of the car manufacturers in attendance, I also left with a new appreciation of just how much these companies respect and appreciate Gran Turismo. As the franchise becomes bigger, better looking, and even more realistic, they are coming to understand that they are not just making products for the real world, but for the virtual world, as well.
Having closely followed the Gran Turismo series since it began 15 years ago, I have never been more excited about what the future holds for the franchise, and I can't wait to see what happens next…
See more articles on Ascari Race Resort, Ayrton Senna, GT6 Launch Party, Kazunori Yamauchi, and Ronda.