The 2012 Gran Turismo Asian Championship was held at Nissan's global headquarters on Saturday afternoon in Yokohama, Japan.
It was a large, four-hour event with a very high production quality, broadcast live on the Internet via Ustream. Part 1/3, part 2/3, and part 3/3 are archived and available to download in case you missed it. Although no English translations or commentary was provided, several interesting and notable things occurred.
Kazunori Yamauchi himself spoke often and commentated on the competitor's races. He also took part in an exhibition race with Lucas Ordonez and other randomly selected spectators.
Daiki Kasho, renowned video game music composer, hosted a rare live concert after the winners were announced.
With a full band and singer Jonathan Underdown, they performed several of his most popular songs written for the Gran Turismo series, including "Surv1v3" from GT5: Prologue's intro and "5OUL ON D!SPLAY" from GT5's 2010 E3 trailer and Spec 2.0 intro. (As you may recall, the latter was named by a GTPlanet user who is acknowledged in the game's credits.)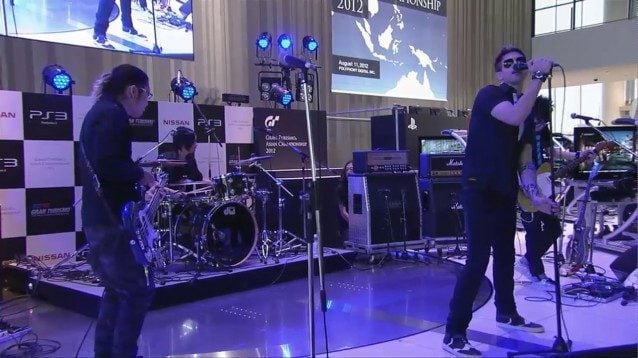 The band also performed a special "Happy Birthday" song for Kazunori Yamauchi, who turned 45 on August 5th.
After several rounds of races, three drivers were on top of the point standings, one of which (A. Maulana) is GTPlanet community member Ramstig. Congratulations, guys!
K. Yamada (Japan)
T. Kawajiri (Japan)
A. Maulana (Indonesia)
Although Kazunori downplayed questions about game development (other than to re-confirm they're working on GT6), the audience did get an interesting new peek at a new car used in the exhibition match: the Nissan GT-R N24 GT Academy '12, which will be released next month in the upcoming Gran Turismo 5: Academy Edition. As you may recall, it was the car driven by Kazunori and Lucas to class victory in this year's Nurburgring 24 Hours.
In-game footage of the new car was also seen in new promotional clips played during video transitions in the broadcast.
More Posts On...
The original comments for this post are no longer available.