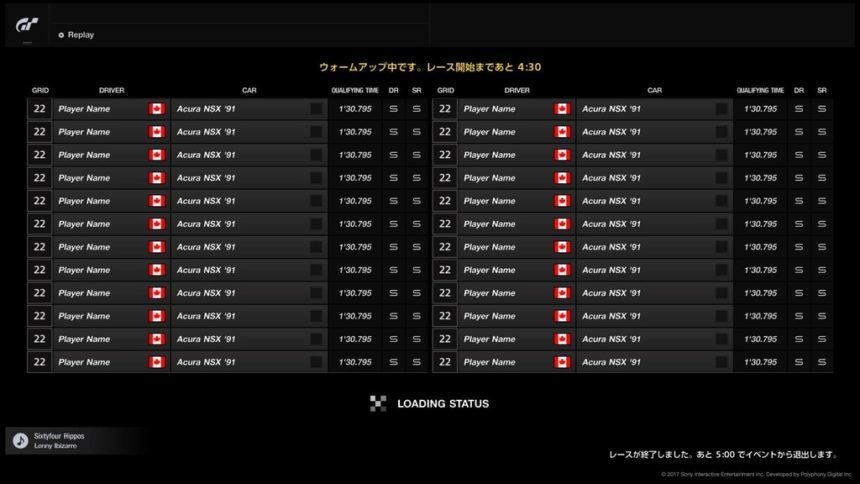 GT Sport players have been wondering when the next injection of new cars will arrive. A recent glitch may not answer that, but it could provide a hint of which models players should expect next.
A Reddit member recently found an unusual screen before a Sport Mode match (original thread here). Instead of the typical grid, the player saw the above image. Seemingly full of placeholders, it has 22 Canadian drivers all piloting the 1991 Acura NSX.
Those who are intimately familiar with the GT Sport car list will note that's not a car currently available.
The '91 NSX was a part of Gran Turismo 6, however. It wouldn't be a huge surprise for it to be part of the next game update, either: the majority of the 25 cars Polyphony has added so far have been returning models from the 2013 title.
If the NSX is part of the game, it would appear first in any alphabetically-sorted list. That explains why it would show up as a "default" car of sorts in a glitchy pre-race menu.
For the time being, there's been no official word from Polyphony about the NSX's inclusion, or indeed the next update whatsoever. The last two updates showed up around the tail-ends of January and December, respectively. With series creator Kazunori Yamauchi suggesting the game will feature 50 more cars between launch and March 2018, we expect news on the next expansion soon. Stay tuned for more GT Sport news as we get it.
Thanks to 919 Hybrid for first letting us know about this!
More Posts On...