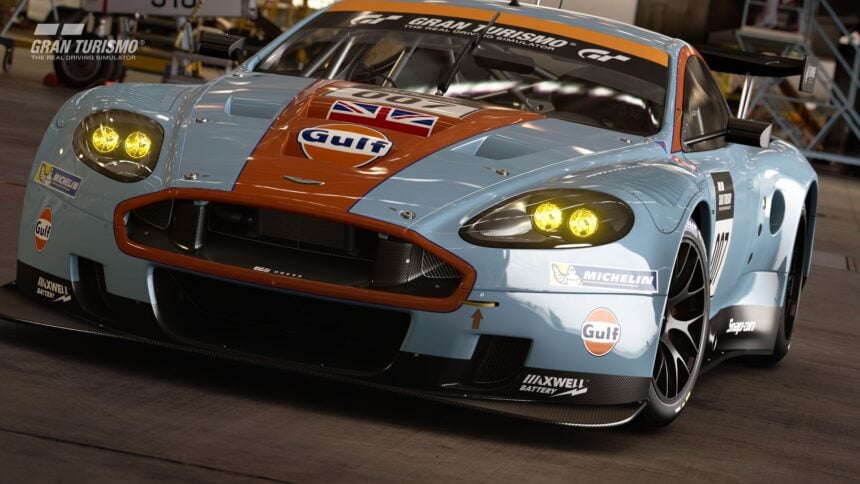 The next content update for GT Sport is on its way, and Polyphony Digital has released the official, reveal-all trailer.
As revealed over the weekend, the keyword for 2020 is "modest". Studio boss Kazunori Yamauchi stated in his regular teaser Tweet that both the frequency and volume of content updates would be leaning out a little — which lends some credence to the rumors of a possible appearance of Gran Turismo 7 on PS5 by the end of the year.
So it proves with this first update, arriving nine weeks into the year. There's just three cars to sort through, although they cover a lot of ground.
Headlining the update is the Aston Martin DBR9, as we saw recently in Sydney. The GT1-class racer won its category at Le Mans two years running, although racing technology has moved on a little in the decade or so since then. That means that the big, six-liter, V12 monster will slot into GT Sport's Gr.3 category, along with another, older, V12 GT1, the McLaren F1 GTR.
The DBR9 is new to the Gran Turismo series, but the other two additions are not. FIAT's popular 500 city car returns from GT6, joining its Abarth-tuned sibling in the game. Another returnee is the Nissan 180SX Type X, which gets an upgrade from its standard-car status — vehicles carried over to GT5/GT6 from PS2 GT games without major visual tweaks or interior views — to arrive in GT Sport in all its glory.
Aston Martin DBR9 '10 (Gr.3)
Fiat 500 1.2 8V Lounge SS '08 (N100)
Nissan 180SX Type X '96 (N200)
Sadly "modest" also means that there's no circuit in this month's update, so you'll have to make do with what's already in the game. This should at least mean that the update is relatively compact in terms of file size. There are some new rounds in GT League though, with a total of seven new races added across all four tiers of the offline events.
That aside, there are the usual "various other features, improvements and repairs", which may address the Daily Workout bug affecting players returning after a long absence, BOP, or the Sport Mode penalty system.
As ever, the game's online features will be unavailable from the moment that the server maintenance starts — at about 0600 UTC — until after players have installed the new update. That includes saving the game, so be sure to manually save progress well ahead of time.
You can watch the update trailer below:
More Posts On...