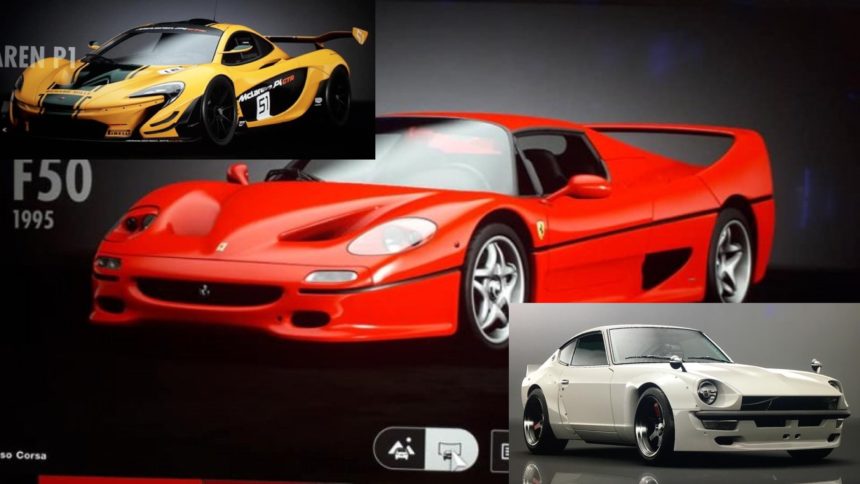 At the FIA-certified Gran Turismo Championship World Finals last week, Polyphony Digital showed off a new track and several new cars at the event in Monaco. Now, we know exactly when all that new content is going to be available to the public: December 5.
Kazunori Yamauchi shared the news on Twitter early this morning, with one of his famous silhouette teasers:
Update is coming 5th Dec. アップデートは12月5日に来ます。#GTSport #GranTurismo #PS4share #FIAGTC pic.twitter.com/JyFXQpbGMy

— 山内 一典 (@Kaz_Yamauchi) November 25, 2018
As always, it's fun to speculate about the disguised cars, but thanks to Monaco it is a bit easier this time around. The most obvious is the Ferrari F50 in the top-right corner, which was fully revealed on the live stream of the World Finals last Sunday.
Images of several of the other cars in the game build appeared in the background of the stream and in our forums after the event, including the McLaren P1 GTR, Datsun 240Z "Fugu Z" by Sung Kang, BMW M3 (E92) Coupe, and the C2 Corvette.
The new track, "Tokyo Expressway – South Outer Loop", was confirmed during the World Finals live stream to be part of "the December update", so we can assume it will be arriving on the 5th as well. Another new variation of the track, "South Inner Loop", was also spotted.
You can see replay views of the South Outer Loop on the World Finals stream. If you want to see what it's like to play, check out this complete lap that we recorded with the Nations Cup runner-up, Mikail Hizal, behind the wheel:
Read out our full post on the new track for more analysis.
Expect more details and official confirmation of all the new cars to drop in the coming days and weeks before December 5. Until then, keep a close eye on our GT Sport forums as our expert users further analyze the clues we have so far.
More Posts On...