As you might have noticed when looking over the GT6 car list revealed last week, the game is set to feature one of the most significant and unique vehicles in the world universe.
The Lunar Roving Vehicle LRV-001 '71, used in NASA's Apollo 15 mission to the moon, rides on aluminum and titanium wheels, each driven by their own electric motors which produce 0.25 horsepower at 10,000rpm.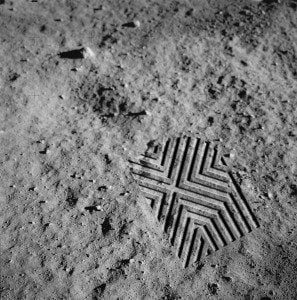 The LRV-001 remains on the moon to this day, along with the two other Lunar Roving Vehicles used in Apollo 16 and 17. They played a significant role in the missions, and their remote-controlled cameras captured much of the video footage seen from the moon.
"The Lunar Rover proved to be the reliable, safe and flexible lunar exploration vehicle we expected it to be. Without it, the major scientific discoveries of Apollo 15, 16, and 17 would not have been possible; and our current understanding of lunar evolution would not have been possible," said Apollo 17's Harrison Schmitt.
Of course – if you read over those specs and expect the moon buggy to be something of a slouch – think again. Here's footage of astronauts taking a break and doing some out-of-this-world moon-hooning, oversteering and bouncing around the lunar surface.
More info on how the LRV will be integrated into the gameplay of GT6 will be coming soon.
Image of Polyphony Digital's logo on the moon by GTPlanet member "Soundtrack".
More Posts On...