Did you have a good year? Gran Turismo sure did, and it looks like that success is set to continue into 2012 for the franchise, both digitally and in real life. Our Photomode community is just as successful as well, so join us this week in any of the numerous current themes. As always, click the theme title for each competition to be transported to the respective thread, read it's first post to get all the info on submitting, and then, well, submit!
(This week's Round-Up is a bit late – as such, all polls have already wrapped up with exception to the Photoshop competition)
(Click to view full-size of FishyJuice's winning shot)
This week's theme is one guaranteed to bring out the best; it's in the title! In The Best GT5 Has To Offer, FJ wants to see your Premium cars taken to the picturesque roads of Toscana, be they dirt or tarmac. Since you've now got less than a day to enter, don't just sit there – load up GT5 and get shooting!
(Click to view full-size of RetroGiant's winning shot)
First – do yourself a favour and click that link up there, to view RG's winning shot from last week's Roads As Art theme. Our competition template doesn't do it justice in any way. Amazing, isn't it? Okay, with that out of the way, what's RG's theme? It's a Head2Head theme this week, and he's chosen Warm Filter vs Cool Filter. Simple enough, you've got to choose one of these filters in-game and take your shot before exporting to the computer for any editing (if you so desire). Like above, there's less than 24 hours left to submit, so get your shot in now to add to the pile of drool-worthy images already submitted by our community!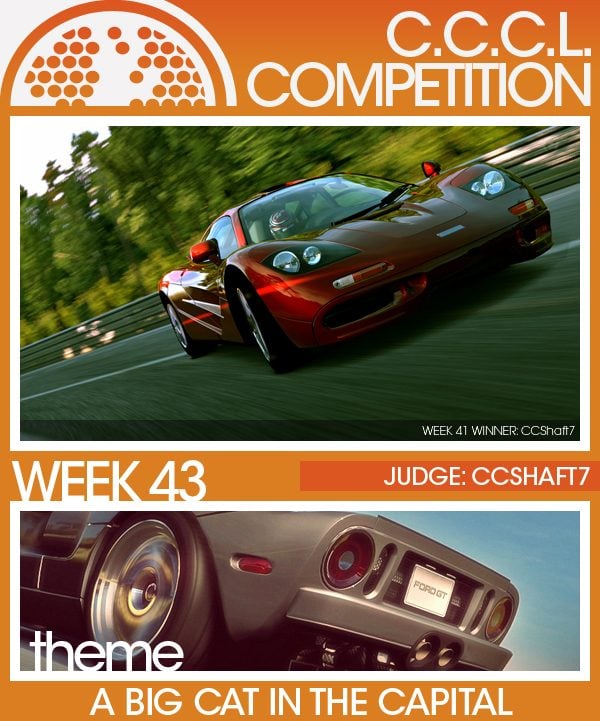 (Click to view full-size of CCShaft7's winning shot)
What's in store this week in Certain Car, Certain Location? CCS7 sticks with the UK after finding success with his McLaren F1, but moves to something a wee bit slower with A Big Cat In The Capital. You'll have to take your clean-lined '10 XKR to the streets of London, which allows for all sorts of angles of the Jag, which is handy since it has so many nice ones.  Do Ian Callum proud and snap that winning photo before the deadline tomorrow!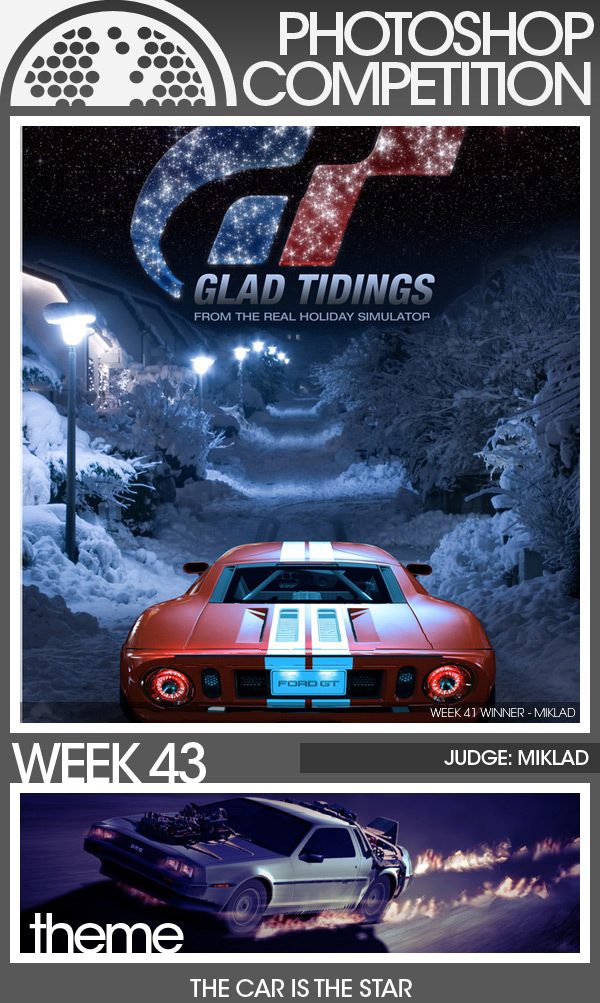 (Click to view full-size of Miklad's winning shot)
Yes, you've seen this image before – the Photoshop competition took a small winter holiday, but it's back with a bang in 2012. Miklad's theme for this week is The Car Is The Star. Your mission is to recreate a movie car in GT5, using the cars available in-game as bases. Back To The Future being an obvious example with the Delorean, as long as the same basic model is available in GT5, use your editing skills to fully realize the movie version in a GT5 photograph. You've got until the 11th to submit an entry, so start the brainstorming now!
This Week's Poll: It's been a long time coming, but here is one of the bigger polls in the Photoshop competition's recent history – Classic BMW Love. Our community members have flexed their editing muscles and brought a few Bimmers into GT5 via Photoshop. Now's your chance to vote on who's done the best job, and who knows, maybe someone at PD might get a crazy idea…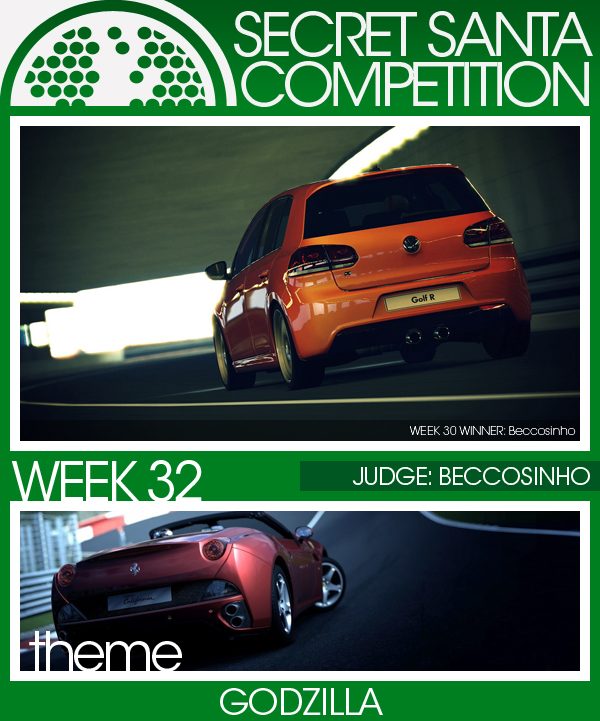 (Click to view full-size of Beccosinho's winning shot)
Oh no, Godzilla is attacking! Gran Turismo has a long-documented history involving the infamous Nissan, and Becco would like you to focus on that particular blood-line this week. Any Skyline GT-R (or simply "GT-R", once it lost the first half of the name) will do, so long as it's not a racing version, or a tuner model. You'll be taking them to the daunting Nurburgring, whichever version of it you would like, so make those images count. Once you've got your image ready to go, head to the first post in the thread and click that big green Submit button to send your image in to Beccosinho for consideration!
All sound a bit complicated? Read this thread for an explanation on how to get your images off your PS3 and onto a computer, and read over the individual rules in each competition's thread. If you're further stuck, feel free to Private Message me (click here). Start snapping those digital shutters!